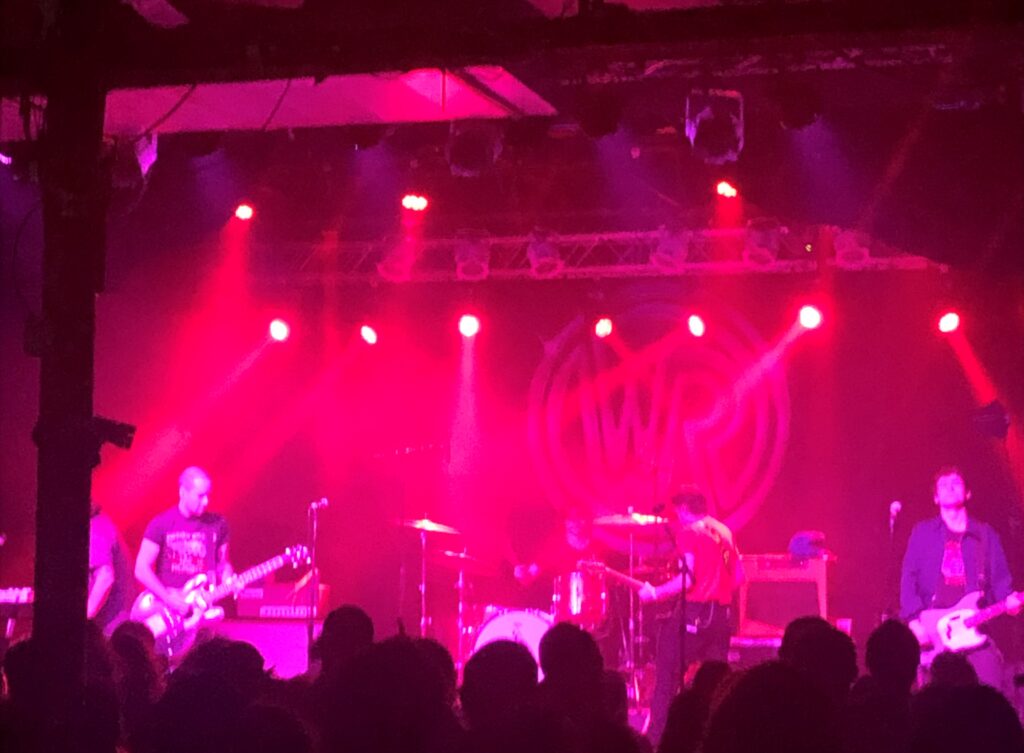 Late into the show, lead singer Tony Esposito remarked that "it feels a lot like 2019 again". This moment of introspection stood out because it was a rare break in almost continuous stream of wailing guitars. Often Esposito would step away from the mic for extended headbanging solos powered by the three guitars, and even during breaks between songs someone would always be hammering a note or keeping a drum rhythm going. There was very little that stood between the five members of White Reaper and delivering the experience the audience paid for, which was for them to play now and loud.
This concert was a long time in the making. White Reaper was originally coming to the Cradle in March of 2020, this was rescheduled for obvious reasons to April 28 of this year, when it was rescheduled once more to Sept. 25. The hype was palpable, and one person I talked to said they drove all the way from Richmond.
One of White Reaper's signature traits is Esposito's howling, passionate vocals, and they certainly put on a show that night. The Cat's Cradle acoustics meant it was definitely hard to make every word out but that added to the experience, songs became experiences, crashing walls of sound, and everyone knew the lyrics anyway.
Their stage presence was immaculate, often someone would stand on a platform to almost come at the audience from a new dimension and there was always purpose behind actions as simple as walking around during a song, often coming within a few inches of the front row when a song reached its crescendo.
The setlist was a nice blend of old and new, with songs like "Sheila" and "Pills" off their debut alongside "Raw" and "Headwind" off their most recent album, 2019's "You Deserve Love". "The Stack" was a particular crowd favorite, virtually everyone was jumping and singing along to it. And they wisely kept "Judy French", one of their biggest crowd-pleasers, until the encore, answering the audience's cries to hear it played with the familiar opening notes that had everyone cheering.
White Reaper are from Louisville, but they injected some local flair by dedicating "Might be Right" to two of their North Carolinian friends who are engaged to be married and were also in the audience, and their cover of "Aneurysm" was an homage to Nirvana's 1991 concert at the Cradle. They also asked if anyone in the crowd were students and said to "stay in school otherwise you'll end up like us", which was ironic in the face of the absolute blast they seemed to be having onstage.
Opening act Glove set the tone for things to come and while I hadn't heard its music beforehand I had a great time with its set. It's a synth heavy band with a strong 80s influence and a lot of fun grooves and piano riffs. Its versatility of lineup was interesting to watch; the drummer switched from a larger drum set to synths to a smaller drum set to being the lead singer and about halfway through they keyboard player started playing sitting down, at eye level with the front row. White Reaper was the star of the show but Glove definitely earned its applause.
And Esposito was right: it really felt like 2019 again. While I along with a few others stayed in the back to keep distance between each other, the mosh pit was alive and well and pretty much the whole front half of the crowd was involved. While this concert had been rescheduled multiple times, everything about the actual event felt like a return to some version of normal, and even from the back, it was a pretty great version.
-Erie