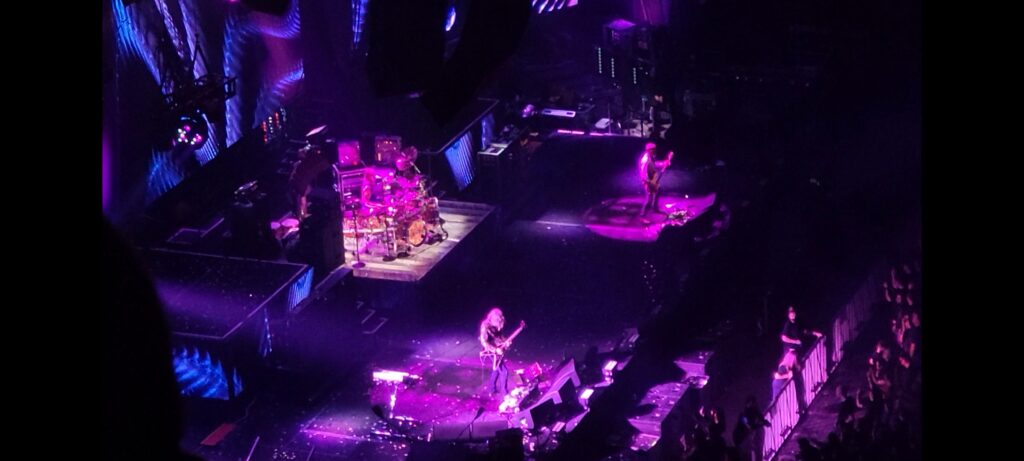 It's the end of the year, and it's been a very stacked year for me in terms of concerts. At the time of writing this, I've seen about 130 different bands across 50 shows in 2021. This admittedly made it very difficult to find time to review these shows for the WKNC blog, but I figured the next best thing to do would be an end-of-year recap showcasing what I feel were the best concerts I attended this year.
10. Oberlin with Komodo and Frass at Iguanatropolis, Raleigh. April 30
Picking a spot to start this list was tough, given the sheer amount of contenders, but taking the first spot is what was my last show of the Spring '22 semester taking place at Iguanatropolis, a local house venue that regularly hosts shows showcasing mostly local bands.
The first band of the night was Frass, a noise rock band that provided a great start to the show, with bassist and singer Eyn demonstrating incredible prowess on his instrument. Additionally, the drumming for this band is tight, and the band itself has a great psychedelic groove that pairs surprisingly well with the harsh vocal style. After Frass, Komodo took the stage, and this set was definitely one of the highlights of the year for me.
Very few bands sound like Komodo, having a sound that somehow combines the style TOOL, Queens of the Stone Age, and the theme song from King of the Hill in the greatest way possible. The last act of the night was the math rock trio Oberlin, who were actually the first band I saw this year. This is yet another band with a very unique sound, balancing clean and harsh vocals very well together with the shifting and diverse instrumentation.
Overall, this was a wonderful showcasing of local bands at a house venue that I have continued to go to and look forward to seeing it aid the local scene.
9. Sepultura with Crowbar and Art of Shock at The Blind Tiger, Greensboro. March 23
Brazilian thrashers Sepultura are a top 10, maybe top 5 band for me, and when I found out they were coming to the Blind Tiger in Greensboro I was not going to miss it.
Opening for them on their North American tour this year was the sludge metal titan Crowbar, the bay area thrash outfit Sacred Reich, and the Los Angeles based thrash group Art of Shock. Sadly due to traffic I missed the vast majority of Art of Shock's set, and I found out upon my arrival that Sacred Reich had to cancel due to a medical emergency with their frontman Phil Rind.
However, any woes I had were washed away once I got hit with a wall of sound from frontman Crowbar Kirk Windsteins incredible guitar tone. The setlist spanned their 32 year history, playing some hits along with some lesser played songs. After Crowbar's set, I got up close to the stage to get ready for Sepultura.
The lights dimmed and cut to blue light as the choir track to "Isolation," the opening song off of Quadra played, and as soon as the first riff of the song was launched into from guitarist Andreas Kisser, I knew I was in for a great night.
The rest of the set for the night was fast and hard hitting, fitting 17 songs into what felt like no time at all, and doing an excellent job balancing material before and after their change in singers.
Overall, the whole show that I managed to catch between Sepultura and Crowbar was incredible, and I would highly recommend catching these bands live at any chance you get.
8. Tetanus with Kudzu and C.I.Ape at the Spoke Easy, Charlotte. May 13
The number 8 spot for this year is where I'm going to start talking about the Charlotte punk scene. This was my first show back in Charlotte after returning from college, and getting to have some fun at the spoke easy with local bands and good friends was a great way to start.
The headliners of the night were Tetanus, a now-gone noise punk group that always drew a wild crowd, along with Kudzu and an early show from up-and-comers C.I.Ape. C.I.Ape's set got the crowd moving early on in the show, and continued to keep the energy high throughout their performance. Kudzu was next, and it was a fairly straight forward punk set, though the band has yet to play any shows since to my knowledge.
Closing out the night was Tetanus in what would be one of their final performances, and despite that it was still an excellent performance with an insanely active crowd. The overall energy amongst all the bands and the crowd at this show is what cements it amongst the best of the year for me.
7: Public Acid, Dark Thoughts, and Personality Cult at The Fruit, Durham. October 27
Public Acid was the first punk band I got to see in the triangle area back in 2021, and I wasn't going to miss them playing at The Fruit in Durham, which has become maybe my favorite venue in this state.
Opening the night was Personality Cult, a North Carolina punk band that I would recommend to any fans of bands like Liquids or Lumpy and the Dumpers. In general, this was a great band to start the show, and I'm excited to hear more from them. Up next was Dark Thoughts from Philadelphia, who are quite possibly the closest any band has ever come to sound like The Ramones and somehow they pull it off without it feeling like a rip-off. Their set was excellent, and it was fun feeling like I was brought back into the 1970's.
Last up was the Richmond and Raleigh based Public Acid, who rocked out a great set to a receptive and moving crowd. The fun of the first two acts combined with the raw hardcore punk brought by Public Acid, is what puts this show as the seventh best show of the year.
6: Anthrax, Black Label Society, Hatebreed, and a bonus Plan B show at The Fillmore & The Milestone Club, Charlotte NC. August 13
The announcement of this tour co-headlined by thrash metal icon Anthrax and Black Label Society was one that got me to buy tickets instantly, especially given the smaller size of the venue compared to where I would expect these bands to be playing. Supported by Hatebreed on this leg, this show did not let up from start to finish.
The crowd was relentless for Hatebreed, one of the few metalcore bands I really enjoy, moving like an ocean of people as singer Jamey Jasta held the audience in the palm of his hand the whole time. Black Label Society followed, playing a set spotlighting their newest that was probably the best I've seen from them.
Worth noting from this performance was the chops on bassist John DeServio, who's playing was only rivaled by his monstrous bass tone that cut through the mix. Anthrax put on a high-energy set as they do, playing songs throughout their whole discography, including "Only," a personal favorite song of mine from the band. After seeing this amazing triple threat of a lineup, my friend and I booked it to Charlotte's historic Milestone Club where the local punk group Plan B was about to begin a set.
Making it in the knick of time, we got to close out our night supporting a powerhouse band that draws local punks from across the city.
5. High on Fire, Municipal Waste, Gel, and Early Moods at the State Theatre, Greenville, NC. December 9
One of the last shows of the year and the most recent on this list was a co-headlining show between High On Fire and Municipal Waste with support from hardcore up-and-comers Gel out of New Jersey and Los Angeles's Early Moods.
Every act on here was great, but what makes this the fifth best show of the year for me was Gel. Over the last few weeks this has become probably my current favorite punk band, and I got to find out after their set that the previously mentioned Plan B will be opening for them in Charlotte on February 3. This band is insane, with a powerful stage presence and songs that maintain a groove while retaining their hardcore punk tone.
Municipal Waste was fun as always, having the rowdiest crowd of the night and giving it their all despite singer Tony Foresta battling laryngitis. Early Moods were a wonderful surprise, having a sound similar to Black Sabbath blended with some of the harmonizations of Iron Maiden, fronted by an excellent vocalist.
High On Fire closed out the show with an excellent set that made me nearly deaf for a few days after, but the guitar tone that Matt Pike has found has no other way to be played as loud as possible. 
4. Puscifer and Night Club at Ovens Auditorium, Charlotte. November 1
This would be the second time I've seen Puscifer, having previously seen them over the summer at the Durham Performing Arts Center.
This time felt different however, especially as I was seeing the experimental art rock group fronted by TOOL's Maynard James Keenan with my family. This leg of the tour had electronic duo Night Club opening, who were a pleasant surprise to me as the style of music was not something I usually get engaged in.
Puscifer's set began with a video sketch of Maynard James Keenan in character as Dick Merkin, informing audiences of the no phones policy and threatening violators with being turned into ground meat. The set was long but did not overstay its welcome, and went through almost all of their most recent output Existential Reckoning. The whole band, in particular vocalist Carina Round and touring drummer Gunnar Olsen, were incredible and performed the songs beautifully.
While anyone intending to see Puscifer should not expect it to be anything like anything they've ever seen, I highly recommend seeing them live as it is really a beautiful experience.
3. Delco Motherfuckers, Invertebrates, Scarecrow, and Headkicker at The Fruit, Durham. September 3
This show was my first experience at The Fruit in Durham, which has since become my favorite venue in the triangle. The lineup of this punk show was stacked, having Raleigh's Headkicker and Scarecrow, along with Invertebrates from Richmond and Delco Motherfuckers from Philadelphia. The highlight act of this show for me though was definitely Scarecrow, who I had previously been trying to see for nearly a year.
This group is a masterclass in D-beat hardcore punk, and is also led by some of the nicest people I've had the pleasure of meeting. That being said, every other band on this bill was excellent, incredibly fun to see and led to this being the third best show of the year for me.
2: ZZ Top with Kenny Wayne Shepherd at White Oak Amphitheatre, Greensboro. August 5
The penultimate spot of this list goes to ZZ Top, who even without the recently passed Dusty Hill sounded enthusiastic and as in-sync as ever. Kenny Wayne Shepherd opened the show (with Stevie Ray Vaughn drummer Chris Layton I should add), with a lovely set composed of half original material and half covers of artists ranging from Fleetwood Mac to Bob Dylan. But the show truly started when the Texas rock trio  took the stage, performing a lengthy setlist spanning their 50 year history that was an all around great time.
I was particularly impressed by drummer Frank Beard, who maintained excellent grooves throughout the show and doesn't show off more than needed. Billy Gibbons may also be the smoothest guitarist I've ever seen, playing effortlessly. I'm not sure exactly what it was about this show that made it so amazing, but I'd highly recommend seeing ZZ Top given the chance. 
1: Tool and Brass Against at the O2 Arena, London. May 9
The top slot of this list was the easiest to place, as the entire experience of flying overseas to London with my father to go see one of our favorite bands live was something incredible. The best way I can describe what it's like to see TOOL live is that it is akin to an otherworldly or religious experience.
New York's Brass Against opened the show, performing brass band renditions of popular songs from Rage Against The Machine, Audioslave, and even from the headlining band's own catalog. I cannot state enough how incredible of a singer frontwoman Sophia Urista is, who knocked out of the park a cover of "Cochise." TOOL themselves performed a spectacle of a show, composed mostly of songs from 2019's Fear Inoculum, and showed the way that their discography is meant to be heard. Additionally, I was pleased to have had a vastly different setlist from when I last saw them in 2019 at Raleigh's PNC Arena, getting treated to some of my favorite songs such as "Pushit," "The Grudge," and to my surprise, "Ticks & Leeches," which had only been performed one other time in the last decade. To both fans and non-fans of this band, I highly recommend taking the opportunity to see this band should it ever arise.