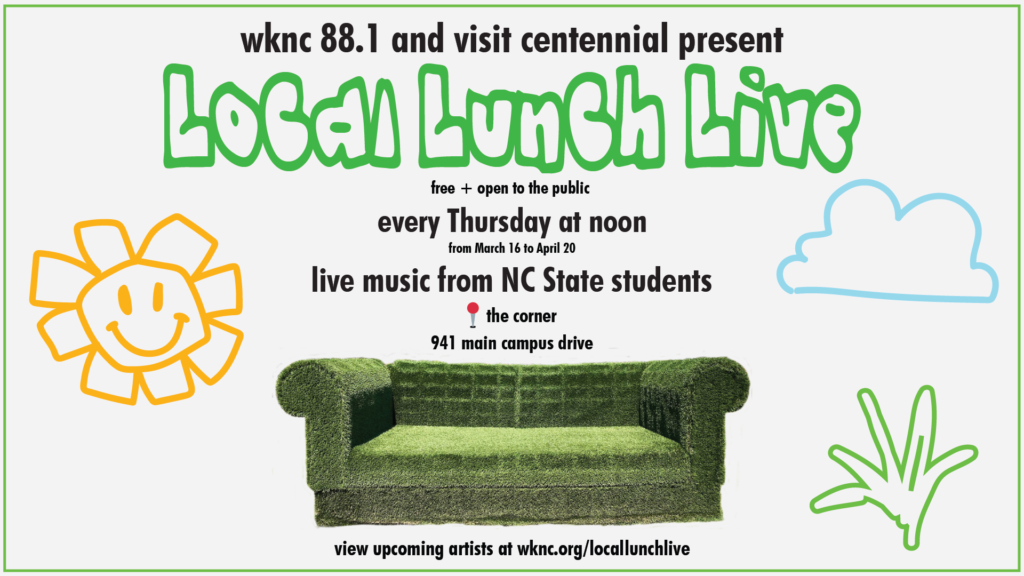 WKNC's Local Lunch Live is a partnership with NC State's Visit Centennial Campus to showcase student performers. Begun in fall 2022, the weekly series takes place at The Corner, an outdoor venue on the corner of Main Campus and Research Drives. All WKNC Local Lunch Live events are free and open to the public. Bring your lunch or grab a bite at one of the food trucks often parked across the street.
Current Schedule
Thursday, March 16 – Daniel Turk
Thursday, March 23 – Artzoid
Thursday, March 30 – Emma Hassler
Thursday, April 6 – Elaine Wolochuk and Niko Badalamenti
Thursday, April 13 – Popup Market
Thursday, April 20 – Geet Khatri
Want to perform?
Students interested in performing should email the WKNC general manager at wknc-manager@ncsu.edu with their availability for the schedule listed above. Due to University restrictions, students are only able to be paid for a performance once per calendar year.
Previous Performers
Wednesday, Oct. 12, 2022 – Oliver Boldt
Wednesday, Oct. 19, 2022 – Saturnalias
Wednesday, Nov. 2, 2022 – Cardigan
Wednesday, Nov. 9, 2022 – Maddy Buff
Wednesday, Nov. 16, 2022 – Andrew Farkas