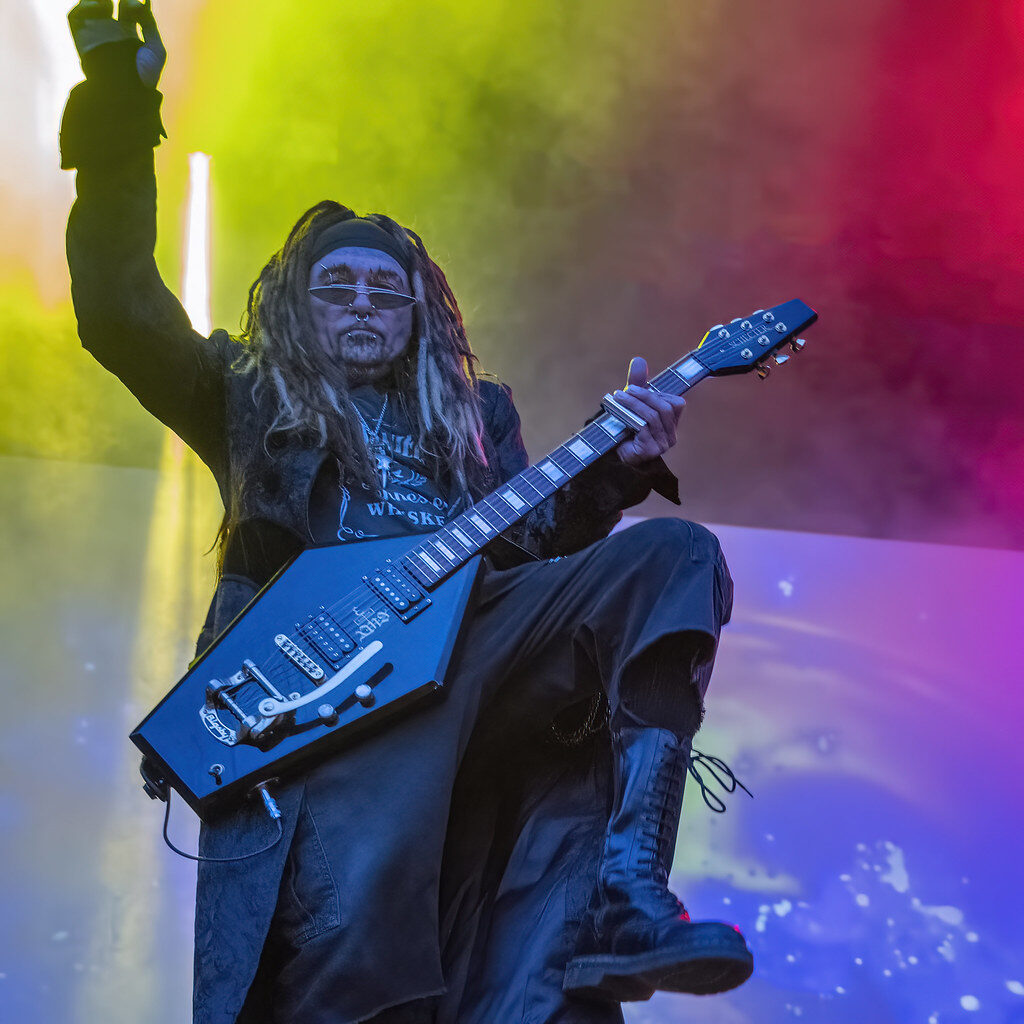 Traditionally, there is a fairly wide no-touching zone between rap and any vaguely "Heavy" genre of music. Today, terms industrial hip-hop and rap metal are associated with recent groups such as Clipping or Death Grips, or with early 2000s Nu-Metal like Limp Bizkit and Corn. There isn't really any acknowledgment that industrial, metal, and hip-hop used to share both a musical ethos and a physical space. This ignores the complex history of musical influences, and the rather distressing reasons the genres split apart.
Industrial music was, in its very earliest conception, a European genre. All the "Old Gods" of industrial are European with nearly no exceptions. The genre was tethered to British modern art galleries and tended to be shocking for shocking's sake. This isn't to say the genre was bad, many first-wave industrial groups made excellent music, just that the genre can feel somewhat remote. This would change when Industrial was imported to America. European Noise and Industrial music came to America through the gay subculture in Chicago, centering around the now infamous Wax Track records, who imprinted Throbbing Gristle and signed new American artists who adapted those ideas into dance music. This style is still dominant in Goth clubs, from the New York to the Wicked Witch here in Raleigh.
What gets lost in this telling is the parallel history of the other style emerging from dance music in Chicago in the mid-80s: Hip-hop. While the hearths of Rap would eventually relocate to Los Angeles and New York City, there was a vibrant scene in Chicago, in nearly the same neighborhoods as early Industrial music was thriving. The extent of influence is contested by the few sources I can find that acknowledge any relationship between the two genres, and I don't want to overstate the similarity, but early Industrial and Hip-hop music tell an interesting story of cross-collaboration in and of themselves.
The easiest point of attack for tracing the relations between the two genres is explicit collaboration. Multiple Industrial bands sought featuring credits from rappers in the 80s, including Ministry, The Damage Manual, and The Pop Group. The latter two worked with the in-house bands of the Sugar Hill Gang, while Ministry worked with the obscure Chicago Rapper Grand Wizard K. Lite. Going the other direction, multiple Rap groups pulled from industrial and metal aesthetics. Ice-T led the heavy metal band Body Count, most known for the song "Copkiller" which stoked controversy for obvious reasons. Beyond genre-hopping, groups like the Young Black Teenagers and Public Enemy fused elements of Industrial into their more hip-hop oriented style.
On a more granular level, Industrial and Hip-hop music share hardware and techniques. Sampling was pioneered in the late 80s and is a central technique to both genres. Industrial musicians like Tackhead focused on layering samples from unlikely sources, often political speeches, morality reformers, and the like, in ways that created abrasion and a level of irony. Hip-hop sampling generally has a more musical effect, focusing on creating a sense of rhythm or melody from a patchwork of samples, but the underlying technique is the same. The relatively marginalized positions of the black and queer communities also meant the literal machinery used to create electronic music was the same. Cheap 808's were common among both genres, despite extreme technological limitations, and this gives the genres a common sound palate throughout the 80s before electronic technology became more accessible.
However, perhaps the most overlooked point of similarity comes in the form of political subtext. Industrial music in the 80s was explicitly revolutionary in a way that mirrored early Hip-hop. While British artists focused on more class-related issues, American groups took on issues of police brutality in solidarity with early Hip-hop. The album "Rabies," a collaboration between the two biggest industrial stars of the 80s, Ministry and Skinny Puppy, is effectively a concept album about the oppressive impact of policing. Hip-hop and Industrial were also the two primary targets of Tipper Gore's censorship campaign and were some of the first genres to be dogmatically saddled with parental advisory stickers
These are all obvious connections, however, there is a near-total dearth of coverage, either from academic sources or journalists, about the relation between these two genres. While I can't claim to have nearly enough firsthand information to say for certain, I think I have a pretty good guess as to why. In the early 90s, Noise music developed a sizable white supremacist problem, and in parallel Hip-hop developed a homophobia problem.
While I feel woefully unequipped to truly tackle the issue of queerphobia in Rap music, the Nazi problem in Noise music is something that must be addressed. Early Noise musicians used fascist and Holocaust imagery in a tasteless attempt to shock audiences. While musicians like Whitehouse or Throbbing Gristle don't hide their left-wing and anti-fascist beliefs, they used incredibly poor judgment in attempts to aestheticize what they thought to be a dead ideology. This created a space in Industrial, Power Electronics, and Metal communities for actual neo-Nazis and racists more generally to organize. Bands like Mayhem, Sol Invictus, and Death in June run the gamut from neo-pagan white "identitarians" to actual convicted hate criminals. Their continued influence in the community is unacceptable not only because their beliefs and actions are reprehensible, but because their supposed domination of the genre erases the contributions of black artists like Public Enemy to heavy genres. These groups did not invent extreme music, they merely appropriated it for their own ends, and it is time they are treated as such, regardless of their real or perceived musical contributions to the genre.