In my previous series "Album Art Gems," I shared my favorite album art of all time. This time, I wanted to do a deep dive into the coolest stories behind how some of the most iconic covers were made. The creation of album art goes much farther than a designer or photographer's concept. Oftentimes, there's an incredible narrative at the root of the covers we know and love.
This week, we'll be looking at Flatbush Zombies' 2018 album, "Vacation in Hell." It was shot by long-time musician photographer Jessica Lehrman (@jessierocks on Instagram). She was inspired by the classic 1968 photoshoot of the Jimi Hendrix Experience in Hawaii (pictured below).
The day of the shoot was miserable. It was a dreary, rainy day in California but it was the only time that the models, FBZ, and the photographer were available. It was their one shot. Meech, Juice, and Erik spent most of the day hiding under umbrellas, helping their fully-glittered models keep warm. Their photographer tried to get as many photos as she could under the cloudy skies, but they all knew the day was pretty much ruined. Suddenly, just as they were packing up their bags in defeat, the sun burst through the clouds, right at sunset. As they scrambled to get the shot before the light disappeared, a rainbow appeared overhead. The Zombies described the moment as "the final piece of the Vacation In Hell puzzle," and "an image that will live forever as a piece of rap history."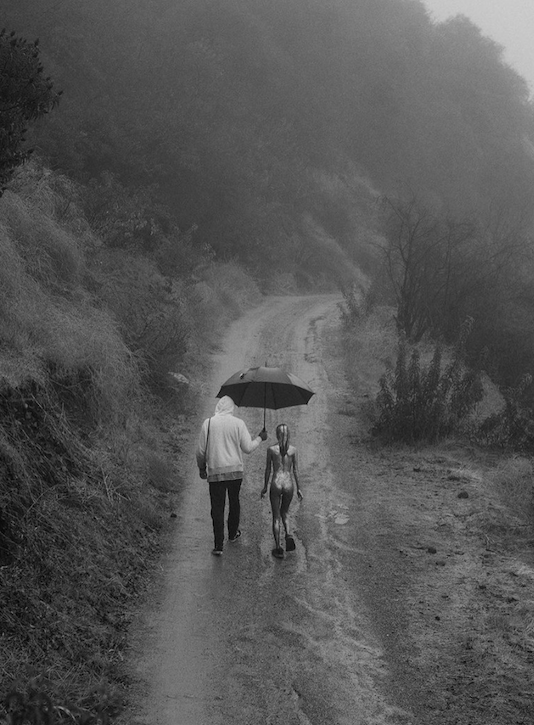 You can read the full "Vacation in Hell" story here. Look out for more "Behind the Cover" blogs in the future!
– DJ Butter