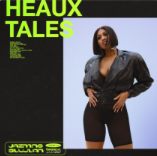 Written By Miranda
My favorites: Lost One, Girl Like Me, Bodies – Intro
Listen if you like: SZA, Summer Walker, H.E.R., Jorja Smith
Jazmine Sullivan, typically most well-known for her hit 2008 single "Bust Your Windows" has again created new music worthy of our attention. Since her 2008 "Fearless" which earned her seven Grammy nominations, Sullivan has only released two full-length projects before "Heaux Tales." However, she has performed many notorious features with artists such as Goldlink and Bryson Tiller. "Heaux Tales" has quickly risen to the top of R&B charts – for good reason.
"Heaux Tales" perfectly encapsulates all the talents Sullivan offers: versatility, depth, and realness. Sullivan's purpose? Portraying "today's women standing in their power and owning who they are." She delves into relationship issues, love, and sex while utilizing the stories of other women as anecdotal tracks throughout. Sullivan navigates these topics with care and honesty, making each track delectably real and showing off the conflicts brought about by being a woman in the 2020's. Sullivan's "Heaux Tales" contains a mixture of catchy rhythms with Sullivan's velvety vocals. She also features several artists which complement her style well including Anderson .Paak and H.E.R.. The album features prior-released singles, "Lost One" and "Pick Up Your Feelings," released in 2020; and released in 2021, "Girl Like Me (feat. H.E.R.)". The most popular song from the album currently is "Pick Up Your Feelings." This song is catchy and playful, but meaningful. Sullivan discusses getting cheated on and how she "doesn't need it" and deserves better. I know that's true. "Lost One" is emotional and raw. Sullivan reflects on losing a good relationship: "And if it's too late, I understand/Sometimes it's too late to make amends." Another notable track is the last one on the album, "Girl Like Me" which features vocals from R&B artist H.E.R.. The song follows a woman after a breakup rejected by her lover. The vocals include soft, beautiful harmonies; Sullivan and H.E.R. play off of each other's energies beautifully.
I highly recommend giving this album a listen, especially the three pre-released tracks which showcase the versatility that makes Jazmine Sullivan so appealing as an artist. I predict Sullivan to rise to ranks of other female R&B artists like SZA and Jorja Smith in the coming year.