I, and five other of my treasured members of WKNC staff (plus our amazing advisor Jamie) had the special privilege of getting to represent the station at the CBI National Student Electronic Media Convention in Orlando, Florida from Oct. 19 – 21. While there, we scored three awards for how awesome we are, along with an even bigger prize: knowledge that will be applied to make the station better in the near future.
This blog isn't about that though.
This blog is about Olive Garden.
This Blog is About Olive Garden
We arrived at about 8 p.m, which as it turns out, is a very busy time to go to Olive Garden. After a roughly 20 minute wait, we were seated.
The first unique quality of Olive Garden (or at the very least this location) that we confronted was that there are tablets at every table, used primarily to pay for your meal, but even more primarily to entertain small children with low budget mobile games (and also Plants vs. Zombies). Enthralled, our Afterhours Music Director, Spencer, and I shared it on a racing game that had a tutorial guided by a stock photo.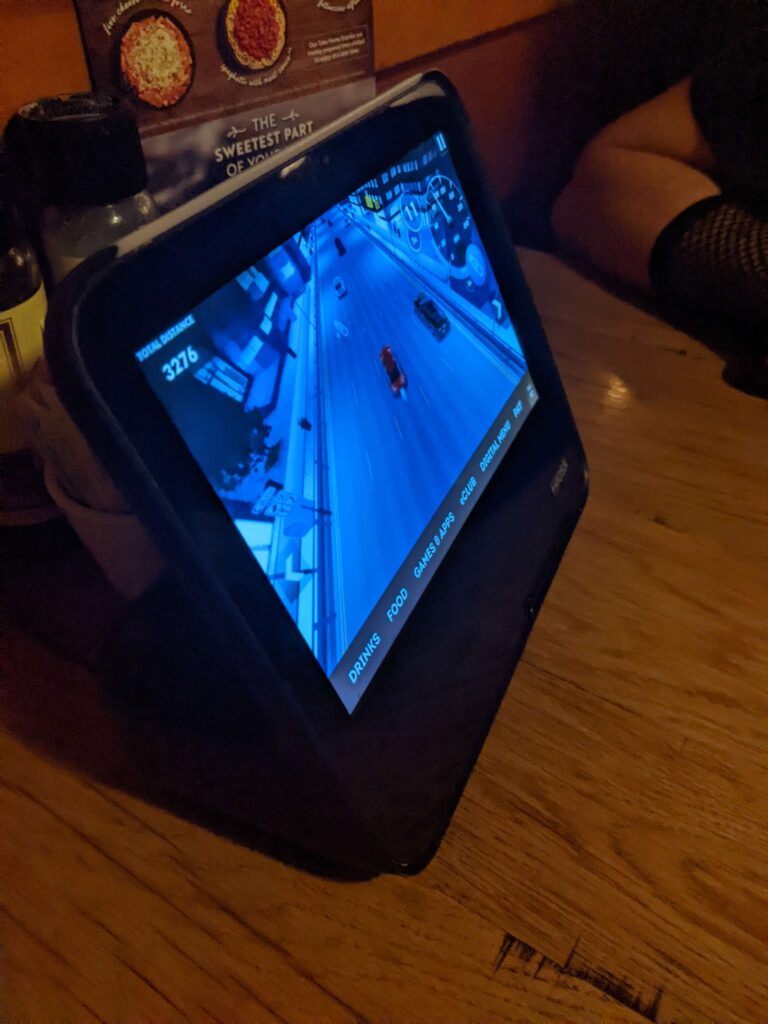 After a short wait, the waitress took our order. This then led into a much longer wait that involved passing the tablet to Claire, our Program Director, to play Plants vs. Zombies on.
All we desired was our unlimited breadsticks, as promised by Olive Garden marketing. It took thirty minutes, but eventually, they arrived.
The Breadsticks (and Other Foods)
To be completely honest: the breadsticks were just okay. I do not understand the hype behind why people talk about the Olive Garden breadsticks so much, and at this point, I am convinced that it's one of those viral marketing things.
I had gotten the Zuppa Toscana as my complimentary soup (or salad), and that was pretty good. I generally prefer creamier soups, and it delivered. I did not have the salad, but it looked good, if unmixed in a very large bowl.
This then began a similarly long wait for our actually ordered food. Claire beat World 1 of Plants vs. Zombies, implying that they had the full game on the tablet, which has terrifying implications for something intended as restaurant entertainment.
At last, after a full hour after sitting down and a brief moment of struggling to figure out how to get back into the booth after going to the bathroom, our food arrived.
To be completely honest, the various complimentary waiting foods had made me pretty full going into the actual meal. I had ordered the Ravioli Carbonara, and it was actually very good.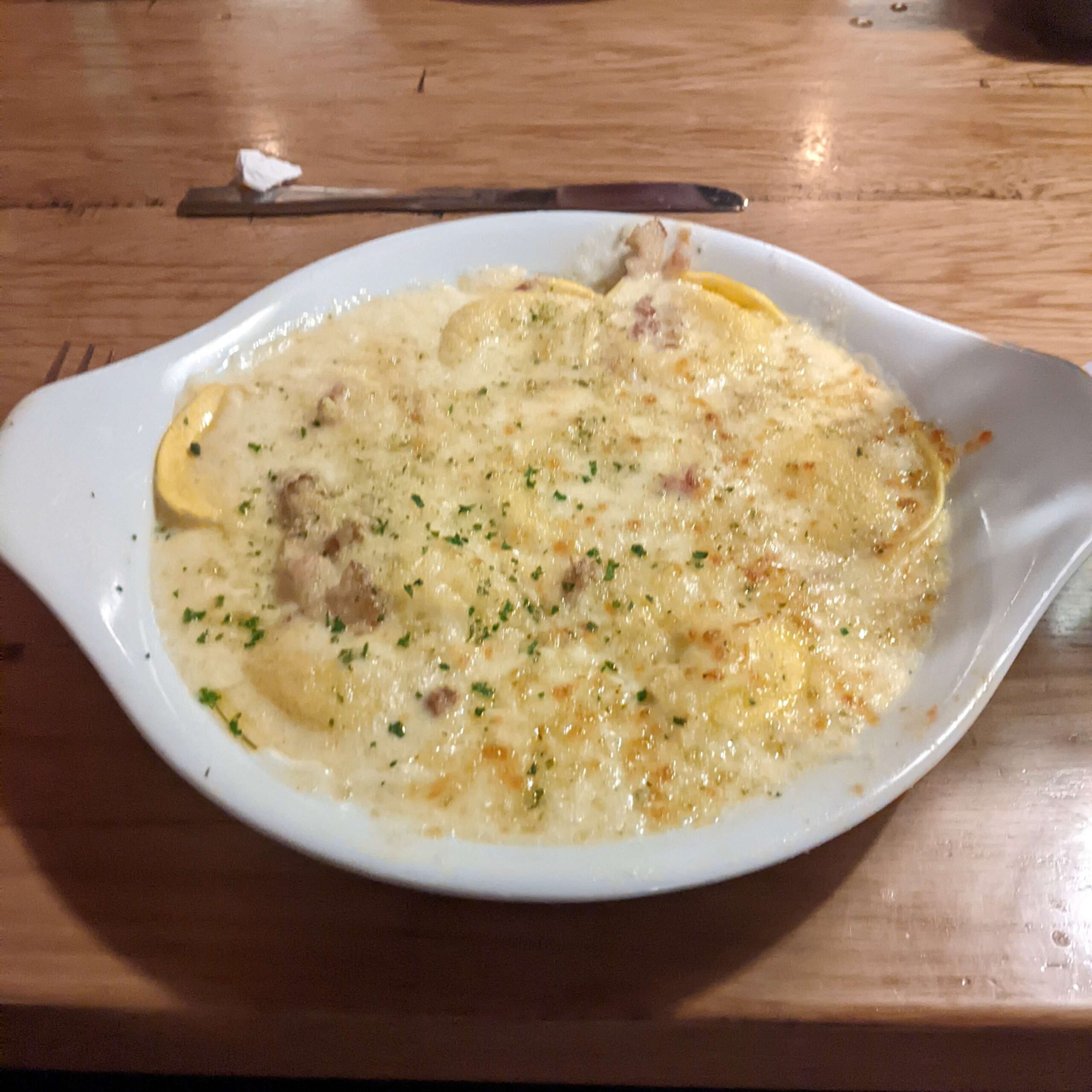 The sauce-to-pasta ratio was sufficient, and I was satisfied for someone who desperately wanted carbonara and ravioli after too long of having neither. It was not "Ratatouille" critic scene good, but after having to traverse the harsh Florida landscape, it was more than welcome.
I had low expectations going in, and I'm glad that they were exceeded. I actually liked it enough to ask for a box even though I had no idea when I would eat what was left in the box, and eventually forgot about it when we left the hotel.
In Conclusion
Olive Garden is, after careful consideration, a decent establishment. It's pretty good for as large a chain as it is, and for that, it has my marginal respect. I had previously been to only one other Olive Garden in Pensacola, Florida, and that one was significantly worse, so this dinner has left me to review my preconceived notions about chain Italian restaurants.
The opinion I will have to shift most negatively, though, is that of Orlando. The only options to eat were chain restaurants and really expensive places in an upscale outdoor mall that wants to think it's not a mall. This was our nicest meal the entire time we were there, and it was from an Olive Garden.
The rest of the convention went great. We won awards for Best DJ (shoutout to now-alum Rainbow Riot), best video promo (shoutout to Fullmetal Racket), and second place for best podcast (shoutout to President Shrimpo). The things we learned were quite honestly a little too boring for the general public for me to want to go in-depth on them, but trust me when I say that I'm excited for the future of the station.
Those of us who visited had a great time, and we got to meet a lot of people from other stations around the country. Most importantly, we truly embodied the power of friendship while venturing through TSA, a hotel where they didn't really tell us where stuff was beforehand, and playing obscure card games together. College radio is a great opportunity, and I'm thankful to it for meeting these people, being able to learn how to improve it, and being able to have solid 7/10 dinners with my friends.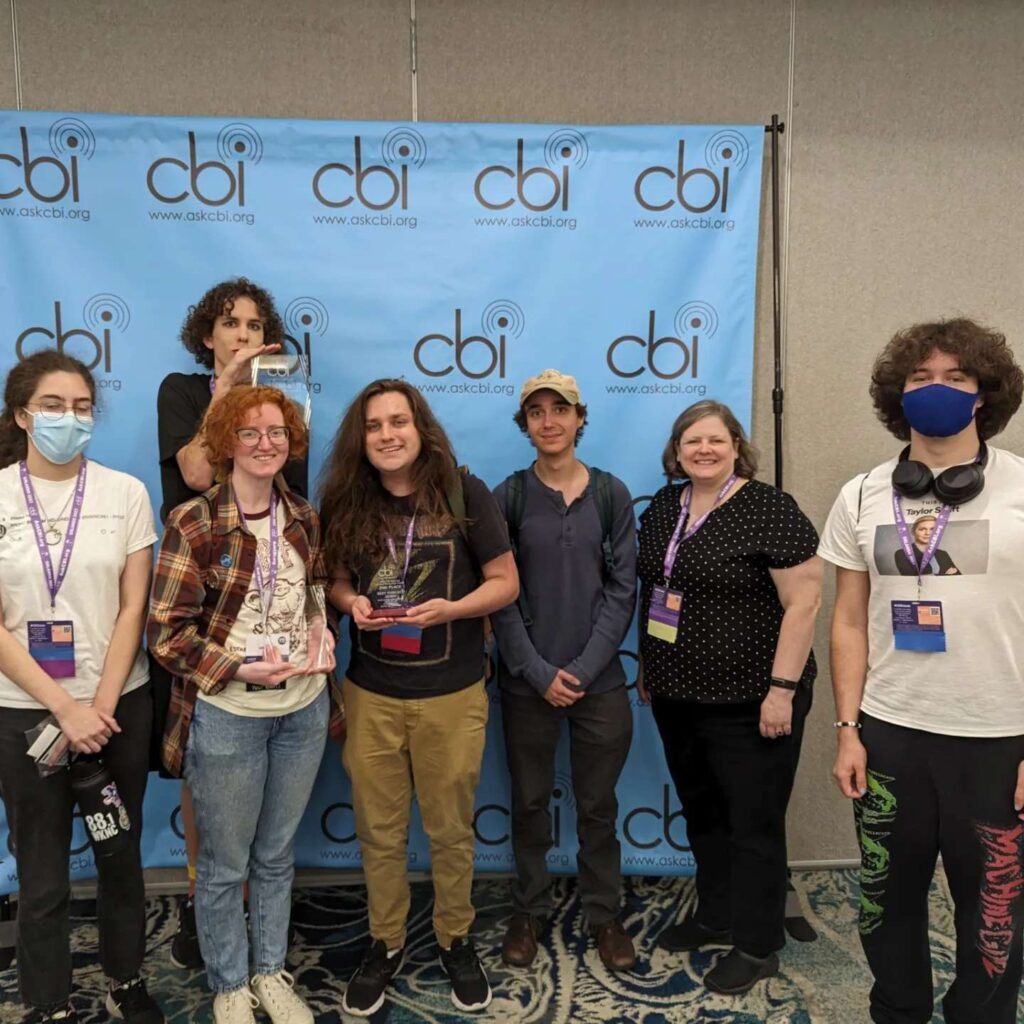 -chalcopyrite