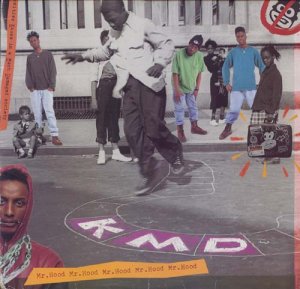 Kause in a Much Damaged Society, or KMD, sparked the legendary career of one of its core members, Zev Love X. Among other aliases, Zev Love X eventually came to be known by the moniker MF DOOM, the underground hip hop icon. Other members of KMD included DJ Subroc (Zev Love X's younger brother) and Onyx the Birthstone Kid. "Mr. Hood" was the debut album released by the group under Elektra Records in 1991.
Can Rap Be Comical and Impactful?
The concept that "Mr. Hood" revolves around is the namesake character, who is composed entirely of samples from language-learning tapes and travels around New York City with the members of KMD. The group also brings in sampled voice lines from sources as disparate as a Malcolm X speech on "Boy Who Cried Wolf" and Bert from Sesame Street on "Who Me? (With an Answer from Dr. Bert)" and "Humrush".
KMD's lyrical style is reminiscent of other artists in the New York scene during the early 90s, including A Tribe Called Quest, De La Soul, and the Jungle Brothers. They maintain a balanced blend of light-hearted humor and themes of racism and black empowerment throughout "Mr. Hood".
Yet, the humor often serves to emphasize more thoughtful messages from verses on "Who Me?" for example. The song begins with a snippet from Disney's "Song of the South", an infamously racist movie from the 40s that introduces the character Little Sambo. Zev Love X's verses explore his outrage towards several derogatory terms for Black people, and the phrase "who me?" reflects this point.
Lips and eyes dominant traits of our race
Does not take up 95 percent of one's face
But still I see, in the back two or three
Ignorant punks pointing at me

Lyrics from "Who Me? (With an Answer from Dr. Bert)" by KMD
Zev Love calls on Dr. Bert at the end of the song to solve this issue, in which he instructs kids to "draw a circle around [Little Sambo]". Considering how Little Sambo is such a racist caricature of Black people, Bert is telling all kids (not just those affected) to call out racism when they see or hear it rather than letting it slide.
Philosophy of KMD
As noted on the track "Nitty Gritty", the members of KMD are Black Muslims part of the Ansaaru Allah sect, which mixes elements of Black nationalism and Islam. At this stage in KMD's career, all were devout and refrained from drinking or doing drugs.
The opening track off "Mr. Hood" illustrates Zev Love X's disdain for drugs and drug dealers. After learning that Mr. Hood is a drug dealer, he tells the story of Crackpot Jenkins, who got arrested for trying to sell crack to a cop. He still manages to keep up the light-heartedness of the album by setting the story in a playground where Crackpot Jenkins sells "pebbles and stones to throw rocks".
Since then I knew he wasn't too head smart

As I scribbled in art he insisted on standing in the sandbox

To collect unknown amounts of pebbles and stones to throw rocks

Lyrics from "Mr. Hood At Piocallee Jewelry / Crackpot" by KMD
From Love to Villainy
Despite becoming well known as one of the best in complex rhyme later in his career, Zev Love X's rap style still sounds highly reminiscent of established artists at the time. His rhyme scheme had not yet developed to the intricate level displayed on Madvillainy or MM…FOOD.
Additionally, he had not yet experienced the hardships that brought him to adopting his villainous persona MF DOOM such as losing his brother Subroc to a car accident. As such, he still raps enthusiastically and with a passion not present in his later work.
It's difficult to find a track on "Mr. Hood" devoid of any funk, with thudding bass lines and a groove that resonates through every track. While albums released under MF DOOM would drop the funk sound, the driving bass and humor lived on.
Conclusion
Zev Love X wanted listeners to be able to enjoy KMD's music while still preserving the artistic integrity of their messages on Black empowerment. These themes only became more of a focus on their follow-up album "Black Bastards", which was finished after Subroc had been killed.
As a result, "Mr. Hood" remains the only album in Zev Love X's discography to be born out of passion for his craft and relative innocence. Listeners already familiar with MF DOOM should come to this album to explore his origins and find a more upbeat and pure DOOM.
Rating: 8.5/10
— CashewCrunch