This past week I was browsing YouTube like I usually do, watching cooking videos that make me hungry and then distracting myself with old Boiler Room sets. However, in the sidebar of one of these sets was a thumbnail that caught my attention, a pair of DJs under the alias "Locked Club" wearing chainmail coifs and ski masks with shirtless men dancing behind them. Little did I know that this video would put me on a deep dive into the emerging underground Russian techno scene that is shaping up to be one of the most interesting and unique in the world.
What immediately struck me when watching this set was the overall sound and track selection. Locked Club are not constrained by the conventions of genre, playing everything from hard-hitting electro and punk-inspired techno to their own take on traditional Russian folk music off of their new EP "Sadism". All the vocals are sampled from viral Russian social media videos and other Russian memes, unfortunately none of which I understand. This unconventionality brings a breath of fresh air and energy into the set, all of which is hilariously put on display in the last 10 minutes of the video with a mosh pit and essentially the destruction of the set.
The next noticeable feature of this set is Locked Club's appearance. Everyone including the main duo are dawning ski masks and chainmail, bulky jewelry, and a plethora of tattoos, most notably of their black ski mask logo. Doing some digging on their Instagram, I found many posts with people sharing the same tattoo. Two weekends ago they played a sold out show in Moscow's Mutabor club, some highlights including a religious opening ceremony, more mosh pits, and someone getting a live tattoo of that same ski mask logo.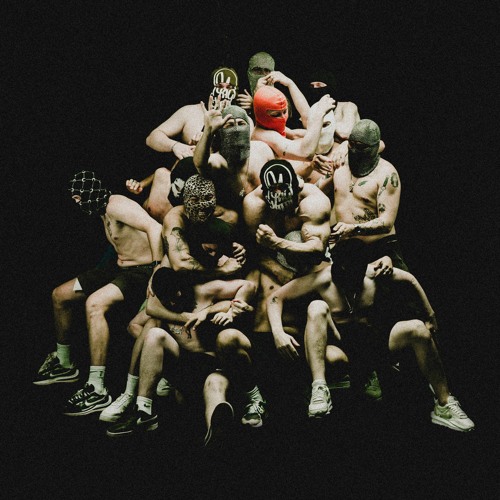 Locked Club is creating more than just music, they are creating a lifestyle, one that is nearly impossible to compare to in Western techno and club culture. Rather than writing it off as Russian cultural craziness, I think Locked Club is a glimpse into the potential future of techno and the clubbing experience. The days of 128-133bpm sets that have you shuffling your feet back and forth all night are seemingly dwindling as people, including myself, do not find it that interesting. The younger generation of club goers are searching for something truly unique and energizing that you can indulge in all night. While impossible to predict, Locked Club is in the right direction, and I am excited to see where the next couple of years brings them.
If you enjoy the sound of Locked Club, I highly recommend you check out their new EP "Sadism" and their complete discography on their Bandcamp, as well as other artists on the Private Persons label.
Stay dancin',
DJ HRLN