Welcome back to the "Behind the Cover" series! This week, I'll be diving into the story behind one of the most iconic album covers in the history of classic rock: "Led Zeppelin IV." I first heard about the cover's origin in rock journalist Brad Tolinski's book, "Light and Shade: Conversations with Jimmy Page." Filled with interviews and stories about the guitarist's life, one of the points Toliksni touches on in the sixth chapter is the making of "Led Zeppelin IV."
The Backstory
By 1971, Led Zeppelin was quickly reaching international success. Fans around the world worshipped them and their hard-hitting, experimental rock, but critics weren't as adoring. They chalked the band's fame up to "hype, not talent." Their first three albums, especially "II" and "III", had the band's faces plastered all over the record sleeves, leading harsh music journalists to believe that Led Zeppelin was nothing more than a fad.
The band and Atlantic Records had a steady, gracious relationship up until "IV's" release. They gave the foursome full creative control over every aspect of their music, including the album covers. The band took a "retreat" to Headley Grange, a two-hundred-year-old mansion in the English countryside, to record the majority of their upcoming album. Free from distractions at the remote, crumbling house, the band used the natural acoustics at Headley to experiment with new sounds in their creative seclusion. It was rumored that their fourth album would be otherworldly.
Needless to say, Atlantic Records was devastated when they found out the album would have no name, no cover title, and no artist credits. It is now known as "Led Zeppelin IV," but it was originally meant to have no title at all. The record label tried to convince the band that they were "committing professional suicide," but their choice was final. They wanted to show the world that Led Zeppelin was more than a trend.
The Cover Art
The final cover design shows an antique painting of an old man with a bundle of sticks on his back, hanging on a peeling wall. This painting was found by lead singer Robert Plant in an antique shop. It spoke to the band because of its reference to the "destruction of the old," which they contrasted with the photographs of skyscrapers on the back cover. The entirety of "IV" and its cover is very much an ode to balancing traditionality with the new.
The inside is just as fascinating and mysterious as the outside. Depicting the Hermit, an ancient figure used in Tarot, it is meant to represent "a seeker aspiring to the light of truth." The record sleeve has a gorgeous Arts and Crafts style typography, spelling out the lyrics to "Stairway to Heaven." (Jimmy Page, the producer and guitarist, actually found a clipping of the typeface in a vintage magazine and hired a designer to remake the entire alphabet.)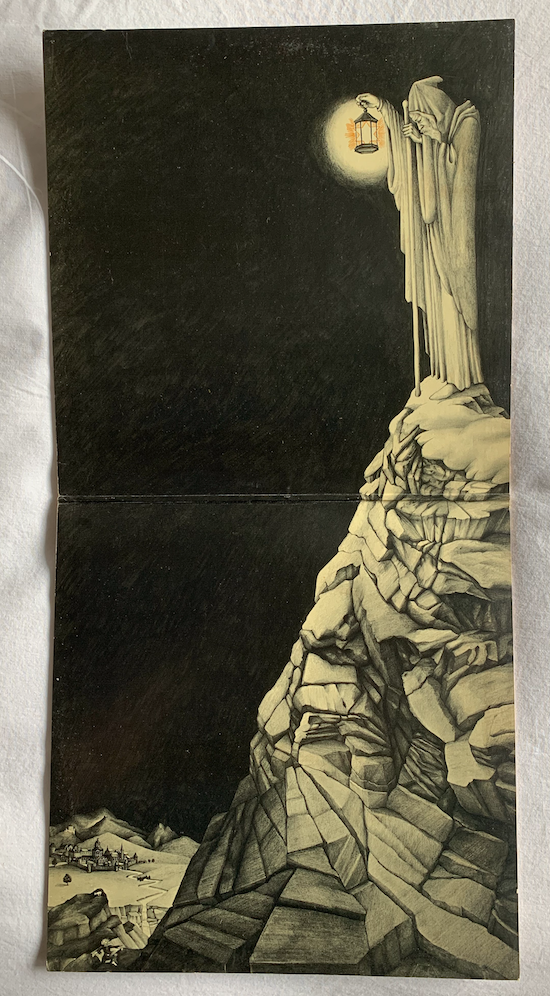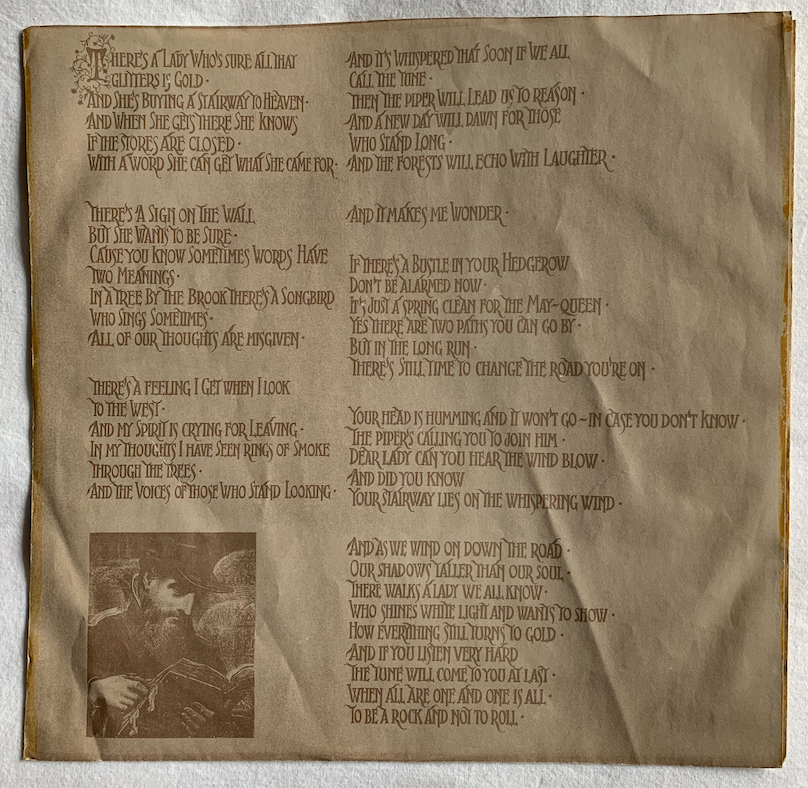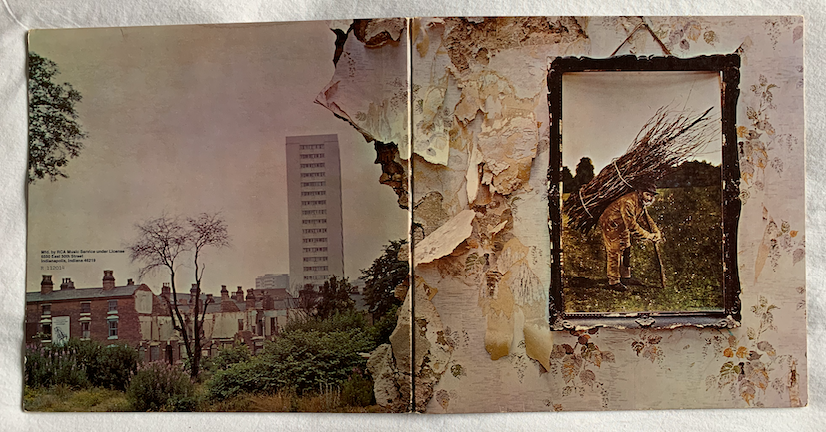 This is truly one of my favorite album cover stories. I think it's so interesting how the band used it as both a representation of the music and as a reaction to their critics. They wanted to let the music speak for itself, and by god it did.
– DJ Butter