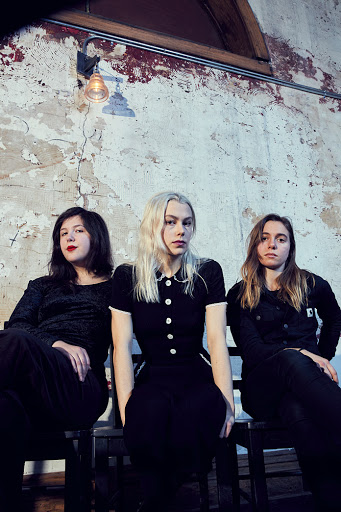 Boygenius is probably the biggest thing in indie right now. Not the actual band, who only released one ep in 2018, but the members. Lucy Dacus, Phoebe Bridgers, and Julien Baker; these three 25-year-old queer white women from L.A. via the upper south have come to dominate indie rock in the waning days of the genre's relevance. Thanks to the release of Baker's "Little Oblivions," in February, we now have one full studio album released by each of the band members after their collective breakthrough with Boygenius. The cultural influence of these women is only widening (a friend of a friend at UNC Ashville just got a Phoebe Bridgers tattoo…) so it's worth looking at their music, how they are similar, and why they're different.
Baker
Julien Baker was the most established of the group by far coming into the release of Boygenius. Having released two albums and been signed to Matador, she had several accolades under her belt. Her sophomore album "Turn Out the Lights" charted well, and received good reviews from most major publications. Her musical style has also seen the most change following her association with the other two artists. Initially, Baker's music was strictly one woman and a guitar, but her latest work sees her working with a full studio baking band similar to her contemporaries. This was a great relief to me personally, as I found the stripped-back style of her early albums a little tiresome. In a probable effort to shed the persona of "Sober, queer, Christian," her latest album has been characterized as a concept album about her struggles with faith. This conflicted spirituality and struggle with tradition is a consistent through-line to Baker's work. She's also the most, for lack of a better word, literate of her peers. She has been published in academic journals, literary magazines, and her backup career was becoming an English teacher. This background helps Baker's more restrained and refined lyrics shine through with a kind of classical appeal. Her poetry aspires to the heights of the Bronte sisters, rather than rock stardom.
Bridgers
Phoebe Bridgers is, in many ways, Baker's opposite. Where Baker was well established and restrained, Bridgers had just debuted the year prior and saw a meteoric rise in popularity after joining the group. Her 2020 album "Punisher" has racked up three Grammy nominations and ranked among the best albums of the year in many listings. Her lyrical style has been characterized as emo folk, both as a compliment and as an insult. The music is passionate, straightforward, and unapologetically personal, discussing her relationship with her family, friends, and romantic partners. This makes Bridgers' music the most accessible, and she has a devoted fanbase of young women and queer people who look up to her. In cultivating this fanbase, Bridger's has created a more public life than the other members, sharing deeply personal stories of family conflicts, sexual assault, and mental health struggles. If any one of these women is likely to make a break for mainstream stardom, it's Bridgers.
Dacus
Lucy Dacus is somewhat more versatile than her peers. Unlike the contemporary indie-folk of Bridgers and Baker, she styles herself something of a rock star, and the aesthetic suits her well. Her voice is by far the most powerful of the three, capable of hitting meteoric highs and contralto lows with ease. She also plays electric guitar as her native instrument. Her lyrical range is large as well, hitting styles like badass dad rock, straightforward love songs, and even flirting with country music. This makes Dacus something of a wild card, as she's capable of changing her entire energy mid-album or even mid-song. She's also my personal favorite of Boygenius, so I may be a little biased, and yes, I have screamed "Night Shift" at the top of my lungs at the three in the morning… multiple times.