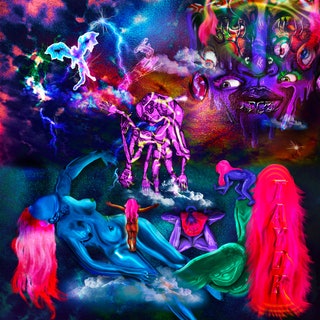 Written By Miranda
My favorites: LEAVE ME ALONE, HELLZ ANGEL, 3AM
Listen if you like: Ajebutter22, WizKid, Obongjayar
Amaarae, a Ghanaian American R&B musician, released her first album yesterday: "THE ANGEL YOU DON'T KNOW." Amaarae is a groundbreaking artist, focusing much of her music on gender and representation. Her first EP, "Passionfruit Summers," was well-received by fans in Ghana and worldwide, gaining rankings on Apple Music. Amaarae is also interested in fashion and makeup as obvious by visiting her Instagram @/amaarae and her online appearance in Vogue magazine. Amaarae is an activist for feminism, gender identity, LGBT rights, and most recently the campaign to end SARS. LGBT Ghanian citizens face discrimination and violence, but Amaarae is vocal about the rights of these individuals, and we see this reflected in much of her art.
The album seamlessly glides between different genre influences including Afropop, R&B, mall rock, dancehall, and more. Amaarae connects popular Afropop with western styles of rap and R&B to create a tantalizing combination of sound that you're sure to love. In a press release about the album, Amaarae said:
And re-define music she sure has. The 14-track album dives deep into social commentary, consciousness of global issues, and themes relevant to any young adult through wispy, light vocals contrasted against tougher-sounding rap verses. Listening to the sequential tracks, "TRUST FUND BABY" and "HELLZ ANGEL" best exemplifies this interesting contrast. The album exudes confidence and ambition, and especially as a debut album it definitely delivers something amazing. Give it a listen and definitely keep an eye out for Amaarae's continued rise to relevance in the alternative/rap/R&B circles.