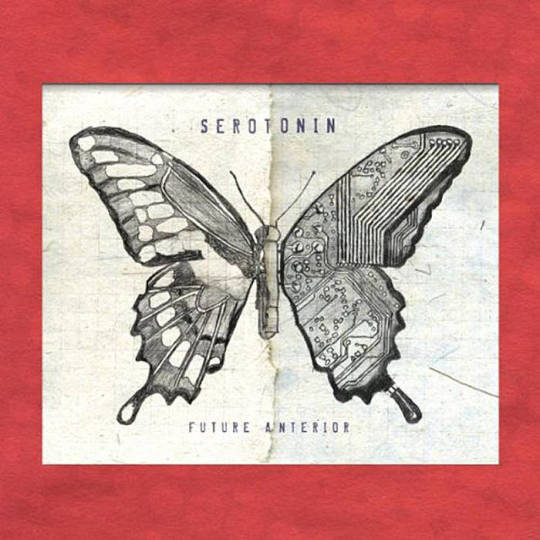 Girls and ghouls this album is more than meets the eye! What a mystery – we love to see it, especially during the Halloween season. I'm not even talking about sound here, I'm talking about publishing. Whether you look for this album on a search engine or in an app, you're gonna get a different publishing date. How old is Future Anterior? We don't even know, but let's go with the date a popular band info website used – 2003! 
At first glance, you know what I'm thinking. We're probably all thinking it. Another butterfly. We saw it 2009 on brand new eyes, we see it now as a popular back tat, and we see it on this Serotonin album, but I'm not mad about the butterfly these folks chose! I can appreciate the symbolism. I can also appreciate that this butterfly is basically half robot. Look closely and you notice a circuit board shaped into a wing. Excuse me but that's pretty cool. A twist on a classic that I'm here for. 
Now when I stumbled upon this little number in the music library the only thing written on it was a short review with a bunch of exclamation points – perfect summarization. I am not a big fan of heavy sound or screaming because I don't get it and it scares me, but I love some angsty half-yelling. As the person who reviewed this back in 2004 said, it is off key, but wonderfully so. Future Anterior doesn't hold back in this album, even in songs that start off a little slower like Impulse Response. The whole thing seems very genuine. Even if you don't like the vocals, these band is full of incredibly talented musicians which is obvious throughout. I could totally listen to this album while building a chair or something. Would recommend. 
 xoxo
your trusty music librarian