Written by Eilee Centeno, WKNC Promotions Director
WKNC 88.1 FM HD-1/HD-2 joined student organizations from across NC State to raise more than $1,600 for Habitat for Humanity in the annual Shack-A-Thon fundraiser.
The weeklong event, started in 1998, was held from March 26-31. On Sunday, March 26 WKNC DJs gathered on the NC State Brickyard to build the shack that would stay up for the week. Participants had to build the shack, staff it 24 hours a day and raise money for Habitat for Humanity of Wake County.
One of WKNC's fundraising tactics was a prize wheel where people traded donations for spins of the wheel to win prizes ranging from concert tickets and T-shirts to WKNC stickers and custom buttons. People who donated to Habitat for Humanity through WKNC could also request their favorite song be played live on air or they could write a personalized air break that WKNC DJs would broadcast live.
Outgoing general manager and May 2023 graduate Maddie Jennette planned most of WKNC's involvement in Shack-A-Thon and was in communication with NC State Chapter of Habitat for Humanity. She had an idea for how the shack could be decorated to represent WKNC and got input from WKNC's adviser Jamie Lynn Gilbert on ideas for fundraising.
The last time WKNC was involved in Shack-A-Thon was in 2011, staffing a shack with its fellow Student Media outlets. A dozen years later, WKNC wanted to get involved in Shack-A-Thon again. In the weeks leading up to the event, WKNC members spent lots of time planning how to raise money in ways that connected to WKNC and music, and of course how to build the shack. According to the Shack-A-Thon website, WKNC raised $1,627 through a combination of donations through the website, cash and Venmo.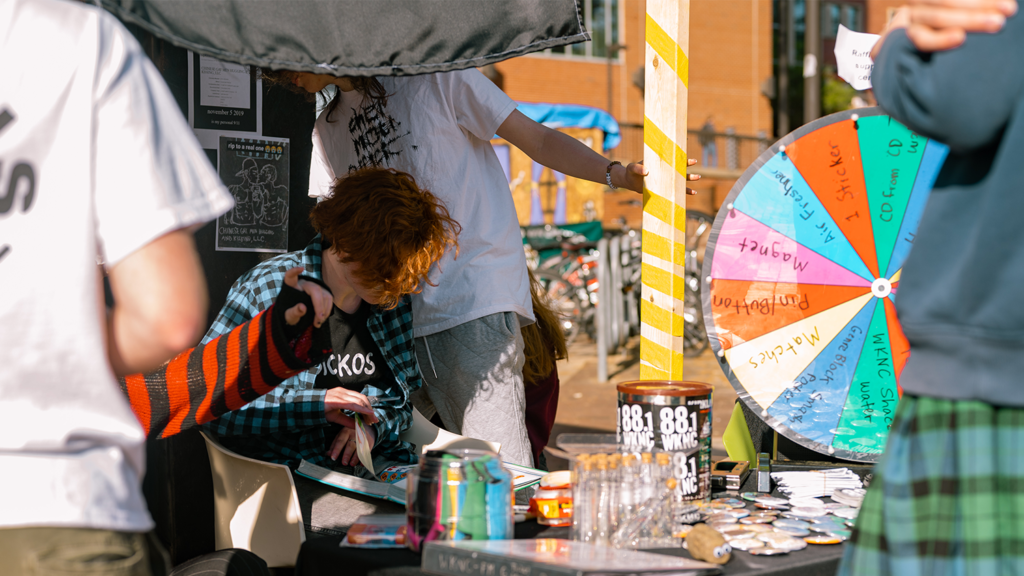 WKNC members staffed the shack and fundraised throughout the week. They also volunteered to build and later demolish the shack. Volunteering for this event gave WKNC staff a chance to be a part of a campus-wide event and get closer to the WKNC community as well.
"We had an online sign up sheet for WKNC staff to run the shack for an hour at the time, but people ended up enjoying being at the shack so much that there would often be at least five people at the shack at once," Jennette said. "It was a great way for our staff to meet other staff that they had never met or really interacted with before."
Shack-A-Thon had other benefits for the station as well. "I think participating in Shack-A-Thon was really awesome because we got to introduce the station to a lot of people who had never heard of us before," Jennette said. "The majority of students on campus don't know that WKNC exists so to have a brightly colored shack in the middle of the brickyard for a week was a great opportunity to spread the word about us."
Newly appointed General Manager Erie Mitchell is excited to be involved in Shack-A-Thon next year and already has "some ideas that might be bigger than last year," Mitchell said. "I think WKNC showed that there's a lot of people on campus who like our vibe and our station community and we got to meet so many interesting people on campus while also feeling like we did contribute to Habitat by raising more money than almost anyone."
Mitchell also highlighted a favorite memory from Shack-A-Thon was putting on the roof the first day. "It was pouring rain and we had been working for hours but when we preserved and got that roof on it was like, 'wait, we can actually do this' and was a magical moment," Mitchell said.
Being a part of Shack-A-Thon encouraged members of WKNC to get involved in more on-campus activities and showed that WKNC plays a large role in campus life.
Caitlin Carroll, a May 2023 graduate and WKNC's content manager and a social media content creator for the 2022-2023 academic year, was very excited WKNC was involved in Shack-A-Thon. Like Mitchell and Jennette, Carroll also felt like many people don't know what WKNC is and found participating in Shack-A-Thon satisfying because it was a campus-wide event that took place at the center of main campus where more people could learn about WKNC.
"A lot of events WKNC is a part of are off campus, so it was different and exciting to do something on campus," Carroll said. "I know in the past WKNC has been able to do more stuff on campus and I hope that in the future WKNC is able to return to partaking in more on-campus events."
More scenes from WKNC's involvement at Shack-A-Thon can be seen on WKNC's YouTube.