Over the past month or so, I've been entranced by clipping.'s 2020 release, "Visions of Bodies Being Burned". Full of industrial energy, "Visions" is a headache-inducing, horror rap journey that I cannot get enough of. I truly do not believe there is another hip-hop group around right now with a similar style and sound as clipping.
A Blood Narrative
One of the most cohesive threads running through "Visions" is how well clipping. pieces together narratives like a detective novel. "Say the Name" sets this precedence with the story of a woman haunted by a DIY abortion of a nine-month pregnancy. The consistently violent imagery following her lust after a man keeps listeners in morbid curiosity of how her situation could have ended so poorly.
clipping. also seems to have done a decent bit of murder investigation as well. With how vividly the killings of three different cops are described, there's so much dread that went through me listening to "Body for the Pile". Even the horrifically grinding sound of overdriven static at the start of the track adds to its aesthetic. The three murders only get more violent and messy as the song progresses.
Three little pigs and they can't do nothing, for the last time

You can't run, you just a body for the pile

Lyrics from "Body for the Pile" by clipping.
It's hard to miss, but the way the officers' corpses are just "bodies for the pile" highlights their stance on police getting killed generally. The first is beaten to death, the second is shot, and the third is killed in a car crash, representing the most common atrocities committed by cops against civilians.
The Sound of Violence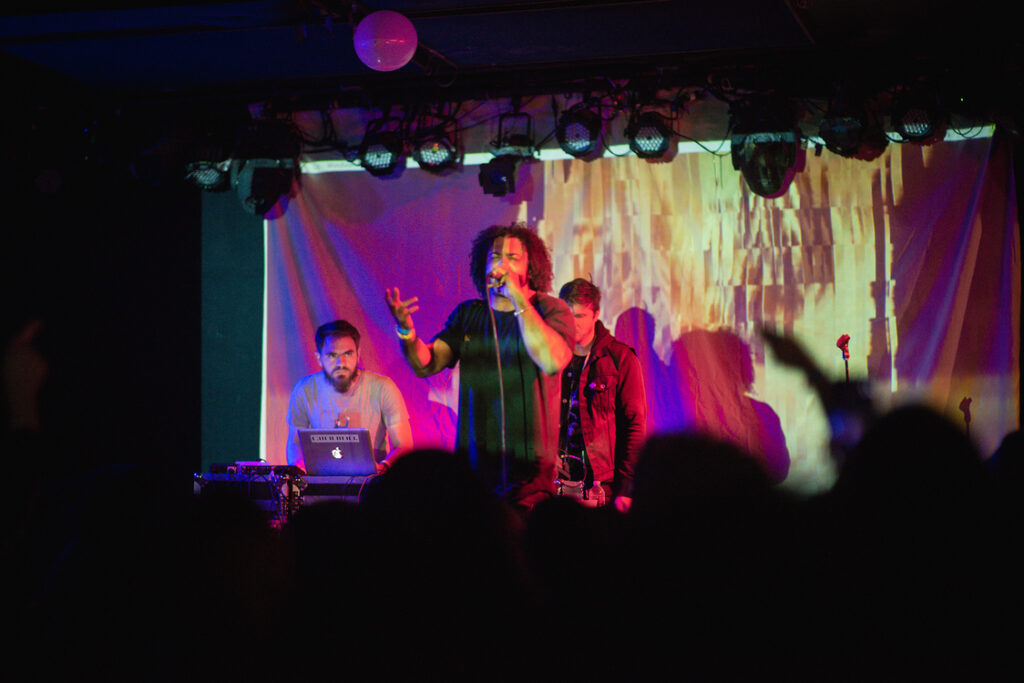 One of the most striking aspects of clipping.'s music is how overwhelmingly powerful the bass is on every track. Many songs start with either rumbling, deep bass or pure noise for the sake of noise. There's very little in terms of percussion or any lighter sounds than this pounding that permeates the album. So, when the bass drops out, you know to pay extra attention to rapper Daveed Diggs's lyrics.
His rapid-fire style and punchy flow are in themselves just as violent as the music he raps over. The use of an extensive range of metaphors and references only make his verses all the more dynamic. His voice isn't particularly heavy though, so it can still cut through the rest of clipping.'s beats when it needs to. The result is an outburst of frustration at a wide variety of social ills from police violence to the destruction of Earth. As a response to the violence of the perpetrators, clipping. calls for an equally violent revolution.
Waiting patient for the signal when the time is right

To bring it down

Lyrics from "Something Underneath" by clipping.
Concluding Thoughts
When a group with this much talent comes along, they become hard to ignore. I believe that they will surpass other experimental hip-hop artists with future records powered by their toxic industrial production within the next few years. From this album, I especially enjoyed the songs mentioned above, as well as "She Bad" and "'96 Neve Campbell".
Rating: 9/10
— DJ Cashew