I was lucky enough to see this legendary lineup at Bank of America Stadium in Charlotte, NC on Sep.1.
If you missed it, there was a preview of this show posted just a few days ago. If you want to read up on some of the general information for each of these performers, you can find the preview on the WKNC Blog.
Overview
I want to provide a quick disclaimer before I begin: This is was my very first stadium concert. It was very large. I had a seat up in the middle section. By no means the best seat and by no means the worst seat.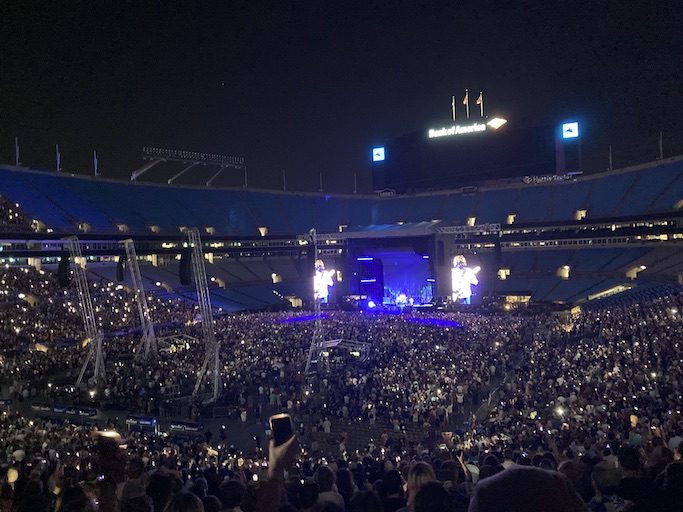 My second disclaimer is quite a disappointing one: unfortunately due to traffic conditions and my class schedule, I missed Thundercat's performance. So this review will just be evaluating The Strokes and Red Hot Chili Peppers performances. I know, I am sad I missed Thundercat too.
Let's get into the general experience. Even though I was pretty far back, I had a great view of the stage. I commend the set designers for this show. As I will go more into later, the light design was phenomenal.
When paying for a stadium concert ticket you are paying for much more then just the sounds– you're paying for the insane visual show too.
It goes without saying that this concert was stacked with talent. More than talent: skill, synergy, and pure passion for music. These guys are all legends. Without further ado, let get into the show.
The Strokes
First and foremost, I loved the energy Julien Casablancas, lead vocals, brought to this performance. I find it fascinating how different artists react to fame. It was clear to me that after a lifetime of performing in The Strokes Julien Casablancas treats his role very casually.
The Strokes had a extremely powerful performance despite their lowkey demeanor. They also had a such solid setlist.
One of my favorite moments was their performance of "Juicebox" off their 2006 album "First Impressions Of Earth". The sheer endurance of The Strokes astonished me. Their tracks, especially this one, sounded much more grungy live than I was anticipating.
I loved the visuals they brought to the performance as well. Their backdrops displayed different dream-scape visuals. There was lots of muted colors that contrasted beautifully with their rough and energized sound.
My absolute favorite moment was undoubtedly their closing track, "Reptilia" off their 2003 album "Room On Fire". This is one of their most popular songs for good reason. It is, in my humble opinion, one of the best songs of all time and their performance of this track made me love it even more.
The Strokes has been such a massive influence on the indie rock world. Their music inspired the creation of hundreds, if not thousands, of amazing artists and bands. Their music has been such a source of happiness in my life; being able to finally see them live was extraordinary.
Next up on my bucket list is to see Julien Casablancas perform in The Voidz.
Red Hot Chili Peppers
This performance was nothing short of remarkable. Their are few things more powerful than a group of musicians that have spent their lives performing together. The resonance Red Hot Chili Pepper have obtained is unbelievable.
I was honored to be in the presence of such a great setlist. One aspect that contributed to their musical insanity was the sheer amount of improvised riffs in between and within every track.
One of my favorite tracks they performed were "Here Ever After" off of their newest album "Unlimited Love". I was surprised by how few songs off this album they performed; but I was so happy the selected this one.
Another favorite was their opener "Can't Stop" off their 2002 album "By the Way". Red Hot Chili Peppers is composed by some of the greatest musicians of our time. Chad Smith ripped it up on the drums the whole performance, there was only a handful of moments he stopped drumming. The endurance of everyone was insane.
I simply cannot write a review of Red Hot Chili Peppers without mentioning the legendary Flea. His performance did not disappoint. There were multiple instances that he stole the show, most notably in tracks "Give It Away" and "Nobody Weird Like Me". Also, Flea had a one sticker on his bass that said, "support your local freak" I thought I should share that detail.
I would also like to note how excellent their light design was. Their backdrops were amazing. They had such great color design to competent each of their tracks. Many of the visuals melded into the videos of them performing; whoever was manning the cameras for the show did an excellent job.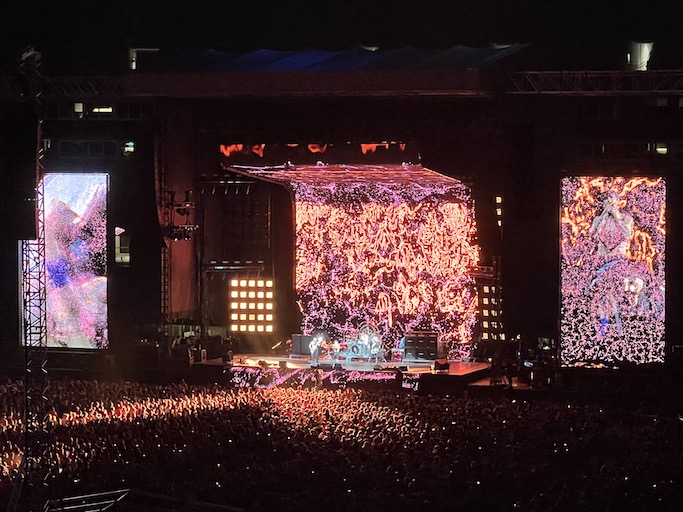 This is all to say the performance was excellent.
Concluding Thoughts
One of my teachers once told me, "the worst part of any performance is the audience". This was very true for this show.
As an audience member, it is important to recognize that our behavior directly impacts others around us. If you are having a bad time at a show and are not enjoying or paying attention to the extraordinary music– it is very easy to leave. Be courteous of others.
Despite the distractions within the audience, this concert was astonishing.
The performers exceeded every expectation I had. I was very fortunate to see Red Hot Chili Peppers– it is unclear how much longer they will be touring for. I dearly hope they never stop.
They seem to have no end in sight in regards to releases. Red Hot Chili Peppers will be releasing a new album, "Return of the Dream Canteen" this year on Oct 14.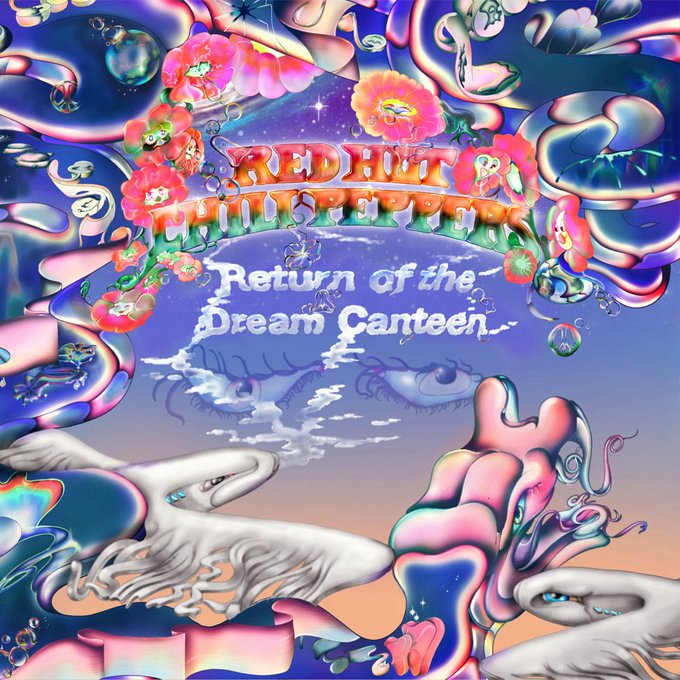 I'll certainly be looking forward to this release.
I sincerely hope to see these two bands perform again one day. I hope you all get the chance to see them too, they will not disappoint.