Long ago, my main interest in music heavily focused on pop music. While there's absolutely nothing wrong with that, (stuff is usually popular for a reason) my music taste has really strayed away from that as I've gotten older. I recently found a picture of an old journal entry from when I was 16 that chronicled my favorite albums from the time, and I wanted to reminisce on them and share how I feel about them nowadays.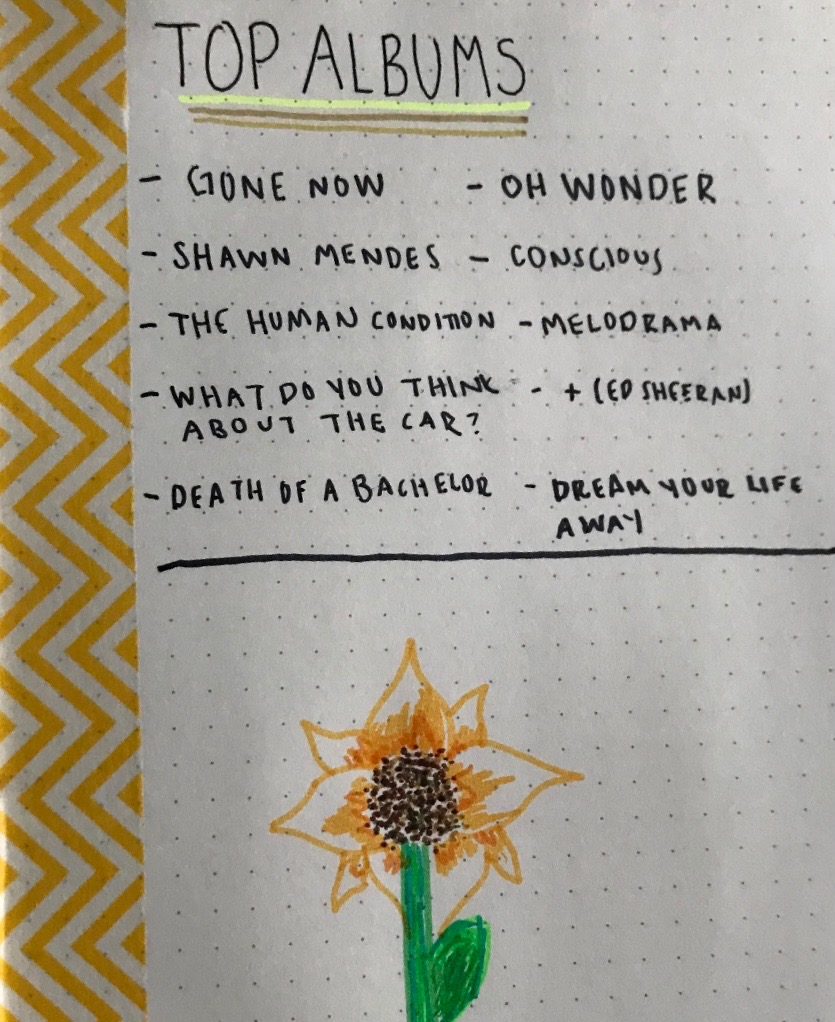 I still deeply love this album, and revisit it annually, but it's no longer in constant rotation like it used to be. Bleachers was a gateway into more of the "indie" music that I am into nowadays. This album will forever be my favorite thing that Jack Antonoff has put his magic touch on.
This journal entry is from June of 2018, and that album came out in late May 2018. I most likely last listened to that album in August of 2018. It was definitely a temporary love, but I remember it being good pop music.
This album definitely is a product of its time. It just feels very 2016. It was one of the first albums I ever deeply fell in love with, and eventually even went on to see Jon Bellion in concert. It's definitely not something I would still listen to nowadays, but it meant a lot to me back then.
This is still one of my favorite albums of all time. If you like "Brazil," the most popular song off of this album, then you should definitely give the rest a listen.
This isn't even their best album (in my opinion their first album takes the cake). Again, definitely not something I currently listen to, but it was important to me back then.
This is an extremely underrated pop album. While I rarely ever revisit nowadays, I still love it dearly. Maybe the nostalgia I have associated with this album makes me see it through rose-colored glasses, but it was the first album I properly listened to from beginning to end all on my own.
This is another underrated pop album, and I don't think nostalgia is fueling my views this time. Broods' 2019 release "Don't Feed The Pop Monster" is an album I revisit more often than this one, but both are amazing and in my opinion, stand the test of time.
This is the best pop album of the 2010s. I felt that way then, and I still feel that way now.
"+" – Ed Sheeran
I remember wanting to make both sides of the list even, so I kind of added this one as a last-ditch effort. I loved this album in 2013, but I seldom revisited it when I wrote this entry 3 years ago and don't now.
What I said about "+" applies here, except I do revisit this one nowadays.
---
There isn't anything wrong with the albums I don't listen to anymore, they just belong in that period of my life. I can't help but wonder what I'll think of my current favorite albums three years from now. Only time will tell.
Until next time,
Caitlin