I love music (obviously), and I love live music, but the premise of a music festival has always sounded like a lot to me. I'm fairly introverted, so three straight days of dawn to dusk music in a desert with no phone service doesn't quite pique my interest. However, after being deprived of live music for quite some time, festival lineups are coming out again, and I've been contemplating what the lineup would have to be for me to cave and buy tickets for a music festival.
Inspired by DJ Butter's post about this a few weeks ago, I decided to come up with my very own dream festival line up.
After much deliberation, time, and stalking of my last.fm and Spotify, I came up with a list of artists that I would love to see all at one music festival. As I was compiling the list I realized how eclectic my music taste is, and how far fetched it is that all of these people would ever be in the same place. Nevertheless, it was fun to pretend.
With that being said, here is my (tentative) dream festival lineup.
---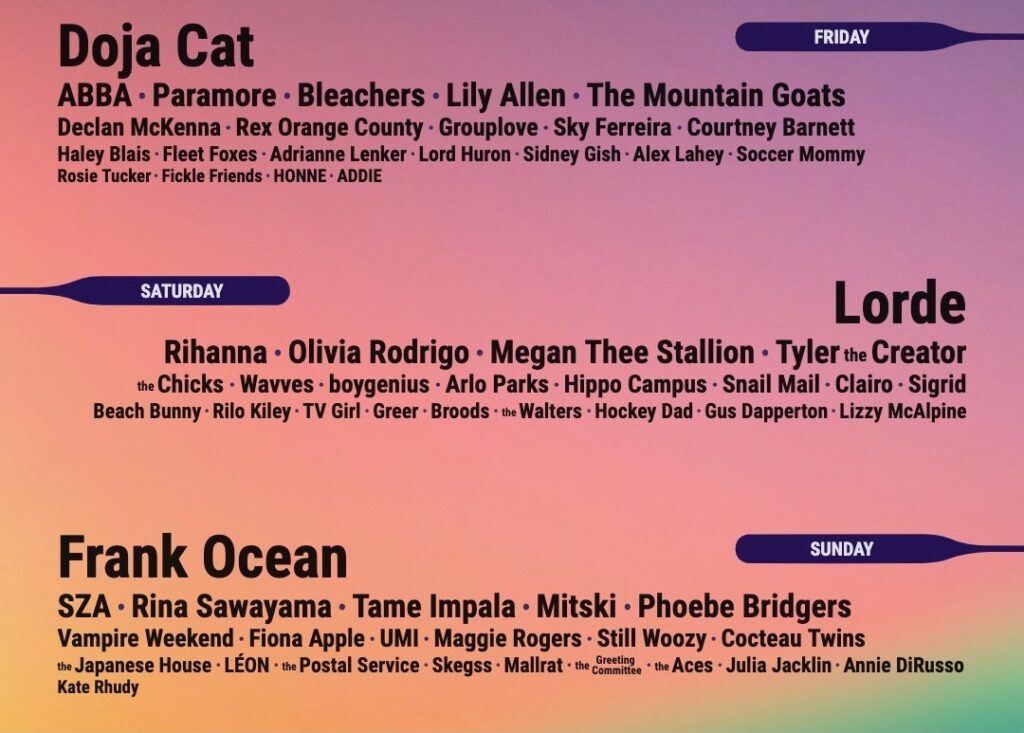 ---
HEADLINERS AND MY DREAM SETLISTS
Doja Cat
Seeing Doja Cat live would be so much fun, she really knows how to put on a show and all of her songs are bangers. If she were to headline, this would be my dream setlist for her to perform.
"Rules"
"MOOO!"
"Best Friend"
"Boss B-tch"
"Tia Tamera"
"Streets"
"Like That"
"Kiss Me More"
"Candy"
"Juicy"
"Say So"
Lorde
I've been a fan of Lorde for years and would absolutely love to finally see her live. If she were to headline, this would be my dream setlist for her to perform.
"Homemade Dynamite"
"The Louvre:
"Sober"
"Royals"
"Ribs"
"Liability"
"Hard Feelings/Loveless"
"400 Lux"
"A World Alone"
"Perfect Places"
"Supercut"
"Liability (Reprise)"
"Green Light"
Frank Ocean
The elusive Frank Ocean was actually supposed to headline Coachella in 2020, but unfortunately, Coachella did not happen last year. If he were to headline at my festival, this would be my dream setlist for him to perform.
"Thinkin Bout You"
"In My Room"
"White Ferrari"
"Self Control"
"Super Rich Kids"
"Chanel"
"Bad Religion"
"Forrest Gump"
"Sweet Life"
"DHL"
"Solo"
"Pyramids"
"Skyline To"
"Nights"
"Biking"
"Ivy"
"Slide"
---
This was a lot of fun to think and theorize about, so if you're ever looking for something to do, try planning a fake music festival.
Until next time,
Caitlin