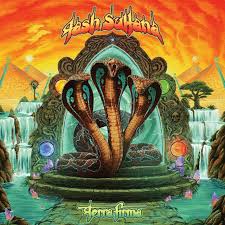 So, we all know that I love me some Tash Sultana, and when I found out that they were coming out with a new album, I absolutely geeked. Tash Sultana is just a breath of fresh air and their music always speaks to me. Their new album, "Terra Firma" is no different.
This album is very different from their previous album, "Flow State" (which we all know is one of my favorite albums of all-time). Sultana incorporates different musical themes and instruments throughout each song; I think this is cool because it makes each song different and unique. Almost every song makes me feel like I am the main character of a movie and I absolutely love it. Let's take a look at some of the songs that stood out to me on the album.
The album opens with an instrumental track, "Musk," which sets the tone, really, well for the rest of the album. It appears that Sultana is sticking to some of her musical roots but is also adding a little bit of flavor so the songs don't sound the same. Their second song, "Crop Circles," has to be one of my favorite songs off the album because it reminds me of their album "Flow State," but with more of a jazzier feel. "Greed" is also another great song which talks about the music industry and how they only love you when you "make it big." This song has the jazz, indie, lo-fi type vibe which I am in love with. Another song that I keep playing off this album is "Dream My Life Away" which is a very dreamy song. The song says a lot even when, lyrically, the song says so little. Sultana has always been good at capturing emotions not only though their lyrics but also through their instruments. 
Overall, this album is very enjoyable. It contains 14 songs and takes an hour to play front to back. The vibe of the album is jazzy with a hint of indie and upbeat tempo. I really enjoyed listening to this album and even though it is far different from "Flow State" it is definitely worth a listen.
Rating: 7/10
Favorite Songs: Crop Circles, Greed, Musk, Dream My Life Away 
Stay Metal,
THE SAW