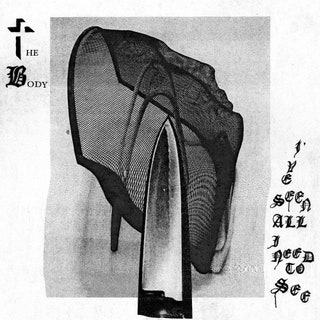 New harsh noise music is hard to come by, and it's even harder to find noise that's worth your time, but praise be, The Body have come through. The Providence, Rhode Island duo have been minor celebrities in noise and metal communities for a while, and they have moved through numerous styles in the nearly 20 years since their debut. Their 2016 album No One Deserves Happiness, is a favorite of mine for its absolutely bonkers incorporation of dance and art-pop elements into their barren hellscape of a sound, and genre enthusiasts assure me that some of their metal-oriented stuff is good as well, though I personally don't care for it.
This new album, however, is something altogether more primal and terrifying. Going back to power electronic basics is kind of the noise artist equivalent of an indie rock band putting out a folk album, or of Taylor Swift releasing an indie project, and accordingly, these albums usually get listened to by a handful of fans before moving on to the next major release. I've Seen All I Need to See breaks this mold, taking a cold, unpleasant sound palate and deepening it into a genuinely moving experience. There aren't bombastic highs, like on some of their albums, and there aren't really dredging lows either, instead, the album asks you to just sit with for an hour or so and take it in. Slowly, the rough grimy exterior slips into something melancholic and wistful. Distorted synth tones feel almost melodic and the distance scream becomes a gentle descant. For a genre with an all too limited range, this album is awfully subtle, and you could attach a host of different emotions to it. Anger, loneliness, even something more uplifting, the choice is yours.
This album won't be for everyone, noise music is an acquired taste at the best of times, usually because of its abrasion, but in this case more because of the slow burn, instrumental feel. However, if you like noise, ambient, drone, or even more lowkey metal artists like Sun O))) I'd recommend this release, there's a reward for your patience down in there somewhere.
ALBUM: "I've Seen All I Needed to See" by The Body
RELEASE YEAR: 2021
LABEL: Trill Jockey
RATING: 7/10