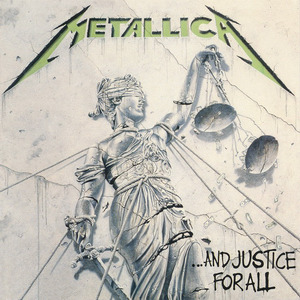 The fourth studio album from Metallica; recorded January – May at One on One Recording Studios in Las Angeles, California, and released on August 25, 1988 …And Justice for All (Elektra) amounted to the end of Thrash Metal as it was known at the time. Helping to mold the genre, Metallica, with this record, effectively brought it to its logical conclusion.
Not only was the album a natural progression of the band's sound – starting with Kill 'Em All (1983), through Ride the Lightening (1984) and Master of Puppets (1986) –  …And Justice for All was progressive metal (before there was such a thing). When Cliff Burton unexpectedly died in 1986, Metallica was searching for an outlet of sorts, I think, and with this record came an unleashing of rage and torment. It features staggering complexity, fast tempos, multiple time changes per track, eight or more riffs per track, and lyrics concerned with politics, the environment, legal injustice, censorship, and war. Jason Newsted was tapped for the bass position, though the final mix of the record nearly filtered him completely out. Blame for this fact flies all around, but I think it's a sign of the struggle on behalf of Hetfield and Ulrich (and to some degree, Hammett) to cope.
Though the lyrical content of …Justice covered new ground, this record is all about the instruments! Specifically, nasty riffs, percussion, and double bass. Speaking of double bass, Lars' double kicks on this album, have been dubbed, double "paper bass." I love how they sound! The song "One" was the first music video for Metallica and was seen as an anti-war rant. The track "To Live is to Die" is a bass medley of unused recordings by Burton. Newsted played the medley that Burton wrote on the album. All lyrics on the record were written by James Hetfield, except the Spoken Word on "To Live is to die," posthumously credited to Cliff Burton. All other music is credited to Hetfield Ulrich, and Hammett (Newsted gets co-credit on Blackened).
…Justice reached Gold in Norway; Platinum in Argentina, Finland, New Zeland, Switzerland, and the United Kingdom; 2X Platinum in Australia and Germany; 3X Platinum in Canada; and 8X Platinum, selling 8 million copies in the United States.
Favorite Songs: Blackened; …And Justice for All; Harvester of Sorrow
Rating: 10/10!! And quite possibly my favorite Metallica album!
Stay Metal,
THE SAW