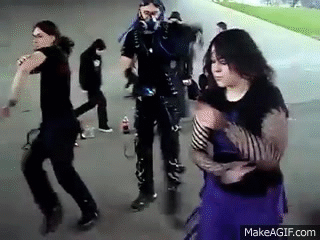 I have been to a lot of shows and even though I mosh, I mainly dance. My friends have described my dancing at a show as "club dancing" (shout out to Kevin), and it's honestly straight facts. How I dance at any metal show is how I dance when I'm out with my friends. I have been asked why I dance the way I do at shows and my only answer is because "it's fun" and I am a firm believer that some types of metal could be club music.
When listening to metal, if it has a good, catchy beat to it that anyone could dance to (primarily death metal and hardcore), it should be played at the club! The choppiness of the riffs and beat of the drums really emphasize this notion. The heaviness and the power of the band doesn't take away from the aspect that the music is catchy as hell.
And I'm going to be honest, I 100% believe that people could throw their asses back to some death metal, I mean have you listened to Redneck Stomp by Obituary? I can see a grind train right now. The club would be lit as hell. I grew up having dance parties with my mom, and she would play Korn, Pantera and Rob Zombie, etc.; but she would also play TLC, Usher, Lil Jon, and Snoop Dogg. So I grew up dancing to both genres of music even though they are at opposite ends of the spectrum. My mom dances the same way I do at shows, so maybe its genetic? Was I born with it? Maybe its Maybelline, who knows.
Here are a lists of songs that I believe should be played in a club that people could "get down" to:
·      Obituary – Redneck Stomp
·      Debauchery – Murder Squad
·      Six Feet Under – The Poison Hand
·      Jungle Rot – Paralyzed Prey
·      Torture Killer – A Funeral For The Masses
·      Dying Fetus – Fixated on Devastation
·      Debauchery – Death Metal Warmachine
·      Six Feet Under – My Hatred
·      Cannibal Corpse – Evisceration Plague
·      Bent Life – Thanks For Nothing
·      Bent Life – Cheat Death
·      Boundaries – No Other Way
·      Boundaries – Seizin' the Demon
·      Boundaries – Sour Mouth
·      Left Behind – Focus on the Flesh
·      Gideon – Cursed
·      Gideon – No Love/No One
·      Kublai Khan – The Hammer
·      Kublai Khan – Self-Destruct
·      Kublai Khan – High Hopes
·      Korn – Word Up
·      Korn – Y'all Want a Single
·      Gatecreeper – From the Ashes
Want to listen to this playlist? Click here!! 
What songs would you add to this metal club playlist?
Stay Metal,
THE SAW