House music that's meant for dancing
Milton Welch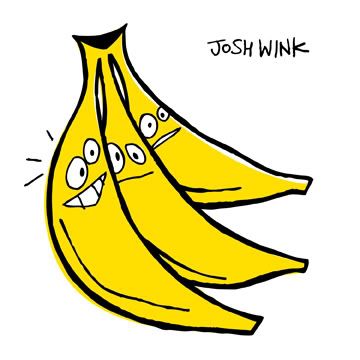 The term "electronic music" encompasses lots of styles of music, and as much as any the pulsing 4/4 of house, techno, and electro. Josh Wink of Philadelphia extends this pulse across a long play release When a Banana Was Just a Banana―truly long: all tracks except "Minimum 23" are over nine minutes. Each makes a subtly different approach to layering synthesized sounds over robotic beats.
Running at more than an hour and a half, Wink's release embraces once futuristic realities of contemporary music and how we listen to it now.
These songs are meant for dancing.
"Stay Out All Night" is a flashy homage to the 303 synthesizer updating dance club sounds from the nineties.
"Airplane Electronique" then takes off into bright harmonies and bending pitches.
The bright reverberating splashes of the currently circulating single "Counter Clock 319" builds with springy enthusiasm.
Like those songs, "What Used to Be Called Used to Be" at over ten minutes will more likely be heard on an iPod, a computer or thumping out of some club's speakers than on commercial radio.
In an online interview, Wink discusses how many of these songs were written over the last few years of his travel as a DJ, so in all likelihood many of these songs have already had a fair share of club play.
It is worth noting that Wink's own record label, Philadelphia's Ovum Recordings, is releasing When a Banana Was Just a Banana.
Wink's LP is a smart, driving collection of songs, but unlike mainstream popular music contemporary new electronic music from Ovum and similar labels is generally released as EP length material.
One EP that is of particular interest is the upcoming release of Kikomoto Allstars's House Music EP on International Deejay Gigolo Records.
The Berlin techno label consistently releases electronic music that is at once surprising and envelope-pushing.
Kikomoto Allstars is the name of an Australian electronic producer and DJ whose songs are new, yet filled with retro nods to U.S. club sounds.
The title track is a deliberate nod backward from the global dancefloor of the 21st century to the early dancefloors for electronic music in such cities as Chicago, New York, and Detroit.
The second track of the E.P. "Bending Time" sizzles percussively around a modulating tone then breaks into a phasing handclap suspended amidst propulsive yet ambient bass of very low frequencies.
Both Josh Wink's When a Banana Was Just a Banana LP and Kikomoto Allstars House Music EP are dancefloor ready, but their appeal goes further than the ease of cutting a rug to them.
The clever syncopations and dazzling sound palettes of these mostly instrumental tracks are both historic and futuristic.
These releases suggest the complex appeal of listening to electronic dance music whether dancing at the time or not.
88.1 WKNC DJ Pick of the Week is published in every Tuesday print edition of the Technician, as well as online at technicianonline.com and wknc.org.