DJ Flipside
When you can tune in to hear me: Tuesday Nights from 5pm-7pm

About me: I am currently an Economics major at NC State. I've been classically trained in music since the age of five. I play the violin, piano, and can rock a mean glockenspiel among others. I enjoy falling in love with female singers, snowboarding, and solving unfinished sudokus/rubik's cubes.
This is me and Taye Diggs. We are pretty much bffs.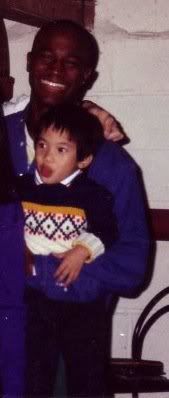 WKNC 88.1 FM is student-run non-commercial radio from N.C. State University. We pride ourselves on our alternative programming of indie rock, electronic, metal and underground hip-hop and have been consistently named among the best in the Triangle by Independent Weekly. Boasting 25,000 watts, WKNC can be heard throughout the Triangle and far beyond via our webcast. Our aim is to provide NCSU students with the knowledge needed for a career in the broadcast industry and listeners with music that doesn't suck.
WKNC 88.1 FM
Campus Box 8607
343 Witherspoon Student Center
Raleigh, NC 27695-8607
requests 919.515.0881
or 919.515.2400
fax 919.515.5133
business 919.515.2401