QUE?!?!?
"Dood this song makes wanna go drinking with dwarves from Lord of the Rings!!!"
My Role
I am the Epic Music Player
Headbanger's Ball
I'm on at 10pm-12am on Friday Evenings
Try It
DO A BARREL ROLL!!!
Music Style
What do you think my music style is? If you cant read above its Metal. I'll play everything metal. Bands? Well here's a sample...Emperor, Sabaton, Finntroll, Megadeth, Shadows Fall, All That Remains, Three Inches of Blood, Slayer, Meshuggah, Iced Earth, Rotting Christ, Jesu, Isis, Carcass, At The Gates, Poison The Well, Dying Fetus, Nearea, Korpiklaani, Megadeth, Godflesh, God Forbid, Blind Guardian, Rhapsody, Nevermore, Cradle of Filth, Behemoth, Nasum, Cannibal Corpse, Napalm Death, Kreator, Skeletonwitch, and Dimmu Borgir. I'll play some local bands as well. Like Praetorius, Faith in Ashes, Viper, Direkt Frequency, and Hephystus check 'em out. They rock so hard.
Favorite Genre?
Well, it has to be power metal. I mean come on, who doesn't want to slay dragons. BUT FEAR NOT!! I will play other genres of metal!! I am not limited to the Metal of POWER!!! even though my nickname is epic...(see below). I enjoy all types, and in all honesty It really depends on my mood. I can be in a real pissed off mood and play some black metal, or if I'm depressed, I'll play some doom metal. Feel like dancing? What do you think breakdowns are for? But I will not play regularly, unless by request, Emo, Deathcore, or Macho-man Hardcore. I'm just not a fan of whiny bitches or one note songs.
Name origin...
Well, when i first started DJing, I was a N00|3, a NOOB for those who can't read 1337 (leet), at KNC. And well...I BRING DOWN THE HAMMER!!! I'll bring down the hammer on the non-believers of metal. ALL HAIL THE RETURN OF METAL!!!
Nickname bestowed upon me by The Man With The Golden Gun
"Dude, that shirt is so epic!!! That is you're new name...Epic. I mean, I wanna go out and slay some dragons now!!"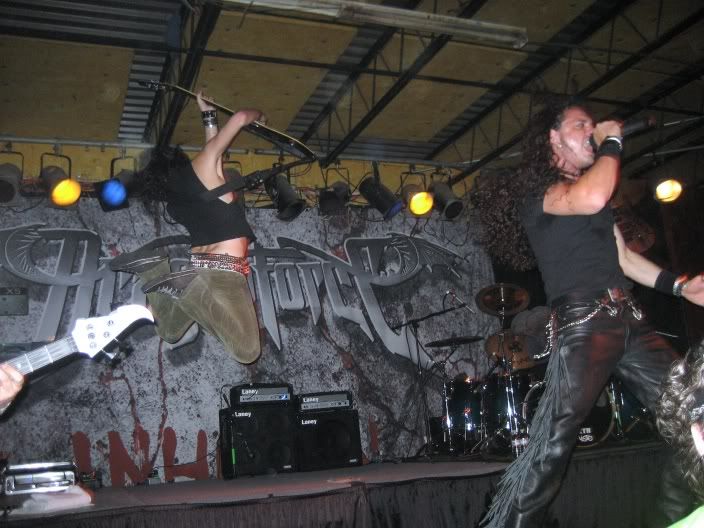 Me with Iced Earth and Paul Masidval from Cynic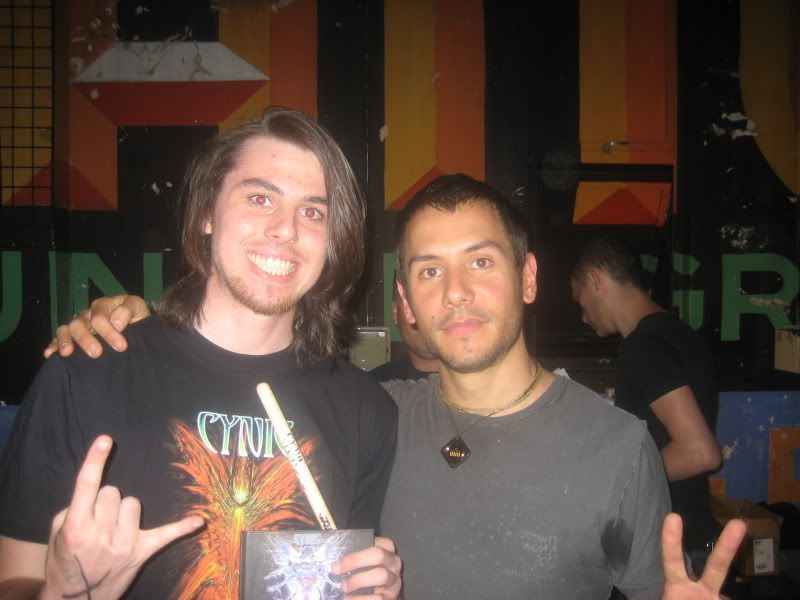 What I'm Enjoying
The Devin Townsend Project - Addicted
Wrath and Rapture - Self-Titled

Rotting Christ - Aealo

Anathema-We're Here Because We're Here

Nevermore-The Obsidian Conspiracy

I also support our local music scene as well as post-rock and shoegaze bands like Mogwai, Jesu, Pelican, Explosions In The Sky, Lichens, and OM.

ALSO....I like Dragons....and Pirates...and Vikings....AND songs that involve all three.