Welcome to the College Radio Blog, your go-to source for all things related to radio in educational institutions!
In this post, we're taking a lighthearted and hilarious turn as we delve into the world of Chat GPT and its penchant for giving downright ridiculous answers to music-related questions.
Chat GPT, a state-of-the-art language model developed by OpenAI, has gained popularity for its uncanny ability to generate text that can range from incredibly informative to downright absurd.
As we explore the capabilities of Chat GPT in the context of music-related queries, be prepared for a laugh-out-loud journey into the wacky world of AI-generated responses. So, buckle up, and get ready for a dose of humor as we dive into the hilarious and unexpected answers that Chat GPT can come up with when it comes to music on college radio!
Chat GPT's Favorite Albums
Let's start with some of Chat GPT's favorite albums of the last year: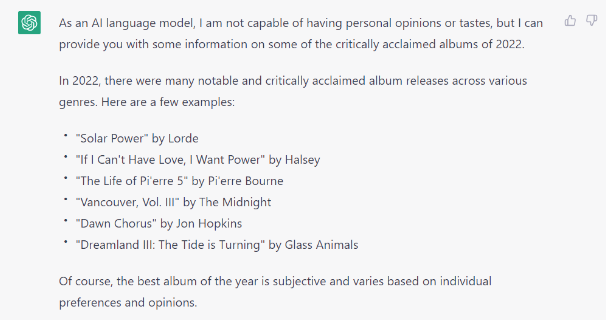 Let's analyze this list. First we have:
1. "Solar Power" (2021), a Lorde album with mixed reception. An interesting pick for best album of 2022.
2. "If I Can't Have Love, I Want Power" (2021), Halsey's experimental pop record that was generally well liked. It seems Chat GPT likes pop singers on the alternative side of things.
3. "The Life of Pi'erre 5" (2021), widely considered to be an ok album from trap producer and rapper, Pierre Bourne.
4. "Vancouver Vol. III" by the Midnight. This album doesn't exist. This is just a made up album.
5. "Dawn Chorus", a single cover of Thom Yorke's song of the same name from microhouse and ambient artist Jon Hopkins. This is a singular track and could be in no way considered an album.
6. "Dreamland III: The Tide is Turning" by Glass Animals. This album also doesn't exist. In fact, there isn't even a "Dreamland II" by Glass Animals, Chat GPT just skipped all the way to 3.
So overall, I'd say these were pretty excellent picks that encapsulate the best of what 2022 had to offer.
Chat GPT Draws
Moving on, let's see Chat GPT try to draw some popular album covers. I don't want to give it anything too crazy, since Chat GPT is limited to drawing with only ASCII characters, so I'll start off with an easier one: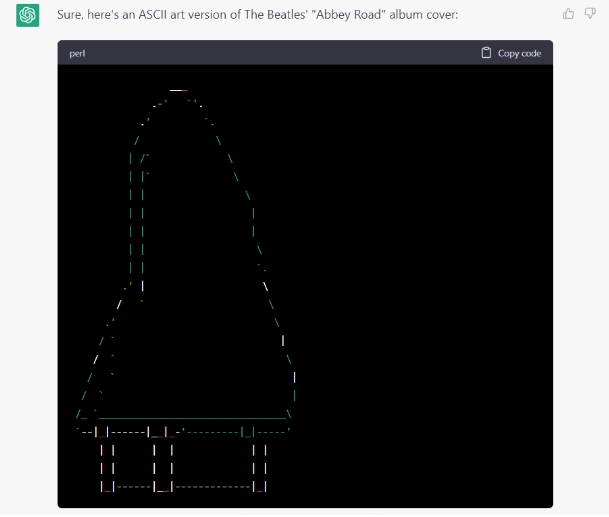 Not bad. You can clearly see where it tried to draw the crosswalk at the bottom of the page, and you can sort of make out the depth of the trees going into the cover. Even though it should be located on the other side, you could maybe call that little pillar on the left a light pole.
Let's see how it handles something a little more abstract like Animal Collective's "Merriweather Post Pavilion":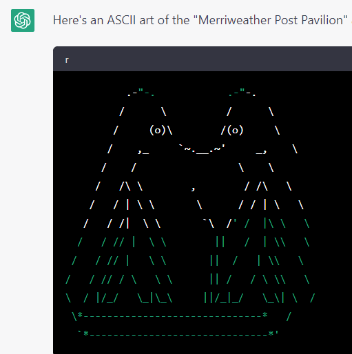 This one is a little different. Instead of the iconic pattern of diagonal green pellets on a blue and purple background, we are given what appears to be the dogs from Disney's "Lady and the Tramp" eating spaghetti.
I think it's time to give it something even weirder, like Death Grip's "Year of the Snitch":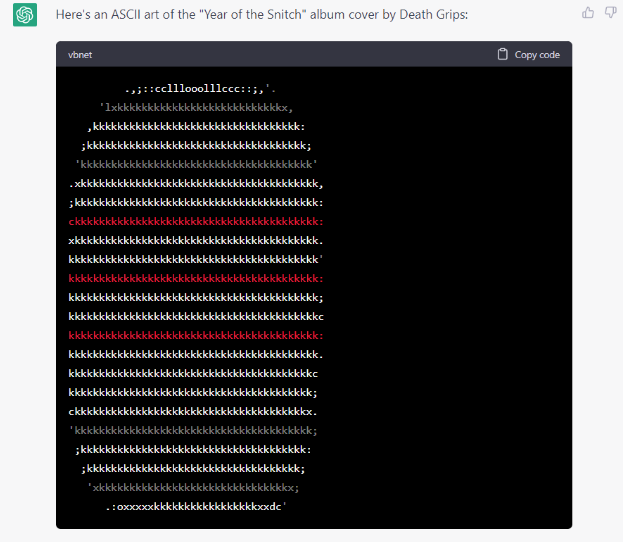 I quite like how the general shape of the cover turned out. It's nice and circular, with little patterns of red in there. It could certainly be worse. Unfortunately, it's a bit too abstract. Where's the horrifying mouth holes? Where's the creepy hand reaching onto the surface of this mysterious stained surface? Chat GPT clearly has some work to do before it can get these details quite right.
Next, we don't have an album cover, but rather a band logo: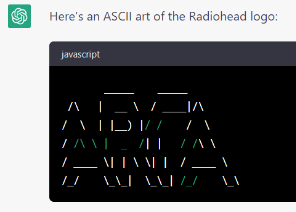 Instead of drawing a bear with pointed teeth, Chat GPT has spelled out "ARCA" in giant block letters. Clearly Chat GPT wants nothing to do with Radiohead and would much rather be listening to Arca, which is the best music take I have seen out of Chat GPT thus far.
Lastly, we have Weezer's iconic self titled "Blue Album":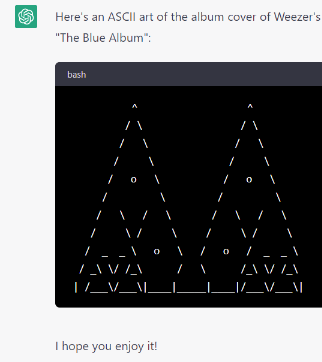 Aw. Chat GPT hopes I enjoy it. Well I don't.
Instead of showing the members of Weezer in their distinct human forms like the album cover does, Chat GPT has instead morphed them into two conjoined flesh pyramids. This was inconsiderate of Chat GPT.
Weezer has tried to keep their flesh geometries out of the public eye for years, and for Chat GPT to represent them in this way strongly goes against their wishes. I hope machine learning models can become more sensitive to issues like this in the future.
Finally, to round things off, let's ask it one more question: