I was first introduced to Hammer No More The Fingers during my discussion with Jeremy Leonard, NC State architecture professor and former WKNC DJ.
Emerging in the mid 2000's, this band is pure indie rock power.
As I learned within my discussion with Jeremy, there was limited means or finding new and underground artists just a decade ago. WKNC was a leading platform for finding under exposed artists and local bands such as this one.
One of the initial break-throughs for this band was at WKNC's very own Double Barrel Benefit.
Not only is this band musically extraordinary, but it local to the triangle area– emerging from Durham, NC.
Members, Duncan Webster, Joe Hall and Jeff Stickley formed the band after their graduation from UNC Chapel Hill and East Carolina University in 2007.
They thrived in the local Durham scene. Later touring across North Carolina and the US.
Upon listening to their discography, I was surprised we are not talking about them more at WKNC and beyond.
To highlight some of their success, I will be doing a dive into their 2011 album, "Black Shark".
Ambitious, robust and high energy, this album will not disappoint.
"Black Shark" Review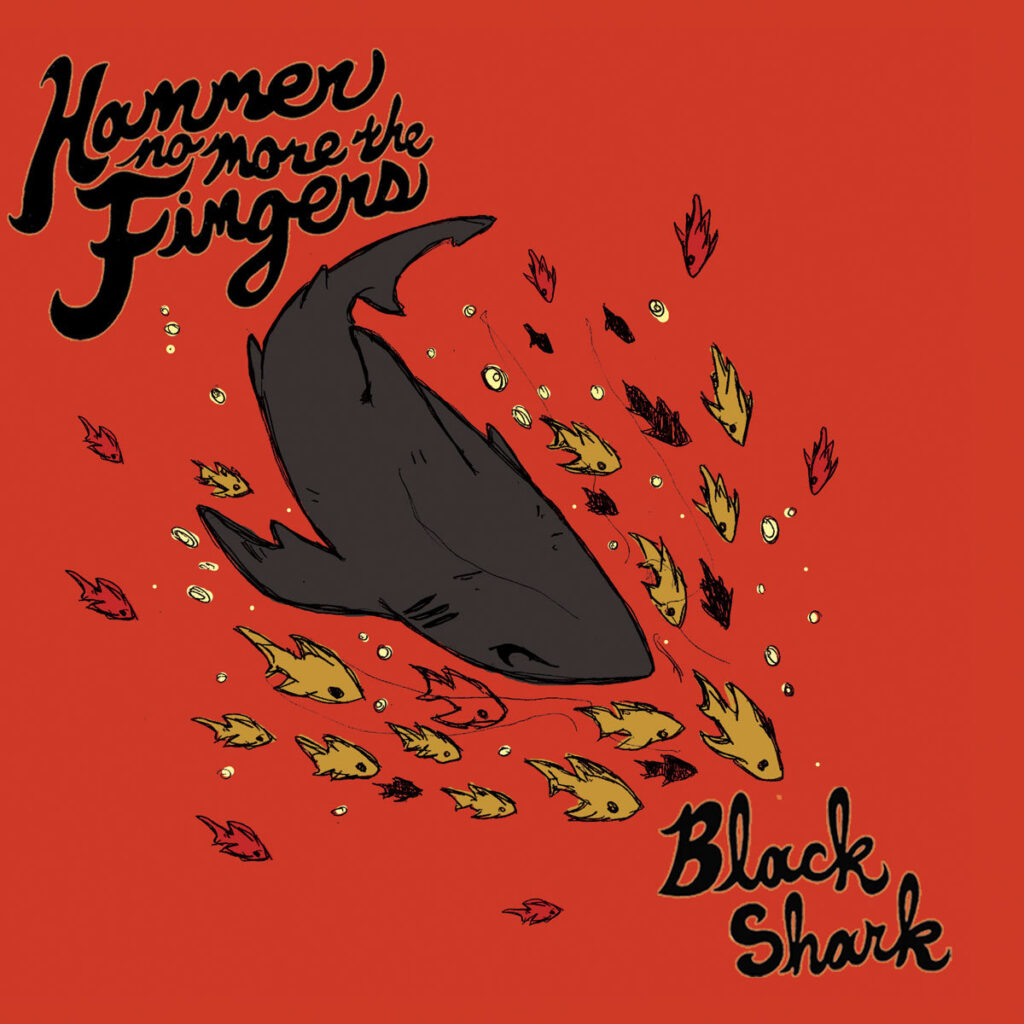 This band is a great example of the power and versatility of a guitar, some drums and a voice.
This three piece band is able to create such rich and fulfilling tracks through timeless elements and skill.
Right out of the gate, "Atlas of an Eye" displays their indisputable harmony and skill together. There is a clear distinction between bands that have been performing together for years and those that collided recently.
This trio has been performing together since 1994– giving this album confidence and harmony that can only be achieve through consistent collaboration and time.
One aspect I adore about this band is the vocal harmonies they achieve. Especially in opening track, "Atlas of an Eye" they achieve some beautiful vocal layering and echos. This layering is reflected in overlapping waves of strings and percussion.
Simply a great opening track. It builds so much momentum for the album to come.
Track number 3, "Shark" was the true hook for me in this album. The chorus is so strong. This track alone captures the energy and style of Hammer No More The Fingers– simple elements, unhinged skill.
I love that this band does not over complicate their lyrics. This is true for every song, but I particularly love the lyrics in "Shark".
Further into the album, "It's About Caring" has some of my favorite guitar lines. This track has very melancholy vocal work, giving the album an angsty, emo rock undertone. This weighty angst is contrasted beautifully with heavy guitar.
The strings are the star in this track.
Continuing the outstanding guitar work, prior track "Steam" is high energy and well balanced. All three band members shine here. This track feels like the true climax of the album– although every track competes for this title.
"Steam" has some the best moments of collaboration in the album.
This collaboration results in the highest energy in the album. The ending section combines all the strengths of the band– vocal harmonies, strong guitar and solid drums.
Simple elements executed with excellence.
Final track, "Fingernails", is perhaps the most perfect ending for such a well crafted album. It provides low and high energy moments to lift the listener out of the album while reflecting on the best moments.
There are many tracks on this album that I did not mention, but they are truly all fantastic.
Concluding Thoughts
Many leading indie rock artists tend to over complicate music. In our modern world, there are so many resources and endless elements that can both enhance and diminish music.
Bands like Hammer No More The Fingers give a refreshing reminder that great music can be achieved without any excessive elements or fancy tools.
The true excellence in music comes from the passion to create and collaboration.
If you would like to listen to more of Hammer No More the Fingers, they have two other fantastic albums, "Looking for Bruce" and self titled, "Hammer No More the Fingers".
There are simply and unbelievable about of talent within the triangle area, look forward to more local band reviews in the near future.