On Saturday, March 26, 2022, the super fun and energetic alt-rock band Mom Rock played at the Pour House in Raleigh, NC, and I had the pleasure to be there. Straight from good old Boston, MA, Mom Rock is, as of March 2022, going on their Reunion Tour "everywhere but [on] the West Coast", where they're headlining 24 shows all around the US. While I knew that the audience at the Pour House is usually a pretty engaged one, I wasn't expecting vocalist and guitarist Josh Polack to admit that we had been their best crowd so far.
Mom Rock was headlining that night, but two bands came before them to do their opening. The show started out with old school grunge band Lawn Enforcement. To put it shortly, I am as big of a fan of their name as I am of their music, and I hadn't heard of either of them before. The raw passion they emulated on stage called for a great start. Then came Late Notice, a six piece indie rock band. Their friends and fans tend to follow them everywhere they play live, whether it's on the NC State campus or in front of an ordinary house — and it's pretty heartwarming to see. I've never been disappointed by a Late Notice live appearance, as I've seen them play a couple of times myself. I really enjoy their subtle blend of indie rock and hip-hop, and how the different vocalists take turns on stage singing and freestyle rapping.
When the first two bands were done, it was already 10:45pm. It was also around that time that Mom Rock arrived on stage, all dressed up in their bright blue jersey shirt, reading the band's name in an old school white font on the front. I had the chance to exchange a few words with vocalists Curtis Heimburger and Josh Polack at the merch table a few hours before they got on stage. I took a picture of them posing with their "got milf?" shorts, and I could tell that their show was going to be a perfect reflection of their personality: super fun and electric. They were both rocking long, curly hair, glittery make-up and big black lines on their face. Drummer Wilson Reardon and bassist Tara Maggiulli stayed a bit more discreet in the back of the stage, although still perfectly aligned with the band's style and energy.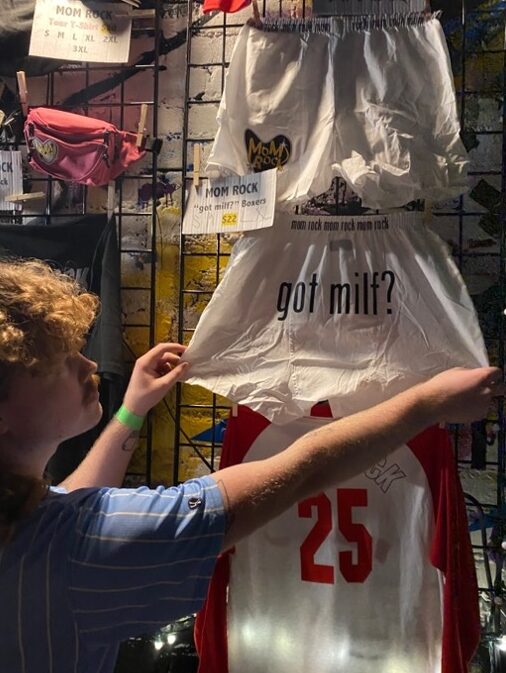 They opened with the upbeat "25" from their 2021 EP "a song with a happy end". "No one knows just who they are at 25", goes the chorus. One thing Curtis and Josh knew how to do, though, was sharing their bright and bubbly energy with the audience. I was front row the whole time, and I was taking in all of it. When they weren't sliding their feet like crazy and shaking their legs to the sound of their own guitars, they were either jumping high in the air or escalating the huge speakers in front of the stage. Mom Rock was the kind of band that was all about giving. They were truly dedicated to use every single one of their body parts and every single inch of the stage to dance, jump, sing or scream. At some point, Curtis even ended up lying down on stage, his acoustic guitar almost smothering him.
From time to time, Curtis would disappear — either in the crowd or upstairs, depending on the song — letting Josh take over. At other times, Josh would be the one merging with the front row, while Tara was pulling off eccentric dance moves and stroking her bass. And sometimes, Curtis and Josh would play the guitar (acoustic or electric) back to back, as close to each other as they could. They played a few of their hits, like "Conversation" or "Intheinbetween" (a personal favorite of mine), and even ended up including a few covers here and there, like "You Belong With Me" by Taylor Swift or "The Middle" by Jimmy Eat World. "Grand Romantic Life" was probably the song that got me dancing the most, as it's both one of their most listened-to singles on Spotify (so I obviously already knew it), and one of their most upbeat songs yet. By the end of the show, Josh was sitting at the edge of the stage, singing their folk-rock ballad "if i had better friends", and he had the crowd singing in unison in a heartfelt communion. When everyone asked for an encore, Josh happily got back on stage and said, "I'm down for an encore, but it's up to them now", as he stared at his fellow band members backstage. They came back for one last song, and right before leaving the stage, Josh held up their white "got milf?" shorts, and other fun and colorful pieces of merch to show everyone.
After the show, I came up to Curtis like I had a few hours before. "You guys were amazing on stage", I said, and a few compliments and thank you's later, I offered to record a radio ID for the station. "That would be awesome!", he shouted with a big smile on his still-very-glittery face. Wilson joined him, and I let out the loudest laugh when neither of them could figure out when or how to speak, after several failed (yet rehearsed) attempts. We all couldn't stop laughing. Finally, we got one just right, and as I thanked them for their time, I walked away with a smile, knowing that I'd just had the best nights in weeks. I'm always excited to see smaller bands play live and to support local music venues. I'm even more excited when the music sounds amazing and the band happens to be this cool in person. I really look forward to Mom Rock releasing an album and headlining even bigger shows in the near future.
— Lise Nox