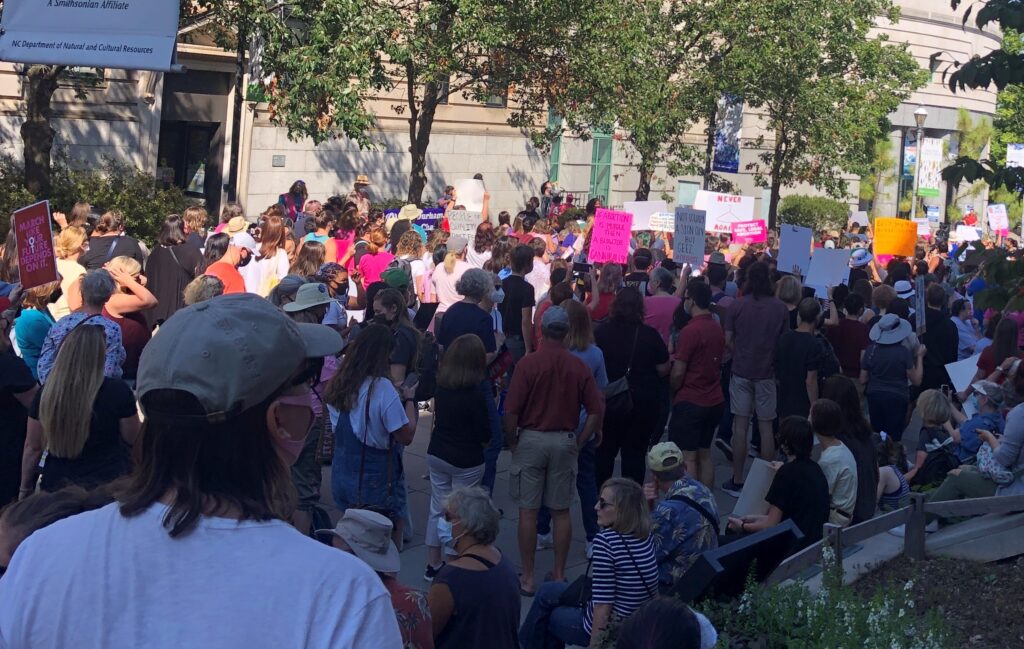 Going to the women's march for abortion rights in Raleigh recently was a big moment for me because was my first protest since the pandemic started, but during it my thoughts briefly wandered to something else. During a quiet moment between speakers I noticed they were playing "Scoop" by Lil Nas X. Now this is a great song, and it got the crowd going, but it got me wondering if we could do better.
There are songs (some of which were already mentioned) that instantly come to mind when you think of a protest: "Alright" by Kendrick Lamar was the rallying cry against police brutality, Gil Scott Heron created a phrase as relevant today as in 1971 with "The Revolution Will Not be Televised", and Rage Against the Machine built an entire career around punchy, stick-it-to-the-man anthems like "Killing in the Name". All of these are classics that have inspired millions and work because of their purposeful simplicity and universality as well as their strong musical fundamentals , but I feel like the best protest song is something that isn't known for being played on the picket line. The best listen of a song is the first one, and I know I would be just a little more fired up if it was an unexpected song.
This brings me back to "Scoop". Again, it's a great song and has the energy level that aligns with a massive demonstration, but lyrically it's about fame, sex, and looking really good; all fine things to make a song about of course, but maybe not one challenging Texas abortion law. Scoop is worth discussing here because of one important aspect: the context. Lil Nas X has become such a counterculture icon that he's shifted culture itself, conversely every song and video he releases is accompanied by, let's say discourse, on Twitter. Everything about him is rebellious, and this is the kind of artist I would want my dream protest song to be by.
Which brings me to what my dream protest song actually is: "Generational Synthetic" by Beach Fossils. From a strictly musical perspective (I think it's important for a protest song to be a good song in its own right) it's a great song that starts with a killer groove and doesn't stop that groove, and it's just low-fi enough to blend with the chanting of a crowd and have the voices not feel completely distinct. Thematically it deals with coming into one's own and growing along the way with clever turns of phrase, "all your working inspiration // systematic exploration" is heady without sounding pretentious. And the chorus strips all of that away to create a universality that, like Kendrick's anthem "Alright", lets it be extracted from the song and become a rallying cry for the voiceless all on its own.
Lo-fi indie pop band Beach Fossils aren't exactly an artist that screams protest, but there are some important notes I thought made this selection work. Their most recent album and interviews from lead singer Dustin Payseur about their upcoming project have shown a genre bending willingness and a specific focus on jazz that lends itself to going against the grain, and their videos especially draw from countercultural iconography with depictions of skateboarding and graffiti. One of the founding members left to become a Buddhist monk, so these aren't a group of people who are sellouts. And the fact that this just feels like a weird choice is an asset because it doesn't at all feel cliche.
Perhaps the most important aspect, though, is the scale of the lyricism. It's not too long and wordy, which I think would get in a song's way here, but also comes with a certain melancholic spirit, with a Payseur tapping into a weight of depicting an entire generation's trials and tribulations that captures the essence of what a protest is in just a few lines.
This is just my personal pick of course, and there's too much music out there to have a definitive answer. Mine might change tomorrow, but for now, "Generational Synthetic" is what I'm queuing up when I head to the next rally.
-Erie