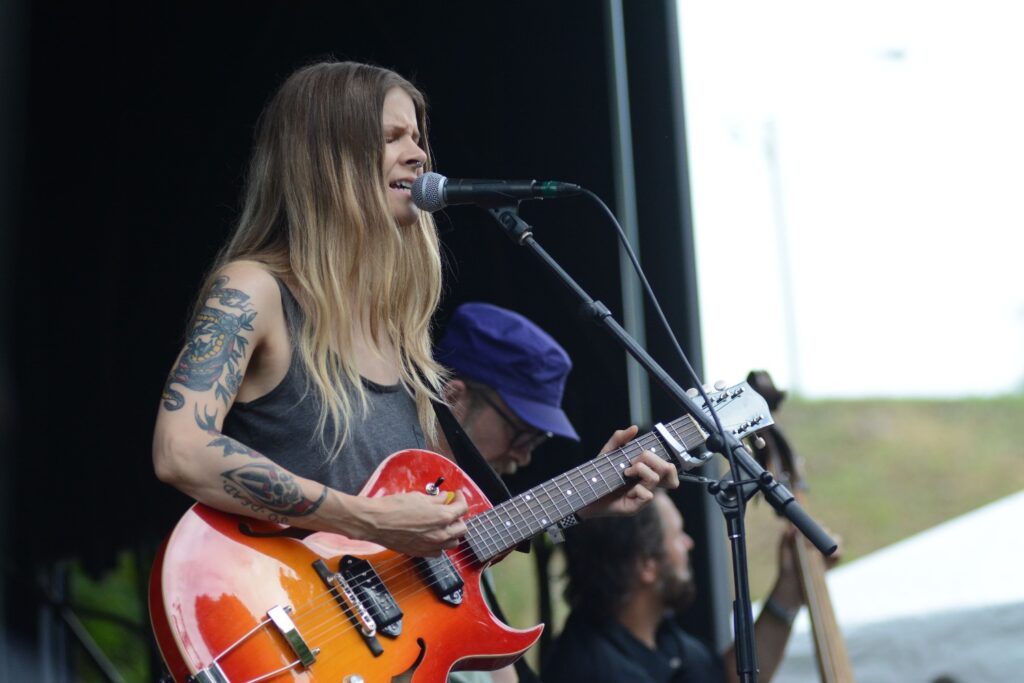 Merlefest 2021 took place September 16-19 and WKNC, at long last, had representatives taking part in the festival.
The headliners were amazing, but some of the most magical moments of Merlefest were in between the big events – meeting the people who have been attending this festival for over 30 years, seeing people who have never met play together like they learned to play music together, and seeing the community of people who all have one thing in common: they love music
John, featured in the middle of the top row of photos, attached a picture of Tony Rice onto his umbrella to keep his spirit alive. Tony was godfather to John's daughter, Jessica, who was said to also be carrying Tony around the festival. John said that in Tony's last years, he chauffeured him.
Old Time Pickers Tent
The Old Time Pickers Tent, featuring young and old pickers, played all day and into the night through the hot weather. The cast rotated, but the spirit of old time stayed in the tent all day. The origins of old time are explored in our interview with Rich Shulman, which you can watch here. John Turner, accompanied by his daughter and granddaughter, shared his flatfooting skills – that is NOT tapdancing you are seeing. Flatfoot dancing is a type of Appalachian clogging – you can watch John and his family demonstrate here. The Old Time Pickers, including Rich Shulman, Marcus Campbell, Gary Hermann, Linda Cabe, and Robbie Herman (pictured above) keep the spirit of old time alive through their picking.
Sarah Shook and the Disarmers crossed Merlefest off of their musical bucketlist, and Merlefest loved them. A perfect set during the sunset session after the rain of Saturday had lifted, featuring a few songs off of their upcoming album, Nightroamer. You can hear more about that in our pre-festival interview!
The Dance Tent
The dance tent, although home to smaller acts, always managed to revive an exhausted Merlefest attendee. Acts such as Cordovas and Ganstagrass (pictured above) reinforced the idea that the festival is not strictly about traditional picking – it is about the love of music, and rock and hip hop are a part of that. Ganstagrass, a five piece group that infused hip hop and bluegrass, floored us with their talent and a blending of two genres so seamless that afterwards, we wondered how they had ever seemed so separate before. Stay tuned for the interview on our Youtube page!
Mavis Staples
And Mavis. Mavis Mavis Mavis. We spent our Sunday afternoon with Mavis Staples. Mavis brought maybe the most energy to the Watson Stage (the big one) out of the whole festival – when the crowd wasn't giving back what she so willingly gave, she told us to loosen up "like a bowl of Jello" – so we did. Her amazing vocal performance, anticipated but still shocking – she's 82 years old! – awed the crowd. Singing classics like The Weight, For What It's Worth, Slippery People, and Respect Yourself (joined by Melissa Etheridge), Mavis continued to renew the songs and impart a new meaning and sensation than any other time you've listened to them. Midway through her performance of I'll Take You There, she stopped and let us know that she was aware of that – "My family, the Staples Singers, has been taking y'all there for 74 years and I ain't tired yet." Then she asked us to take her there – the crowd obliged by singing the chorus, but the feeling lingered that there was more to be done.
This is by no means the most thorough account of Merlefest – Amythyst Kiah, Leann Rimes, Jim Lauderdale, the Sam Bush Band and so many more acts made the festival what it is. DJ Lizzo and Big Hoss would like to emphasize their gratitude to the Merlefest community for their acceptance and sharing of their culture.