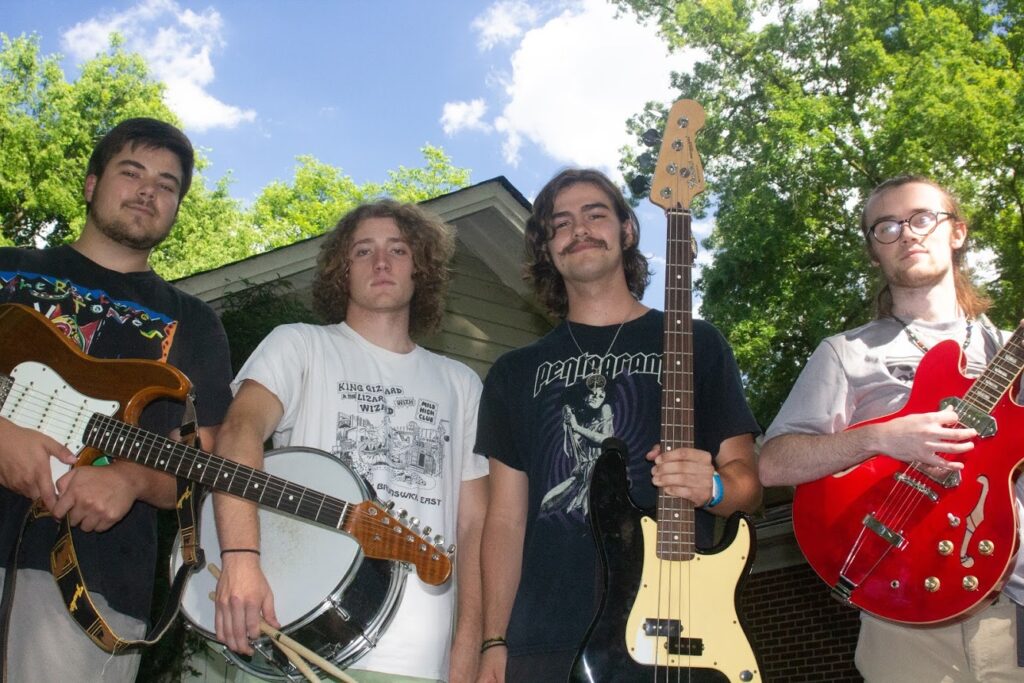 Dropping Plates is one of the newest local bands on the scene in Boone, NC. I had the opportunity to have a delightful interview with them this week! Made up of bassist Aaron Huntley, drummer Forest Britt, lead singer/guitarist Jake Fain, and guitarist Ben Burrows, they bring a unique funk-rock sound to the table. Here's what they have to say:
Q: Tell me about how Dropping Plates started.
Aaron: Me and Forest were roommates last year at App State. I was on Facebook, and I saw that Ben had posted this ad for a drummer and bass player to create a band. I've known Ben because I met him through a mutual friend, and we'd jammed in the past before. I recognized him and so I just hit him up and then we jammed. It was perfect.
Q: How would you describe the music you make?
Jake: A mix between Grateful Dead and Red Hot Chili Peppers.
Aaron: I know that we like to vibe, we like to jam.
Forest: We like to jam a lot. There's a lot of instrumental influence, especially guitar solos in all of our music. A lot of our music is from different fields. We'll have a more rock-like niche feel that's heavier, but then we'll also have a lighter poppy feel. We also have songs that are slow and like, just chill. So it kind of depends, but I think ultimately each song does have our individual instrumental influences which ultimately make the band Dropping Plates.
Q: What's the story behind the name "Dropping Plates?"
Jake: So basically we were all in a group chat and we were just throwing out names, like we probably had 150 names. I was going through and I picked my top three out or whatever and I sent them to my mom. She's like a very good outside judge of those things to see, you know, what would draw other people's attention the most. One of them was Dropping Plates and she picked that one.
Forest: And with the name Dropping Plates, when you hear the sound of a plate dropping and crashing you know what that sound is, right? We feel like that compares to our music. We're hoping that when you hear our band you know it's Dropping Plates.
Ben: We were also going to be Dino Trip at first, Dino Trip or Dinosaur Party. And then we were like…"No, Dropping Plates."
Q: Tell me a little bit about your creative process. How do you guys make music? Where do you draw inspiration from?
Forest: Really, it's different for every song. They write music on their instruments, and then bring it to the band. Then, when we come together after we work on the songs. Everyone kind of puts their own touch into that song. It just builds until it's a complete piece. But there's a lot of times when it's already a complete thing, but we're just adding our influences into it and our sounds. For the song "Spun", I felt like Jake kind of had that song already finished for his guitar part. We all came together and Jake started playing the song, Aaron starts coming up with a baseline, and I'm listening to Aaron play his baseline and I'll do my drum part. Then we'll come up with melodic lines over Jake's guitar part. Jake will just sing, and then we'll be like, f*** yeah. Maybe we'll tweak it a little bit for a few songs. There's a song on our upcoming album called "Wave" and it used to be actually a really fast song that Ben wrote but then we decided to just pull it back and play it slow. Now it's this really beautiful, slow piece that's closing the album.
Ben: Yeah, I think all of us have different influences for music, which I think is really cool because then it adds to a melting pot of sorts. Aaron is a lot more into jazz and methodical playing and I'm a lot more feel and rustic type of deal. Jake is like the nice mixture of the two and more Grateful Dead oriented on that point as well. And then Forest, he's just the feel master of it all. The idea that he has what he has just in his mind I think is very cool. We're all able to bring our own identities to our music, which is so sick.
Q: Who are your biggest musical role models?
Ben: John Mayer and the Grateful Dead for me are my top two most influential artists.
Forest: For me Hiatus Kaiyote, and specifically the drummer. His drum stuff really influences what I'm doing.
Jake: I'd definitely say just a combination of Jerry Garcia and Trey Anastasio. So, Dead and Phish, just the combination of the two is my biggest inspiration for sure.
Aaron: I listen to a lot of jazz. This guy, Christian Scott, he just has this, like blaring music and it's really cool. And Flea, obviously, from Red Hot Chili Peppers.
Q: What's the most useless talent you have?
Forest: I do parkour. Throughout middle school I was really into it and throughout high school I taught parkour classes at a gym. I would say it taught me a lot about working with kids working on yourself physically, but like, ultimately, I can do a backflip. I don't know how useful that is.
Ben: I work for a conservation group. That's pretty useful though. I have a really fancy tool that helps me measure water quality and dissolved oxygen and all this stuff. So I basically just put it in the water and I take the data. I can also do a really mean Scooby-Doo impression.
Jake: Oh yeah, we're also really good at Catan.
Aaron: Super Smash Brothers too, we're also really good at that. I know a lot of random stuff about animals too. I can play bass and drums at the same time. I use my feet on the drums and I use my hands on the bass.
Jake: I know a dumb amount of random Grateful Dead and Phish facts that I can just impose upon people.
Ben: It's the most useless skill ever. He'll just say some s*** that'll blow your mind and you're just like, why do you even know that?
Q: Have you guys played any live shows?
Jake: We've played four actual shows and then we played a bunch of times for an open mic.
Ben: Our favorite gig was a State though. I actually went to State my first two years. I was in a band, they're called Friendly Reminder, they're pretty sick. Check them out. My friends asked me if we wanted to come down and play at some philanthropy thing for their fraternity. We got to do it and it was really, really, really sick. We just played really well. It was a big crowd, but that wasn't even what made it great. We all felt just felt connected and it was really cool. Which is why we're sad. We had 15 shows lined up for the last month and a half before COVID, like one to three a week.
Jake: Ultimately, I'd say that we're like gearing towards trying to become a live band. We still want to do studio stuff, because I actually really enjoyed that more than I thought I would.
Ben: We want to play. This is what we want to do with our lives. We'll go to any means necessary to do that and get a really cool following. The goal would be to have a cult following that's super religious to us. I'd like to see the same 50 people at our shows every time.
Q: What are you working on right now? What does the future look like for the band?
Aaron: We got a single coming out soon. We also just dropped our second music video today, "Padlock."
Forest: And then our album, which has these singles we've dropped like "Spun,' "Padlock," and this next single, they're all going to be a part of an album, which I think we're gonna drop in February. We're actually also in the process of recording another album too that'll be released in the summer.
Q: Anything else you want to world to know about Dropping Plates?
Ben: Follow us on Facebook. Subscribe to our YouTube channel. Check out our Spotify. And just come hang. Whenever all the social distancing stuff is over, we're happy to hang out. We want to meet people and do cool things with music. We already have a community. We're talking to a lot of other bands right now about playing shows together, and these are bands that are way better than us. It's cool to recognize that people see our music as a promising thing and that they like our sound. It's cool to finally realize that all of our hard work is being noticed.
Below is a link to their new music video to "Padlock," along with their Spotify, Instagram, and Youtube channel. Check 'em out!
Tune in!
– DJ Butter