WKNC hosted its 17th Double Barrel Benefit fundraiser on Friday, Feb. 7 and Saturday, Feb. 8, 2020 at Kings Raleigh. Night One featured music by Pat Junior, DOTWAV Media, King Gino and Vacant Company. Night Two featured music by Truth Club, Junior Astronomers, Black Surfer and De()t. The Double Barrel Benefit fundraiser accounts for six percent of WKNC's annual income.
Night One – Friday, Feb. 7, 2020, 8:30 p.m. @ Kings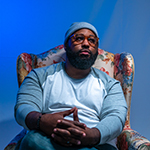 Pat Junior (headliner)
New York-born and Raleigh-raised, Pat Junior is the most talked-about artist storming the Raleigh hip-hop scene. Pat Junior started releasing music in high school and since then has only been ascending in talent, imagination and novelty.
Pat Junior's work is usually downbeat and ambient, but the diversity of the music will keep you on your toes, burning you up just to cool you back down again. Tracks on Pat Junior's latest album "I Thought I Knew" range from jazzy to lo-fi chill to beat poetry-esque. All of Pat Junior's releases have something that we don't see enough of in hip-hop these days: simplicity. The purity and simplicity of Pat Junior's music showcases his profound lyrics and emphasizes his flawless rhythm. "I Thought I Knew" is a hard-hitting and heartfelt album that is comparable to the likes of Frank Ocean's "Blond" and Tyler, the Creator's "Flower Boy." This is the peak of inspirational music.
Pat Junior always provides a unique sonic experience. "Like the Waves" from "I Thought I Knew" exudes relaxing, summer-y feelings but resonating, orchestral strings in the background give this track a darker, cinematic side. The fourth track on the album, "Paranoia / the Healing" creates a deeply immersive ambience. This song asserts the encouraging message that the only thing holding you back is yourself. The eighth track, "Same Damn Song," is about letting go of grudges and forgiving. The most impressive element of this song is the incredible flow of the music. You'll feel like you could sway to this song forever.
It's obvious that Pat Junior puts a lot of love and good intentions into his creations. He says "I bleed in my music so others can heal." We're so excited to see Pat Junior headlining night one of DBB.
– Safia Rizwan, WKNC Assistant Daytime Music Director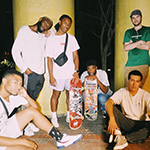 DOTWAV Media
Raleigh's favorite sextet is once again coming to WKNC show near you. DOTWAV Media has worked extensively with 88.1 over the last year for a Concert on the Lawn and a Lounge Session alongside several interviews and for good reason. Each of the six members have their own distinct style and flow – many of whom also maintain independent side projects – and each contributes to the greater whole that is DOTWAV Media. The project boasts the release of 10 individual music videos, two full-length albums, another EP and several scattered singles.
Genre-bending rap productions set to high quality visuals create a unique public image for DOTWAV Media that is thus far unmatched in the Triangle music scene. The group seems to touch on every aspect of the music industry that audience members crave. Hell, even DOTWAV's website is immaculately curated to fit the theme of their most recent release: "Rather Die than 9-5." These anti-establishment, new-age punks are breaking barriers of all kinds on and off of the stage. This group is one that we highly recommend the North Carolinian public keep an eye on. With something for everyone, they're going to be the next big thing.
Our favorite tracks are "Amazing," "Elevator Music," and "We Can't Give Them Any Money" – all of which have their own music videos of which we are super fans.
– Laura Mooney, WKNC General Manager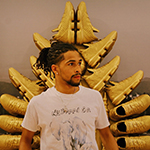 King Gino
It's an average fall day on the New York subway. The car is packed with commuters from all walks of life. Out of nowhere, a student starts hammering out a simple yet powerful beat on the subway wall. As the percussion continues, a young man stands up and starts freestyling. At first, nobody seems to pay him any mind, but as his verse continues, more heads start to turn. By the time he finishes he has the entire subway car captivated, and they burst into applause. The young man is King Gino, and he knows firsthand how to create an audience from nothing.
Since age 15, Gino has been writing lyrics, performing and getting the community involved in his art. Coming to NC state has only made him hustle harder. Since his time in college, Gino has enjoyed multiple successful releases and has put in the work to make him one to watch in the Raleigh hip-hop underground. One conversation with him and it's not hard to tell why; his story is a fascinating one, full of over-capacity house parties, ambitious venue takeovers and promotional tactics that are anything but garden-variety.
Over the past year, Gino has kept busy. 2018's "Cold Blooded" was a huge success for the local rapper; our favorite tracks are "I'm From," "Life and Death," and "Don't Slip." Gino self-released the album on Callisto Records, which he started this year with other NC State students and local musicians. His most recent single, "Flip Mode," sticks to your brain in all the right ways. WKNC is incredibly excited to bring King Gino to the stage for night one of DBB.
– Henry Boyd, WKNC Program Director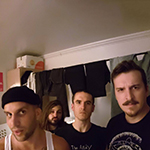 Vacant Company
Vacant Company is a Raleigh-based politi-punk band that formed in early 2014. They are comprised of Jason Warnoff, Tommy Quinn, Davis Harrell and Logan Maxwell. The band self-describes their music as "heartland rock" as well as, via their Bandcamp, "ranging from soft spoken-word to off-kilter hardcore." They have released four EPs in the last five years and are currently in the process of recording their fifth record with Missy Thangs and Alli Blois. Their most recent release, an EP under the moniker of "Decolonize" which was also recorded with Missy Thangs, pummels the audience with shrieking, distorted guitars and a rhythm section guaranteed to get even led feet moving. Frontman Jason Warnoff howls under the barrage of instrumentation, covering current event topics that he feels impact himself and his community. In an interview with WKNC, Warnoff claimed that until these issues are addressed and change is made, there is nothing else to write about.
Vacant Company has kept a steady rotation of shows going throughout the Triangle since their inception and can boast that, rather recently for the festival's 10-year anniversary, they have played Hopscotch. They have been a staple in the Triangle music scene for years, impacting and intersecting with the local community through their vicious performances and outspoken members. Regardless of their musical proficiency, Vacant Company will be a Raleigh favorite indefinitely due to the sheer electricity found at their shows. Warnoff can be expected to collapse inwards during their sets – but never faltering with his instrumentation – mirroring the turmoil expressed by the band's music. Harrell, who is apparently the "most creative drummer" Warnoff has ever seen, never misses a punch while Quinn and Maxwell echo the sentiments of their frontman and literally catch him when he falls.
For those interested in the band, WKNC recommends listening to their "Decolonize" EP; "Dirty Thirst" is Vacant Company's most popular track.
– Laura Mooney, WKNC General Manager
Night Two – Saturday, Feb. 8, 2020, 8:30 p.m. @ Kings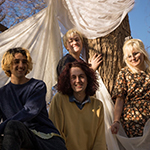 Truth Club (headliner)
The Raleigh-based band Truth Club are no strangers to performing in the Triangle. The quartet has performed countless shows in the area, and we are very excited for them to be joining our Double Barrel Benefit lineup. They have gone on four full-length tours since 2017, traveling to as many as 18 different states in a single tour.
The band consists of members Travis, Elise, Kam and Yvonne. In May 2019 they released the very promising debut album "Not an Exit," just in time for their latest tour. The record was released under the Tiny Engines label shortly after they were signed onto the team.
Their sound is often described as indie rock, though this simple description does not give way to how refreshingly original their sound is with unpredictable variations including synth work and ever changing vocal patterns. At times the vocals power over the instruments and Travis delivers their heavy lyrics; other times we get moments of rumbling vocals that allow the instrumentation to really take over. As a 'sounds like' comparison, the group can be categorized as having a similar style to Modest Mouse and Pavement.
To quote Travis Harrington, "'Not An Exit' as a whole really involves me trying to process and understand the ways in which physical spaces I inhabit echo the relationships and experiences I've had with myself/others within them. I think in this song especially, I consider how much my own body plays a role as one of these places, and try to reconcile the frustration that even in times where all I'd want to be is someplace else, I can't exactly leave my own body behind."
– Leeann Diaz, WKNC Daytime Music Director / Content Creator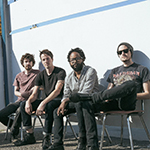 Junior Astronomers
Junior Astronomers is a four-piece indie rock band from Charlotte, comprised of Colin Watts, Phillip Wheeler, Elias Pittman and Terrence Richard. The band has been functioning for over a decade – 11 years exactly, as documented by their sequential birthday shows – and is now synonymous with the Charlotte music scene. They have released seven albums, EPs and singles, with their first release coming out in 2009 under the title, "I Had Plans for Us." The Charlotte rock giants have, over the years, played shows all over the East Coast but never forgot their roots. Genuinely, ask anyone under 35 in Charlotte and they'll know who Junior Astronomers are. Even up-and-coming acts like Petrov and Jail Socks can attribute their development to Junior Astronomers' influence.
In summer 2017 the band released their second full-length album, "Body Language," off of Charlotte indie label Refresh Records. The album is, by far, the band's most mature release, though not at all a new sound for their discography. Junior Astronomers have always been a bar rock band and many of their songs describe the nightlife of 20-somethings cutting their teeth on love and cheap liquor. Coated in glittering melodies and visceral proclamations by frontman Terrence Richard, even the worst of situations seem to gleam in the limelight. However, not all their music is for the broken hearted. "Music needs to sound like human beings, like it's alive," frontman Terrence Richard declares on the band's website. "A lot of people want to make sad sh*t all the time. That's one part of life but it's not all life. There's fun, there's happiness, there's sadness."
Since "Body Language," the band has released a new single, "6 Weeks in India" also on Refresh Records. Before Double Barrel Benefit, check out "Attacked by Whales," "Pyramid Party" and "6 Weeks in India" by Junior Astronomers. Come ready to dance.
– Laura Mooney, WKNC General Manager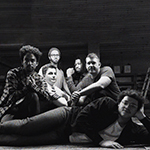 Black Surfer
The captivating new-punk, post-garage, and surf-wave band Black Surfer was formed only two weeks before their first show in February 2019. The band is composed of Evin, Jake, Tyrone, Johnny, Dillon and Ray. The group of six friends and acquaintances realized they had an undeniable chemistry on stage, leading the band to continue playing together.
After their first three shows they were asked to perform alongside Deerhunter at the 2019 Hopscotch Music Festival. They produced and released their first EP just in time for the premiere performance.
Our WKNC Program Director booked them their first show and they have been getting themselves out there since. The up-and-coming band has opened for Omni and The Love Language. They also performed The Joel Whitaker House this past summer, making waves as a new Raleigh artist. I first encountered the band at one of their Kings shows. The group was high energy and they put on a very interactive live show that became an experience.
They are currently in the process of creating their second EP with an imminent release, and we can't wait to hear it.
"Ray Coleman more like Ray cool man," said Program Director Henry Boyd.
– Leeann Diaz, WKNC Daytime Music Director / Content Creator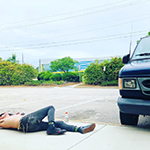 De()t
De()t's sound is a combination of different genres. These Raleigh locals have a slight nu metal sound (think Deftones) with a mix of punk aspects considering the guitars and drumming. The singer's voice gives the band a 1980s pop punk feel that combines all the sounds incorporated very well. They have one cassette out on Bandcamp that consists of three songs: "Automatic/Problematic," "Dead or Alive" and "Extreme Paranoia." Each song is under 2 minutes so there is no excuse to go ahead and memorize the lyrics of each song and yell it back at them when they play.
– Erika Bass, WKNC Chainsaw Music Director / Content Manager
Sponsors
WKNC would like to thank our Double Barrel Benefit sponsors who donated cash, goods and services. We are truly fortunate to have received such a great response from our community. We couldn't have done this without them.
Single Sponsor ($250-$499)