WKNC hosted its 14th Double Barrel Benefit fundraiser in February 2017 on Friday, Feb. 24 and Saturday, Feb. 25 at Kings in Raleigh. Night One featured music by DJ Paypal, Ace Henderson, ZenSoFly and Sand Pact. Night Two featured music by Sarah Shook & The Disarmers, See Gulls, Astro Cowboy and Infinity Crush. The Double Barrel Benefit fundraiser accounts for 12 percent of WKNC's annual income.
Night 1 – Feb 24, 2017, 8:30 p.m. @ Kings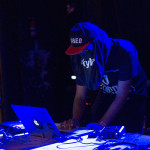 DJ Paypal (headliner)
DJ Paypal came up in Raleigh as a student of footwork, playing many parties that got shut down by the cops. Spending countless hours listening to footwork, a Chicago style of electronic music feature breakneck complex rhythms with luscious production. In 2012, he released his first EP, "WHY" with his immense knowledge of the genre, soon became a key member of the Teklife crew featuring many of the top footwork DJs in the world such as the late DJ Rashad, DJ Spinn and DJ Taye.
DJ Paypal's live sets are music are known for their sly, tongue-in-cheek humor mixed with immense speed, multicultural samples, and plenty of moments for footwork dancers to go off to. A set from DJ Paypal is sure to go late into the night featuring lots of sweat and sore legs.
Make sure you catch DJ Paypal headlining night one of Double Barrel Benefit 14 at Kings on Feb. 24.
– Jamie Halla, WKNC Program Director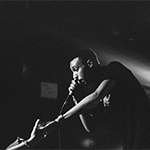 Ace Henderson
From staunch hip-hop heads, to fickle hipsters, everyone loves Ace Henderson. His style of hip-hop has appeal to a wide range of listeners, and is a substantial mix of soul and flow.
For an independent artist in his early 20s, Ace Henny is an impressive person. He's released a wealth of music on his Soundcloud page that generates tens of thousands of spins, he's performed at Hopscotch Music Festival two years in a row, and does shows with Raleigh's most respected hip-hop and electronic artists.
– Charles Morse, WKNC Underground Music Director emeritus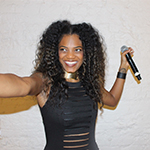 ZenSoFly
Even after one listen of her newest release "Little Miss Perfect," it is clear that there is something extra special about Triangle-based rapper and singer ZenSoFly. Every song has a perfect beat that sounds like a party, but without compromising the artist's intense and impressive lyricism – which is a sound that's hard to come by.
As if Zen's work couldn't get any more intriguing and entertaining to listen to, she delivers an amazing live performance. My first experience with ZenSoFly was her impromptu performance at a benefit show for the Durham venue Pinhook, and it was a set that left everyone both energized and breathless. While she is currently dominating the local scene, it's obvious that ZenSoFly's brilliance will travel far beyond the Triangle.
ZenSoFly is an artist you absolutely do not want to miss on night one of Double Barrel Benefit 14. Come party with her on Feb. 24 at Kings!
– Emily Ehling, WKNC General Manager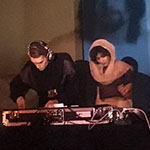 Sand Pact
Last year was an exciting year for Triangle music, which included the arrival of new electronic duo Sand Pact and the release of their first album "Malleate."
The duo is a collaborative project of Triangle-based artists Gudiya and No Smoking. Both artists have a distinct style when it comes to their work – and the combination of their art is refreshing, intriguing, and downright inspiring for the local experimental music scene. Malleate is tagged as "soundcollage" on the Sand Pact Bandcamp page, which is a perfect descriptor for the duo's music, and one that really makes sense once you've listened to the record.
Sand Pact has a bright future far beyond our Triangle community, and WKNC is delighted to have them take the stage on night one of Double Barrel Benefit 14 on Feb. 24 at Kings!
– Emily Ehling, WKNC General Manager
Night Two – Feb 25, 2017, 8:30 p.m. @ Kings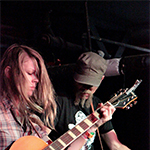 Sarah Shook & The Disarmers
Sarah Shook & The Disarmers is not your grandpa's country western music.
Sure, she sings about whiskey and gunshots with a southern twang, but with the indomitable spirit of punk rock behind every lyric. Having performed with different lineups for more than ten years, Sarah Shook has found a dedicated following in the Triangle. Shook has the ability to balance on the precipice between country and punk, and the result is a resilient force of music that captivates its audiences, while making them want to drink, cry and dance simultaneously.
Sarah Shook & The Disarmers released their album "Sidelong" in 2015, and it has found acclaim in publications ranging from Indy Week to the BBC. The record is a powerhouse anthem, dealing with themes of love, heartbreak and the drive to keep on keeping on. It is both gritty and enduring, and will make you forget what you think you know about country music.
Catch Sarah Shook & The Disarmers on night two of Double Barrel Benefit 14 on Feb. 25 at Kings!
– Coleen Kinen-Ferguson, WKNC Podcast Manager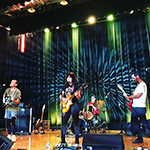 See Gulls
See Gulls is a band I immediately heard about after moving to Raleigh almost three years ago, and for good reason. It's hard to classify their sound as one genre, and indie rock certainly doesn't cut it. My favorite way to describe See Gulls is genre they gave themselves – "Surf version of TLC."
The band has made a significant impact on the Triangle music scene, both with their sound and social involvement. See Gulls has been a part of lineups for anti-HB2 benefits, the new non-male artist centered festival Manifest, and shows urging students to vote for the most recent election. With their fun music and firm political stance, WKNC couldn't pass up having this rad band on night two of Double Barrel Benefit 14. Come check out See Gulls surf the stage Feb. 25 at Kings!
– Emily Ehling, WKNC General Manager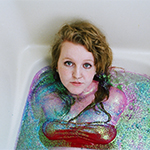 Infinity Crush
Caroline White's soft, yet eerily beautiful voice drifts over the enchanting, minimalist instrumentation found on Infinity Crush's newest album "Warmth Equation." A Maryland-based artist, who has played in bands such as Julia Brown and High Bloom, White recently moved to Wilmington for college, bringing her charming personality and exceptional music to the state of North Carolina.
An Infinity Crush set is sure to astound with its simple, yet profound grace as White plays the guitar with ease while lulling the audience into a state of melancholic sadness with a tinge of hope. North Carolina and WKNC are so excited to have her as a member of the N.C. music scene.
Make sure you get there early to catch her set at night two of WKNC's Double Barrel Benefit 14 at Kings on Feb. 25.
– Jamie Halla, WKNC Program Director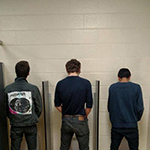 Astro Cowboy
Your favorite trio is back in action for one night only, exclusively at DBB14!
Birthed from the primordial indie rock scene of Wilmington, Astro Cowboy has been serving teen angst since their first release, "Rat-Man Vann." Originally a duo of Kameron Vann (drums/sleeping) and Travis Harrington (vocals/guitar/b*tching), the team incorporated Mike Schmitt (bass/smells) in fall 2014. Their first full-length, "Hedonism Coliseum," sounds like anything but a first. While they aren't teens anymore, the catchy yet complex guitar riffs and analogies from this album translate to any stage in a life of transition.
The lyrical stylings of Travis Harrington are a comfort in the exploration of love, lust, and that dreaded high school math class. The emotion and sincerity allows the listener to be nostalgic about the past, a past that one might not have even experienced but that one now empathizes with. Kam Vann delivers beats that energize the audience, so prepare to boogie and get down on night two of DBB.
Performing at DBB is a special treat since the band has officially been retired since October 2015. For one night only, experience Astro Cowboy's sights, sounds and smells on Feb. 25 at Kings!
– Katelyn Auger, WKNC Corespondent, #2 Astro Cowboy Fan
Sponsors
WKNC would like to thank our Double Barrel Benefit 14 sponsors who donated cash, goods and services. We are truly fortunate to have received such a great response from our community. We couldn't have done this without them.
EP Sponsor ($500-$999)
Single Sponsor ($250-$499)