WKNC hosted its 13th Double Barrel Benefit fundraiser in 2016 on Saturday, Feb. 13 at Kings Barcade in Raleigh and Saturday, Feb. 20 at Cat's Cradle in Carrboro. Night One featured music by Des Ark, Schooner, Museum Mouth and Naked Naps. Night Two featured music by Deniro Farrar, Professor Toon, SkyBlew and Earthly. The Double Barrel Benefit fundraiser accounts for 14% of WKNC's annual income.
Night 1 – Feb 13, 2016, 9 p.m. @ Kings Barcade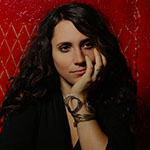 Des Ark (headliner)
Des Ark, a staple of the Triangle music scene for over a decade, will be headlining Night One of Double Barrel Benefit 13.
With the ability to captivate an audience with just an acoustic guitar, Aimeé Argote brings a high level of sincerity and intensity to every performance. Even with the immense power behind her full band sets, it's not hard to identify and connect with her emotive lyrics.
To the delight of fans, Des Ark released their LP "Everything Dies" this fall on Graveface Records, reminding us all why we love this band. The record seems to find the perfect blend between delicate and striking, with a beautiful mastering Argote's folk melodies. Double Barrel 13 Night One marks Des Ark's homecoming after a month-long, nationwide tour. Des Ark takes the stage Saturday, February 13, headlining Kings Barcade in Raleigh.
– Yvonne Chazal, WKNC Program Director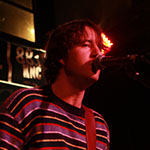 Schooner
Long-time local favorites Schooner first formed in the early 2000s from Reid Johnson's four-track recordings. In 2004 they played the first-ever Double Barrel Benefit. Since then they've released several records and gained quite a following throughout the Triangle. Self-described as disheveled-pop-indie-psych-soul, Schooner's music has the ability to transport you to another place.
The live energy when Schooner performs is amazing and it's easy to see why they have been such a big part of the triangle music scene for so long. I can't wait to see them play at Kings on Feb. 13!
– Matt Brown, WKNC General Manager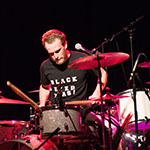 Museum Mouth
Museum Mouth is no stranger to WKNC. With their heartfelt lyrics and indie punk feels, these Double Barrel veterans have garnered a supportive and loyal following here in the Triangle.
Coming out of NC coastal town Southport, Museum Mouth formed in 2009. They released their first EP "I Am the Idiot Of The Jungle" by 2010, followed quickly by full-length "Tears in my Beer." This album, along with their later releases "Sexy But Not Happy" and "Alex I Am Nothing," received four-star reviews on PunkNews.org. The group gained their first big recognition winning mtvU's Freshmen in 2012, getting the title track of SBNH aired on the channel. Since their start, Museum Mouth has only continued to grow and cultivate their sound.
– Phian Tran, WKNC Local Band Local Beer Coordinator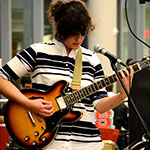 Naked Naps
Born into the very heart of the Raleigh DIY show scene, Naked Naps has been well-loved since its demo release in summer 2013. With driving beats from John Meier, combined with Catie Yerkes' earnest vocals and catchy riffs, the two-piece group is equally suited for cruising down the highway with the windows open, as it is for hanging upside down from your bed on a cloudy day thinking about the one that got away.
Naked Naps brings an intriguing mix between emotionally charged lines and sarcastic, apathetic reflections, apparent in both their release "Ok, Bye" and in their 2015 split EP with Museum Mouth. The group will be releasing a new album in January 2016.
– Phian Tran, WKNC Local Band Local Beer Coordinator
Night 2 – Feb 20, 2016, 9 p.m. @ Cat's Cradle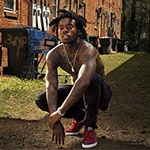 Deniro Farrar (headliner)
Born and raised in Charlotte, Deniro Farrar has become a major hip-hop heavy hitter within the past few years. With the success of Fayetteville's J. Cole and Raleigh's own King Mez getting a feature on Dr. Dre's "Compton" album, North Carolina is, undeniably, rapidly gaining momentum in the music scene. Blogs like Pitchfork and Vice are claiming that Charlotte is the next city to watch specifically for artists within the rap genre.
Deniro is debatably the posterboy for Charlotte's developing rap scene and proclaimed the "Leader of Cult Rap," derived from the way people religiously follow the music of the underground scene to keep up, as it is not mass-produced and regularly broadcasted. Deniro doesn't fail to deliver relatable down to earth lyrics accompanied by (you guessed it) a sick beat. Working with Ryan Hemsworth, Flosstradamus, skywlkr, Lunice and Black Sky Black Death to name a few, Deniro has crafted a unique sound all while gaining traction as an artist and putting North Carolina on the map.
– Emma Badorrek, WKNC Assistant Promotions Director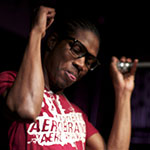 Professor Toon
Growing up in low-income housing Baltimore, Maryland and a transplant to the Triangle area, Professor Toon has become a staple in the Durham music scene. Sharing the stage with De La Soul during the fifth annual Hopscotch Festival among other hip-hop heavy hitters such as Juicy J, Meek Mill, Project Pat and Run the Jewels. Toon uses his life experiences such as his abusive childhood and his relationships to fuel his lyrics and live performances. Being the "professor of things," Professor Toon has worked relentlessly to make an impact on his fans in dirty DURM and beyond. Catch him at Double Barrel 13 on February 20th performing songs off of his new album, "Take Notes."
– Emma Badorrek, WKNC Assistant Promotions Director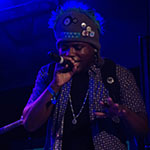 Skyblew
Mario Farrow, aka Skyblew, is one of the Triangle's brightest rising hip-hop stars with a style all his own. The Chapel Hill rhyme spitter's story started in Alabama where he grew up bouncing from foster home to foster home and surrounded by inner city violence. He used this strife to create a space for himself via rap lyricism that would help him rise above the turbulence mentally and physically. Drawing inspiration from cartoons like "Rocco's Modern Life" and "Dragon Ball Z," his music is inspirationally positive, and never glorifies the horrors of street violence.
To classify Skyblew as "nerd-core" is the kind of box he doesn't want people to put him in. His rhymes aren't all nerd all the time, there's more depth, more soul. Recently he started playing live with a jazz accompaniment that brings his whole brand together, so to watch him perform is almost like a mix of The Roots and De La Soul.
Featured by notable media outlets like MTV, HYPERFRESH, DJ Booth Magazine, 2DOPEBOYZ, and Afropunk, Skyblew is on his way up and ready to stake his claim in a hip-hop environment that's beginning to turn its head toward North Carolina. Recently he did a regional tour of the Southeast with video game rapper Mega Ran, and released an exceptional EP with Scottie Royal entitled The Royal Blew Reverie that is sure to keep the heads ringing well into 2016.
– Charles Morse, WKNC Underground Director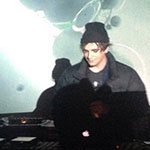 Earthly
The Triangle may be known for its indie scene, but it's home to an inventive electronic community as well. Part of this community is the DJ-duo Earthly, hailing from the Durham area. Earthly's unique sample-based DJing makes their sound hard to classify; their newest release "Days" ranges from fun and exciting vibes on the track "Ice Cream" to more calm, consistent beats on "Daemon." Their interesting mix of serene and playful sounds will either have you dancing or feeling like you're playing a video game on a cloud.
With the increasing recognition of the Triangle electronic scene, Earthly is bound to have a popular year in 2016. The duo is only destined for greatness; even Reggie Watts knows who they are. Bring your friends, wear a cool outfit, and come have fun with Earthly on night two of Double Barrel Benefit 13.
– Emily Ehling, WKNC Assistant Promotions Director
Sponsors
LP Sponsor ($1000-$1999)
EP Sponsor ($500-$999)
Single Sponsor ($250-$499)