WKNC hosted its 12th Double Barrel Benefit fundraiser in 2015, once again taking to both sides of the Triangle. Night One took place on Saturday, Feb. 7 at Raleigh's Lincoln Theatre. Night Two was hosted at Cat's Cradle in Carrboro on Saturday, Feb. 14.
A number of fabulous musicians have graced a Double Barrel Stage, including The Mountain Goats, Mount Moriah, Future Islands, the Love Language and Polvo. Our 2015 headliners were Double Barrel alumni Spider Bags for the Lincoln Theatre show and DBB newcomers Eternal Summers on night two at Cat's Cradle.
Night 1 – Feb 7, 2015, 8 p.m. @ Lincoln Theatre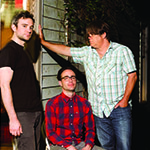 Spider Bags (headliner)
Spider Bags are back for their third Double Barrel Benefit.
The band formed in 2005 as front man Dan McGee migrated from Brooklyn to Chapel Hill, coming off a stint in punk band DC Snipers. McGee combined his punk experience with his newfound love for the North Carolina scene's southern twang for a uniquely sloppy yet fine-tuned sound that would take the area by storm. Nine years later, the group remains one of the Triangle's flagship bands and an undying local favorite.
In the years since, Double Barrel has grown in size and scope and Spider Bags themselves have met considerable success. 2014 was a huge year for the Chapel Hill garage rockers, as they signed to local indie powerhouse Merge Records and released their fourth studio album. "Frozen Letter," produced by fellow DBB vet Wesley Wolfe, was met with national acclaim.
Spider Bags took the stage at The Pour House on both Double Barrel VII and Double Barrel X, but this year is the biggest yet. The band will cap off an evening of four great bands at the Lincoln Theatre on Feb. 7, 2015.
– Walt Lilly, WKNC Program Director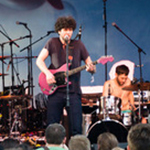 Lonnie Walker
Formed in 2002ish by solo performer Brian Corum with a few art class friends in Greenville, NC, Lonnie Walker is now a mainstay in the ever-changing NC music scene. Since the release of their debut album "These Times Old Times" in 2009, Lonnie Walker has become a staple of the Triangle music circuit, with their raucous-punk-meets-quirky-Americana sound livening up WKNC's Fridays on the Lawn, DBB VI, Hopscotch Music Festival (numerous times), and a whole host of local venues. Lead singer and guitarist Brian Corum's uniquely twisted vocals and lyrics, along with catchy riffs and rollicking rhythms from the band (currently Raymond Finn, Eric Hill, and Mike Robinson), make Lonnie Walker a can't-miss show; just try to listen to "Summertime" without a huge grin spreading across your face and your head unconsciously bobbing with the drumbeat, or not shouting along to "Compass Comforts." Yet from its beginnings, the band has also been unafraid to let go with long, jam-style instrumentals.
Brian Corum also helps run Diggup Tapes, a Raleigh record label known for its affinity for cassette tapes, which has put out releases by Lonnie Walker as well as T0W3RS, Lilac Shadows, Oulipo, Zack Mexico, and more. Though Lonnie Walker themselves have not released an album since 2009, they have released a smattering of singles and compilations. They teased fans with a somewhat somber single, "All Bombs Away," last summer, sparking excitement for a new full-length. Rumor has it that a very limited release of this long-awaited second album, "Earth Canals," was distributed at Hopscotch 2014, when the band took the City Plaza stage before Spoon and St. Vincent. Be sure to catch this electric act at Lincoln Theatre on Feb. 7 — you never know what could happen!
– Meg Bryson, WKNC Indie Rock Music Director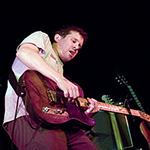 Mac McCaughan
There aren't many with the level of cred that Mac McCaughan carries. The Superchunk and Portastatic frontman's legacy has affected the Triangle with both his music and Merge, the label he founded with Superchunk bandmate Laura Ballance in 1989.
Last year saw Merge's 25th year of existence, and they used their firsthand experience as working musicians to grow from humble 7" and cassette releases in the early 90's to the indie powerhouse they are today. Not only have they boasted mega acts like Arcade Fire and Neutral Milk Hotel, but continue to host North Carolina's own talent such as Hiss Golden Messenger, Mount Moriah, and DBB12 headliners Spider Bags.
Superchunk hasn't slowed down either. 2013's release of "I Hate Music" was met with critical acclaim and a clear message that the modern indie rock world wouldn't be getting tired of Superchunk any time soon.
On Feb. 7 at Lincoln Theatre, McCaughan will take the stage at an event played by countless acts that he's inspired and supported. Without Mac McCaughan, the Triangle music scene as we know it probably wouldn't exist.
– Walt Lilly, WKNC Program Director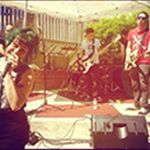 No Love
You may or may not know it, but North Carolina has always had a very vibrant punk scene. With the inception of No Love in 2013, Raleigh had another exciting band to add to the growing roster of heavier acts in the area.
The band is made up of what has been described as a sampling of Raleigh music veterans consisting of members from other projects including Black Zinfandel, Devour, Logic Problem, Last Words, Infección and the infamous No Chodes.
Opting for a slightly more polished sound than some of their contemporaries like Double Negative or label mates Whatever Brains, No Love has drawn comparisons to Screeching Weasel and the Buzzcocks. Though the group may only be a little over one year old, they have already made the billing of Raleigh's premiere music festival Hopscotch, shared the stage with Ex-Cult, and released two cassettes on Raleigh's own Sorry State Records. They've even garnered glowing press from outlets such as Maximum Rock and Roll and NPR's All Songs Considered.
It's easy to tell that there's a lot in store for this up and coming band. Catch them open the fast and furious night one of DBB at Lincoln Theatre for what's sure to be a hometown hoedown.
– John Kovalchik, WKNC General Manager
Night 2 – Feb 14, 2015, 8 p.m. @ Cat's Cradle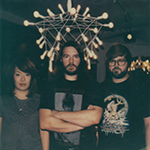 Eternal Summers (headliner)
Self-proclaimed "dream-punk" outfit Eternal Summers originally formed as a two piece in Roanoke, Virginia in 2009. Since then singer/guitarist Nicole Yun and drummer Daniel Cundiff have come to fill out their wall of sound by adding bassist Jonathan Woods, release three full albums on Brooklyn-based Kanine Records, extensively tour the country (often with Raleigh's The Love Language), and land their name on several festival billings including the 2014 Hopscotch Music Festival which called them " … covered in distortion and 80's era effects, creating a tense juxtaposition between sweet and sharp, inviting and cold."
The band's most recent album "The Drop Beneath" was released in March 2014 and produced by Doug Gillard, who has worked with bands such as Guided By Voices and Nada Surf. The album earned the band high praise for nearly perfecting their shoegaze style being, which Pitchfork called "a balance between whisper and roar, messiness and finesse, between articulating Heavenly-style twee bedroom musings versus whipping up walls of roiling melodic noise."
Eternal Summers will bring their unique brand of fuzz pop to headline Cat's Cradle on Feb. 14 for the most rock and roll Valentine's Day you have yet to experience.
– John Kovalchik, WKNC General Manager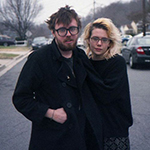 Elvis Depressedly
While most artists move on from their solo projects to produce more publicly accepted music, Mat Cothran saw his lo-fi indie pop band Elvis Depressedly as a space to experiment without the worry of his audience. Maybe that's where the undeniable rawness of each release comes from. The songs' inconsequential lyrics are paired with drum machines and ethereal keyboards that make you forget you're singing about death.
Originally from South Carolina, Cothran moved to Asheville last summer where he hoped to feel more accepted in what he called the "growing artistic community." Cothran and his bandmates did multiple tours last year with acts including Alex G of Sandy and Told Slant. The band is releasing their first full length titled "New Alhambra" in early March under Run for Cover Records.
With heart melting lyrics like, "I want to find you, a way out of your head. Snow is falling inside you, let it love you to death," you'll definitely want to take your lover to see Elvis Depressedly this Valentine's Day.
– Kaanchee Gandhi, WKNC Deputy Promotions Director and Graphic Designer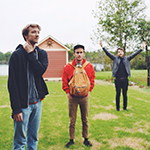 Museum Mouth
Coming straight from the coast of North Carolina, Museum Mouth formed back in 2009 in a town called Southport where they still continue to create the heartfelt punk music that so many listeners can really connect with. The group received its first big recognition back in 2012 when mtvU picked up the title track of their album released that year titled "Sexy But Not Happy." Since the release of SBNH, Museum Mouth has truly grown as a band in the sense of the material they have produced and fan base that they have gathered.
In May 2014, Museum Mouth put out their next full length album entitled "Alex I am Nothing" that contained more insight into the thoughts of drummer and lead vocalist Karl Kuehn. Following this release, Museum Mouth received an outpouring of support that has made them one of the most liked and supported bands in North Carolina today.
Museum Mouth is no stranger to WKNC, but they will be playing their first ever Double Barrel Benefit on night two at Cat's Cradle on Feb. 14. Being a band that puts so much emotion into their music, seeing them on Valentine's Day will be an absolute necessity.
– Clint Bowman, WKNC Local Music Director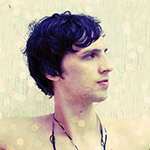 Body Games
On the first night of Hopscotch 2013, a fledgling Body Games garnered some word-of-mouth attention as one of the local acts to catch before moving on to the touring bands later in the night. Being made up of local music veterans, as well as being supported by psychedelic visuals, attracted a dense crowd to The Pour House Music Hall.
Before long, the crowd was entranced by their ambient soundscapes that gave way to simple poppy hooks. The set climaxed in the room clapping and singing along to a Michael Jackson cover that went over so well, frontman Dax Beaton felt obliged to clarify that it was a cover.
The group has grown in the time since, performing at the next year's Hopscotch, as well as Phuzz Phest and landing an impressive spot at Moogfest. They were also featured on a track on last year's long-awaited T0W3RS LP on the track "Raise The Gate."
Body Games will kick off a night of loving on Feb. 14 at Cat's Cradle. Whether you're already a fan or experiencing them for the first time, Body Games will be sure to make you their Valentine.
– Walt Lilly, WKNC Program Director
Sponsors
WKNC would like to thank our Double Barrel Benefit 12 sponsors who donated cash, goods and services. We are truly fortunate to have received such a great response from our community. We couldn't have done this without them.
LP Sponsor ($1000-$1999)
EP Sponsor ($500-$999)
Single Sponsor ($250-$499)