Double Barrel Benefit, WKNC's largest fundraiser, will celebrate its eleventh year this February with two dates from each end of the Triangle. This year, the annual benefit concert is breaking the tradition by venturing outside of Raleigh to include more of the Triangle by hosting the first night at Carrboro's Cat's Cradle on Feb. 7 and the second night at WKNC's traditional home in Raleigh. Lincoln Theatre will host a special Valentine's Day celebration on Feb. 14 for you to bring your loved one to sway to some local jams.
In the past, we've had Polvo, Lonnie Walker, Bowerbirds, Lost in the Trees, Schooner, The Mountain Goats, Megafaun, Spider Bags, Midtown Dickens, and Future Islands. We're so proud to add Mount Moriah The Love Language, T0W3RS, GHOSTT BLLONDE, Loamlands, and Daniel Bachman to that amazing list of local musicians, as well as have Hammer No More The Fingers return. If you love local music and WKNC, get ready for a ferocious Double Barrel to get your year started.
Night 1- Feb 7, 2014, 8 p.m.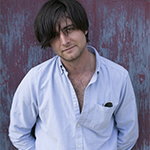 The Love Language (headliner)
The Love Language is a well-established band in the Triangle, and after signing to Merge Records in 2010, they struck stardom. Where the self-titled was excited and frantic with lustful hooks, Libraries swooned with Americana slides and sways and indie pop vigor. Their third album, Ruby Red, was released in July of 2013 to meet critical acclaim with its more polished, rock-oriented sound. The Love Language calls on a heartfelt earnestness in their performances, swelling up with the rises and falls of the most dynamic, unashamed sincerity that frontman, Stuart McLamb cultivates in his love letters of songs that reminisce past summers in jangly harmonies and naivety. For years, The Love Language has provided us with both songs we can dance, or erratically jump, to and others meant for holding hands with the past.
The Love Language has a long history with WKNC: coming in for interviews and in-studio performances, performing live for our video project, The Lounge, and even playing a solo set at our outdoor concert series, Fridays on the Lawn. We can't think of a better band to headline the first night of our biggest event of the year!
-Bri Aab, General Manager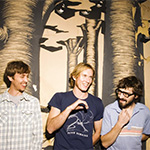 Hammer No More The Fingers
Hammer No More The Fingers catapulted into the local music scene in 2007 with the release of their self-titled EP release, one that received considerable airplay on WKNC and a heavy amount of recognition. They followed their EP with Looking For Bruce, a powerful sophomore album that garnered high critical praise, both at home and abroad. They were labeled by Stereogum as the "Band to Watch" in 2008, and by Spin as one of 25 "Must See Artists" at the 2009 CMJ festival.
Hammer No More The Fingers have been a staple of the tremendous local music scene, delivering consistently solid performances and playing alongside the best in established and up-and-coming artists. Their hooks and harmonies are irresistible, and their live performance will fuel you in ways that only their exuberant college rock can. It's a feeling that is few and far between these days, but one that is not all lost.
Friday, February 7th at Cat's Cradle, Hammer No More The Fingers will take the stage and give Double Barrel Benefit 11 a rock performance we all yearn for, one you will not want to miss.
-Zach Dorsett, Promotions Director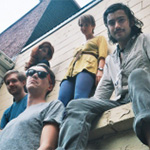 T0W3RS
Tow3rs began several years ago when musician Derek Torres decided to cover a Lonnie Walker track and upload the recording online. That cover dovetailed into a cassette offer from Lonnie Walker's label, the NC-based Diggup Tapes, and eventually into a full length, the sprightly, experimental If All We Have Is Time, which mixed equal parts generational ennui and guitar-pop songcraft.
Since then, the band's unique approach to indie pop has shapeshifted through several incarnations as the band's presence has increased in the Triangle, with the Tow3rs moniker currently serving as a dance-inflected solo project for Torres himself. In recent months, the project has offered the odd single on Bandcamp, as well as the occasional split, including a recent Velvet Underground covers release for Digguptapes with fellow Triangle band Lilac Shadows, on which the band provided their inspired rendition of "Rock and Roll.
As Torres readies a new LP, the newer material reveals an evolving palette of sounds and influences, but with the same strong emphasis on pop songwriting. WKNC is very excited to have Derek perform with us!
-David Smith, Music Director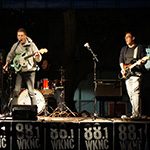 Ghostt Bllonde
Ghostt Bllonde surfaced in early 2013, scoring a dedicated following from their countless sweaty house show performances and frenetic onstage personality. In the summer of 2013, the band released their debut album, TrashPop//DoomWop, a collection of anthemic pop rock jams. It was a far cry from their initial demos, recorded on a CD-R on a beaten-up cardboard sleeve that made its ways around the WKNC halls last year. The new record showed the band was refining their fuzzed-out style into something more, sporting powerful hooks, solid production, and the iconic moaning of impassioned frontman Marc Kuzio. They were building their style into an organized chaos that was just as accessible as it was violent.
In January of 2014, Ghostt Bllonde headlined a show at King's with Museum Mouth and fellow Double Barrel Benefit 11 band Hammer No More The Fingers. It culminated in half the crowd rushing the stage and turning the room into a massive dance pit for the final encore. For Double Barrel's first night, the stage may not explode into a fifty-person throwdown, but you can always count on Ghostt Bllonde's energy to inspire a fantastic show. Catch them at the beginning of the night on February 7th at Cat's Cradle.
-Walt Lilly, Production Manager
Night 2- Feb 14, 2014, 8 p.m.
Mount Moriah (headliner)
Mount Moriah burst onto the triangle scene just a few years ago, and have been asserting themselves as one of the best Americana groups in the scene and beyond ever since. Lead by the soulful crooning of Heather McEntire, the band made a splash in 2013 with their release of their critically lauded record Miracle Temple. Praised for its blend of fundamental country elements with refreshing songwriting and energy, the Merge Records release was recognized by outlets such as Pitchfork and Paste as a standout of the year.
Mount Moriah is known for its emotionally driven and sentimental performances that feel like something from the past. This year at Hopscotch 2013, they hosted one of the most extravagant performances of the festival with a set made up of their discography in full, wowing Fletcher Opera Theater.
This February 14th, Mount Moriah takes the stage of Lincoln Theater on the second and final night of WKNC's Double Barrel Benefit 11. Bring a loved one and be prepared to dance for what's sure to be a landmark show in the event's history.
-Walt Lilly, Production Manager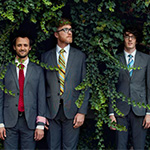 Bombadil
Bombadil are an eclectic chamber folk-pop band out of Durham, North Carolina. Their name is derived from the J.R.R. Tolkien character Tom Bombadil from the Lord of the Rings. Tom Bombadil is a witty, peculiar character who speaks and sings in playful rhymes. The name "Bombadil" encompasses the quartet perfectly as they deliver their sophisticated pop feel of a bygone era in their eccentric suits.
The band began back in 2006 when the head of Ramseur Records stumbled upon a few demos and immediately signed them. Since then they have released an EP and four incredible full-length studio albums. Bombadil have been WKNC favorites since their very first release. With each subsequent release, Bombadil have found new ways to expand and develop their sound. Each member of the band is a multi-instrumentalist in addition to being a vocalist and songwriter. Each song is testament to each member's ability to craft truly brilliant pop songs.
After a brief hiatus a couple years back, it is safe to say that Bombadil are back and better than ever. Their most recent effort, Metrics of Affection, earned them a spot as our Local Artist of the Month back in July. This year, we could not be more excited to have one of our long-time favorites on stage for Double Barrel at last.
-Michael D'Argenio, Program Director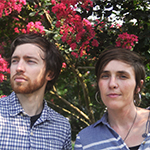 Loamlands
Recording a quality album in three days' time is not an easy feat for most musicians. But when you've already been playing music together for four years, some pretty amazing things can come out of such an intense studio session. That's the case with Some Kind of Light, the debut album from the Durham-based band, Loamlands. Kym Register and Will Hackney previously played together in local favorite Midtown Dickens. Their new project, a folk/Americana duo backed by a rotating percussion section that has featured members of Megafaun, Lost in the Trees, and Hiss Golden Messenger, builds on their past together. With thoughtful lyrics sung in both raw and melodic styles over southern guitar hooks, this pair creates music that is easy to enjoy and relate to. The accessible style makes their show a great experience for all music fans.
After seeing one of their first performances last spring, when they opened for William Tyler, it was apparent that these musicians are very comfortable together; the songs came across easily and the general atmosphere at their shows is one of support and mutual delight in playing for an audience. Their cover of "Stop Dragging My Heart Around" was one of my favorite memories from a live show last year. Loamlands plays the second night of DBB, Feburary 14th, at Raleigh's Lincoln Theater – you won't want to miss it!
– Kate VanVorst, DJ and Local Band Local Beer Coordinator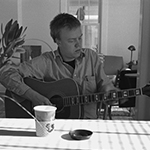 Daniel Bachman
American primitivism is a deep-rooted musical style pioneered by the likes of John Fahey, Robbie Basho, and Jack Rose. The genre is defined by a mix of avant-garde and blues finger-picking techniques that create a heavily textured, almost hypnotic effect with its repeating and ascending thematic lines. Its something that's become more and more mythologized in the past few years as it currently undergoes somewhat of a renaissance. Twenty-something, Bathetic Records artist Daniel Bachman likes to just call it "guitar music."
The so-called guitar-prodigy relocated to Chapel Hill shortly after his performance at Raleigh's Longview Center for Hopscotch Music Festival's fourth year, as well as an amazing collaborative drone set in the Rose Garden with the group Pelt. A relentless tourer, the Fredericksburg Virginia native has made a name for himself among the most talented performers currently reviving complex acoustic guitar work–including Steve Gunn and Merge Record's William Tyler.
Bachman will open night two of Double Barrel February 14th in Raleigh serving to appropriately christen the americana-folk-rock-packed power line-up at Lincoln Theater. On top of all that we heard he's a big whiskey and PBR fan. Be sure to show early, watch some fast fingers and let your mouth hang open.
-John Kovalchik, Operations Manager
Sponsors
WKNC would like to thank our Double Barrel Benefit 11 sponsors. We couldn't have done this without them.
LP Sponsor ($1000-$2499)
CD Sponsor ($500-$999)
Single Sponsor ($250-$499)