This year, WKNC is holding its 10th annual Double Barrel Benefit. This two-night event is the radio station's largest fundraiser of the year, featuring a day party as well as two nights of music, each with four local bands. We're excited to celebrate a decade of DBB concerts with you in downtown Raleigh on Friday, Feb. 1 and Saturday, Feb. 2. The Pour House will be opening as an 18+ venue for this special event.
We invite you to explore the lineup below as presented by WKNC staff members, and we look forward to seeing you at Double Barrel Benefit 10!
Night 1 – Feb 1, 2013, 9 p.m. @ The Pour House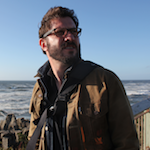 JKutchma & The Five Fifths (headliner)
Jason Kutchma has been a staple of the North Carolina scene for some time now, rising through the ranks of mediocrity and anonymity with one of the most popular local groups of the past decade, Durham's Red Collar. But when Red Collar decided to take a break back in 2010, Kutchma didn't and continued on the road performing heartland rock-inspired solo material, hardly starting over.
After a year and two live EPs, perfecting his newfound spur jangling, percussive playing craft, the Five Fifths were introduced and their incredible debut album, Pastoral, was released. The Five Fifths combine the punk attitude and energy of his old band, Red Collar, with the boot stomping, soul searching rawness that he became known for while performing solo in between the groups. What emerges is the best of both worlds.
– Adam Kincaid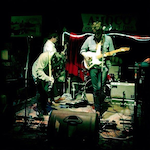 Lilac Shadows
Lilac Shadows is a band that has been on the local circuit for a while, filling out venues with infectious crowds and collaborating with several side-projects to be constantly following their art. They bring a full aesthetic to their performances, merging art, music, and a level of elevation unparalleled . With catchy hooks and a dreamy but complex method of composition, this band makes psychedelic pop a lush and enlivened experience. The performance doesn't fall flat either- with great visuals and a lot of emotive movement from the band members, the crowd is sure to fall in line with the feeling expressed in tracks like "What Dreams" and "Rise." Lilac Shadows offer tracks of very tightly laced, highly layered instrumentation with wistful melody lines sunken underneath eerie harmonies.
But this band can also offer a crowd punchy, full bass line. This band thrives off of a highly invested crowd, and that is something that Double Barrel has offered year after year. They're fun, they're complex, and they're dedicated to offering their fans the artwork of music. Fuzzy guitars mashed with synths and the timbre of frontrunner Sam Logan's charming vocals produce a well-rounded, carefully thought out set that will surely be a favorite of Double Barrel 10.
– Bri A./ C'est la Bri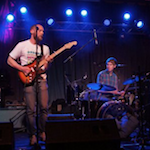 Jenny Besetzt
Jenny Besetzt have played seemingly every venue and even graced the amazing lineup from this past year's Hopscotch. In fact, if you haven't yet seen them printed on a local bill yet, it's probably time to get out of the house. Easily one of the fastest growing local bands of 2012, Jenny Besetzt have been booked left and right and their ability to draw a crowd continues to grow, as well as their impressive sound.
As a five-piece band based out of Greensboro, Jenny's ethereal shoegaze sound drives their emotional performances, leaving audiences focused and hungry for more. With the release of their first full LP "Only" this past October, Jenny have shown they have the chops to keep up with all of the local greats. Tracks such as "Teenage Lions" resonate incessantly with an airy and dreamy sensation that is truly sublime. It's a romantic and melancholic experience that is more than worthy of the listen.
Jenny Besetzt impressively bring their sound to the stage with a powerful performance that packs a heavy punch. They turn up the volume and bring out the intensity for a remarkable live act that, for good reason, has gained incredible recognition around the Triangle. Always a great show, Jenny Besetzt promise to be a stellar addition to the DBB X lineup.
-Zach D./ The Walrus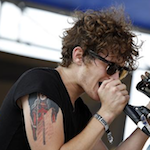 The Lollipops
The Lollipops are a brand new band off DiggUp Tapes that have exploded onto the Raleigh music scene. Frontman Iggy Cosky describes his band as "a lo-fi manic pop bedroom recording project that expanded to the stage." What started as a solo project born in a mental hospital back in April has since grown into much more. Cosky enlisted a very talented band to help transition his one-man-band bedroom recordings to live shows. They have since taken the Triangle music scene by storm with their energetic live shows and numerous spectacular releases. Their unique style of fuzzy, lo-fi pop leaves first-timers amazed.
I was first introduced to these guys at CAM Raleigh's Hopscotch Day Party in September with The Love Language and Lonnie Walker. While these bands drew the crowd, everyone left the show blown away by the fledgling band with their catchy melody lines of songs like "Wolves" or "I Love You" stuck in their head. This band is a very tightknit collective whose genuine excitement to be playing music always infects the crowd and makes for an amazing night. Cosky's on-stage antics and carefree nature make for a very lighthearted atmosphere that keeps everyone dancing and singing along to their catchy tunes. You do not want to miss these guys at this year's Double Barrel Benefit. Make sure to bring your dancing shoes and get down front and center at The Pour House for what is sure to be an amazing set by The Lollipops.
– Michael D./ DJ DiGiorno
Night 2 – Feb 2, 2013, 9 p.m. @ The Pour House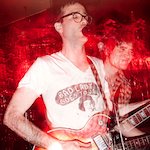 Spider Bags (headliner)
If you haven't heard Spider Bags's new album you probably haven't been listening to WKNC much. Shake My Head was inarguably on of the best local releases of 2012 and arguably one of the best new albums overall. On this latest release, the band has streamlined their vociferous, chaotic style into a set of garage, punk, and sometimes country rock songs that are more approachable than their previous albums. That's not to say that the group has toned it down at all. The disorderly, unapologetic sounds of an unending, drunken rock and roll party are unmistakable here – but mixed and mastered into a cohesive and charismatic album.
But to get the real Spider Bags experience, seeing their live show is a must. Their performances are unrestrained in the best of ways; extremely loud and personally engaging. Between these guys and J Kutchma, this DBB is sure to have a top-notch selection of sweaty, thrashing, passionate twangy-punk performances. Your ears will probably ring for a few days after, and it will be well worth it.
– Kate VV/ DJ Kataclysm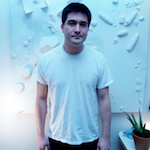 Wesley Wolfe
Wesley Wolfe has been a busy man in front of and behind the scenes of North Carolina's music scene. Through his infectious indie-pop tunes and a knack for production, Wesley has had his hands in a bit of everything throughout the past few years. While Wolfe's last full-length release was in 2011 with Cynics Need Love Too, he's stayed on top of things by mastering and cutting his own vinyl, recording for acts like The Love Language, Gross Ghost, and Spider Bags, and generally running an all-encompassing one-man DIY factory.
– Grant G./ GRZA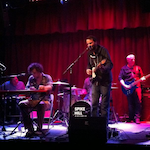 Some Army
I remember sitting at The Daily Tar Heels Diversion's Dive party and thinking, "These guys have everything anyone could ask for in a rock band." It was the second time in three weeks that I had the pleasure of watching Some Army play live. Their brand of tragic and beautiful rock music pieced together so well you would guess that this band had been playing together for several decades. With only a few released recordings to their name this band felt like something refreshing and special while staying relatable and familiar. They're the band you always felt like you knew but were amazed to discover.
Listening to their most recent pressing, now sold out and hand-cut by Wesley Wolfe, I couldn't help but feel like this was a band on the rise in the triangle. Now friends of ours who alongside Jenny Besetzt have recently played Fridays on the Lawn, we could not be more excited to have them playing Double Barrel Benefit X. This is a band not to miss on stage at the Pour House on February 2.
– Michael J./ DJ Ones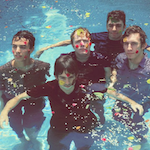 Oulipo
Oulipo are a band that's swiftly making their way to the top of the local scene and if they continue at the pace they're moving then they'll be atop the peak in no time. Oulipo displays melodic masterpieces that are washed in reverb, filled with ornate textures and dense layers of electronic samples, horns and polyrhythms that are capable of taking the listener to a state of dreamlike wonder.
Drawing upon influences from contemporary pop acts like Animal Collective and Dirty Projectors, Oulipo wear their influences on their sleeves with no shame, as they've added unique spins to a tried and true method. Whether it be a purely organic idea or building from samples, it's an absolute joy to listen to their lush soundscapes unfold. Through soaring vocals and powerful rhythms, Oulipo will grab your attention from the opening second and clutch tightly as they careen through jaunting changes in song structure and melody. Oulipo are a band that's attacking on all cylinders, and at Double Barrel Benefit they're sure to blow us all away.
– Grant G/ GRZA
Sponsors
WKNC would like to thank this year's DBB X sponsors. We couldn't have done this without them.