Tag: Anathema
by Noobhammer on Sep.22, 2009, under Chainsaw
For the past few weeks, I have been playing a set that is quite different from normal metal. Don't be fooled, it is indeed metal, but it is a thinking man's metal.
There are so many bands out there in the metal scene all playing the same music that it sometimes makes me lose hope in the metal scene.  Yet there are always those few bands who are bold enough and crazy enough to push not only the metal genre itself forward, but question what it truly means to make music.
I am, of course, talking about the subset of metal including Drone, Doom, Shoegaze, Avant-Garde, and Noise. While these genre names may seem crazy, boring, or downright depressing, they also help push us and question the music. These bands that play these styles are actually one of the few innovators in the metal scene. Where everyone else is trying to sound more brutal with breakdowns and blast beats, these guys achieve true brutality and even evilness with their music. With intricate harmonies layered over feedback, and deep moving lyrics superimposed upon a mournful guitar and lone drum, one can lose themselves in the music. All it takes is some patience and expanding of one's mind.
And that is what I do during that segment. I force you to open your mind, and to truly question what you know about not just metal, but music in general. For I believe, that to truly be a metal-head, you need not only listen to metal and enjoy the music, but to really embrace it and appreciate all forms of it. For there is so much more out in the metal scene than breakdowns, blast beats, cookie monster growls, and dragons. There is actually true art to be found, and you only need to expand your mind to find it.
Notable Bands:
Sunn O)))
Boris
Rosetta
Jesu
Ahab
My Dying Bride
Swallow The Sun
Anathema
Isis
Pelican
The Angelic Process
Nadja
Leave a Comment
:Ahab, Anathema, Avant-Garde, Boris, DOOM, Drone, ISIS, Jesu, My Dying Bride, Nadja, Noise, Pelican, Rosetta, Sunn O))), Swallow The Sun, The Angelic Process
more...
by Noobhammer on Dec.11, 2008, under Chainsaw
Pelican is a band from Chicago on the amazing Hydra Head Label run and founded by Aaron Turner, founder of ISIS. Other bands on the label roster include Boris, Jesu, Kayo Dot, Lustmord, Merzbow, Zozobra, and Cave In. Past bands include Cult of Luna, Sunn O))), and Neurosis. Many of these bands are ambient drone bands or post-rock bands. Other bands which are similar to these artists are ISIS, Explosions In The Sky, Mogwai, Anathema, The Grasshopper Lies Heavy, Adai, Red Sparowes, Russian Circles, The Angelic Process, Godspeed You! Black Emperor, North, Godflesh, and Mountains Became Machines. All these bands are pretty heavy, when it comes to emotional and moving music, and have toured with metal bands. Many metal heads listen to these bands and enjoy them. So is Post-Rock really Indie Music? Or is it just another offshoot of Heavy Metal. I'm going to say Metal, due to the sheer fact that most of these bands have metal roots. ISIS was a doom band as well as Anathema. Justin Broadrick, founder of Jesu and Godflesh, was the original guitarist on Napalm Death's "Scum". It just seems to me that Post-Rock should have it's name changed. In this author's humble opinion, to Ambient Metal. Now if you'll excuse me, I'm gonna go work on my Instrumental Ambient Metal Avant Garde band, Renob Sinep.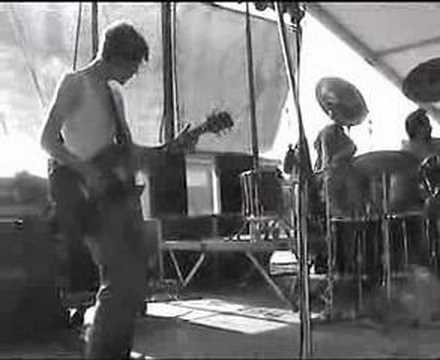 -Noobhammer
1 Comment
:Aaron Turner, Adai, Anathema, Boris, Cave In, Converge, Explosions In The Sky, Godflesh, Godspeed You! Black Emperor, ISIS, Jesu, Justin Broadrick, Kayo Dot, Lustmord, Merzbow, Metal, Mogwai, Mountains Became Machines, Napalm Death, North, Pelican, Post Rock, Red Sparowes, Russian Circles, Sunn O))), The Angelic Process, The Grasshopper Lies Heavy, Zozobra
more...